NATIONAL LOTTERY PUTS A SPRING INTO NORTH WEST'S PLANS FOR PARK TRANSFORMATIONS
AS spring finally arrives, 2 parks in the North West of England are on track for major transformations thanks to Lottery funding announced this week.
Southport Kings Gardens has been awarded £240,000 and The Green at Silloth-on-Solway has been awarded £106,000 and to back their exciting regeneration plans.

The go-ahead for Sefton Borough Council and Silloth-on-Solway Town Council to kick-start their schemes has come from the Heritage Lottery Fund (HLF) and the Big Lottery Fund's 'Parks for People' initiative.

Head of HLF in the North West, Sara Hilton, said:- "Today's news is a green light to develop exciting plans for two of the region's much-loved parks that play a key role in modern day life. Parks for People marries people's pride in the history of their parks with the need to provide up-to-date facilities and access. It has been a tremendous success across the UK in encouraging many thousands more people back through their park gates. We are delighted to be able to invest in these North West parks today; spring is in the air and with it comes a new optimism for these special places."

Helen Bullough, Big Lottery Fund Head of the North West region added:- "The Big Lottery Fund is pleased to be part of the renaissance of our public parks. This funding is a tremendous starting point for plans to transform King's Gardens and The Green into community spaces that can be enjoyed by locals and visitors alike."

King's Gardens in Southport were laid out in 3 phases between 1887 and the 1930's and accommodates Promenade Gardens, Sunken Gardens and Sea Bathing Lake. The Lake was designed to replace the 'true' sea, which by then had retreated from the Southport shore.

Today the Grade II listed Gardens are on the Register of Parks and Gardens and a number of built structures, including cast iron shelters, are listed Grade II in their own right.. However, time as has taken its toll on the much loved green space and Sefton Borough Council plan to undertake an £8million regeneration of the area as part of the wider plans to regenerate the waterfront in Southport.

Proposals include works to protect and restore the historic features of the gardens, such as the site's considerable concentration of original built infrastructure. Project plans also include schemes to update modern day facilities for visitors, as well as ways to create opportunities for people from the local community to get involved in caring for the green oasis.

Sefton Council, Cabinet Member for Leisure and Tourism, Cllr Lord Ronnie Fearn, said:- "The announcement, that we have been asked to move through to stage 2 of the bidding process, is very encouraging. We will now continue to develop plans with the aspiration of bringing Kings Gardens back to their former glory.

We are committed to enhancing Southport's public spaces while recognising the important heritage we benefit from in the town. This project is something we are keen to develop but it is still early days and we must remain realistic in the current economic climate. However, this funding is certainly a move in the right direction and we look forward to working with the Heritage Lottery Fund and the Big Lottery Fund to make the most of this opportunity."

The Green covers approximately 45 acres of Silloth-on-Solway, a mid-19th century town created as a working port for Carlisle and as a seaside resort on the North West Cumbrian coast.

Today The Green is the only one of its type in the region and is the only recreational space in the town standing at the heart of the Victorian resort. Inextricably linked to Silloth's unique identity, the popular green space is much loved by the local community and is used daily by people from all walks of life. During the summer months The Green is the venue for popular events including a beer festival, a kite festival, vintage car rally, fairs and markets.

Like other seaside resorts, the fortunes of Silloth have waned in recent decades and this is reflected in the condition of The Green. However, the Lottery development grant will enable the Council to work up their plans for a major £2.5million restoration project to the site.

Plans are expected to include restoration of the historic elements of The Green including the 1850's pagoda and 1920's ladies toilet. The history of The Green and of the town will be brought to life in orientation panels and a nature trail with associated interpretive shelter will reveal more about the site's wildlife.

Plans also include a new putting green and water play area, alongside the re-introduction of the performance area or 'Happy Valley' that was once a feature of The Green in bygone days.

The existing programme of activities and events on The Green will be developed and the local community will have the chance to get more involved in this historic part of their Town through volunteering.

Graham Wilkinson, Town Mayor, said:- "On behalf of the members of Silloth Town Council along with the members of Silloth Regeneration Partnership, we wish to thank the Parks for People Fund programme for the acceptance of our bid for the regeneration of our wonderful Victorian sea front green.
The residents and visitors to our town are all behind this project which has been talked about over the past two years.
We the Council and Regeneration Partnership look forward to working with HLF and BIG to see this scheme through to its final completion."

Bill Allison, Chair of Silloth Regeneration Partnership, said:- "I am delighted that the hard work of the team involved in the Silloth Green Project has been recognised at national level.
The high level of partnership working has now been rewarded, and we look forward to working once again with all our partners to ensure the Stage 2 bid comes to fruition.
This project has already delivered many benefits to our community through the intensive consultation process, from which ideas and suggestions have been forthcoming and welcomed from all age groups.
We now see light at the end of the tunnel and major future benefits for the community of Silloth and the surrounding area as a direct result of the success of this bid.
On a personal level I wish to thank all those who have been involved, for their help and support with the scheme; this truly is a massive achievement and I feel it will be proven to be the catalyst for other projects that the Silloth Regeneration Partnership are presently working on."
Raids find Illegal immigrants
THREE men have been served with papers, by the UK Border Agency, after a raid in Bootle, Merseyside. Two other men were arrested by officers have since been released without charge. All five, who, where arrested on suspicion of immigration offences have been found to be in the UK illegally, at a property in Merton Road, Bootle on Easter Sunday, 12 April 2009. Merseyside police have stressed that there are no connections to the Anti Terrorism Raids earlier last week.
Underground track repairs start
LIVERPOOL'S £3.4m project to replace a curved section of underground rail track has started. The work is part of a 5 year long scheme to replace the entire Merseyrail Underground network and will continue until 26 May 2009. This work has resulted in services from Chester and Wirral to Liverpool will terminate at James Street station. The Northern Line and mainline services are not affected by the work and a bus shuttle will run from James Street to Lime Street station only. The whole 5 year scheme will cost around £20 million pounds and should make the service far more reliable and safer. Simon Whitehorn, Network Rail's area manager for Merseyside has told the media that:- "The renewal of the track brings benefits for everyone. Passengers get a better quality ride, it causes less wear and tear on Merseyrail's fleet of trains and the new track needs less maintenance by us."
Pedal it Pink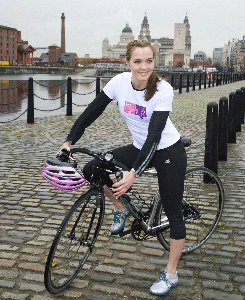 THERE are just a few days to go until the very first Pedal it Pink cycle ride takes place in Liverpool's Sefton Park. Almost 700 women have already signed up to take part in the event, which is being held in support of Breast Cancer Campaign, and Olympic champion cyclist Victoria Pendleton will be there to cheer them on. Hot on the heels of her triple medal haul at the World Championships, Victoria will be coming along to Pedal it Pink with her mum, to support the riders who will be cycling either a marathon, half marathon or 5k family lap. Victoria is a patron of Pedal it Pink, which is raising money to help Breast Cancer Campaign fund innovative, world-class research throughout the UK to understand how breast cancer develops, leading to improved diagnosis, treatment, prevention and cure. Approximately 5,300 women are diagnosed with breast cancer in the north west each year; 300 of those women are in Liverpool. Glamour girl of the British cycling team, Victoria, said:- "After winning Olympic gold in the Sprint cycling event in Beijing this summer, I'm so thrilled to lead Breast Cancer Campaign's very first Pedal it Pink. It'll be really exciting to see hundreds of women getting on their bikes to help beat breast cancer, so I really hope you can join us. I know it'll be lots of fun and together we can make a difference!"

To join the pink revolution, visit:- breastcancercampaign.org, email pedalitpink@breastcancercampaign.org or call 020 7749 3700 to sign up.
Fact File:-
► Breast Cancer Campaign aims to beat breast cancer by funding innovative world-class research to understand how breast cancer develops, leading to improved diagnosis, treatment, prevention and cure.
► Currently it supports 105 research projects, worth over £13.5 million, in 43 centres of excellence across the UK.
► Breast Cancer Campaign recently announced that it aims to fund research in the Republic of Ireland.
► Breast cancer is the most common cancer in the UK and accounts for nearly one in three of all cancers in women.
► In the UK, over 45,500 new cases of breast cancer are diagnosed in women each year – that's 120 a day.
Women leading the way in Liverpool as Not for Profit organisations thrive
THE Not for Profit sector in Liverpool is being driven forward by the region's female business community, according to research from Bank of Scotland Corporate. Over 51% of applications to the Bank of Scotland Corporate £6million Social Entrepreneur Awards have been received from women, with 4.5% of the women coming from Merseyside. Sam Kerr, Head of Specialist Banking at Bank of Scotland Corporate, commented:- "We already had an understanding that women tended to occupy more senior positions in the not-for-profit sector than in profit making enterprises, but 51% really took us by surprise. It's an interesting and emphatic statistic that proves what we had previously guessed. With 4.5% of these female entrants coming from Merseyside it's a sign that the region's female business community is certainly driving the Not for Profit Sector forward. The total volume of applications to The Social Awards exceeded all our expectations, and this strong response in Liverpool demonstrates that the not-for-profit community in the region values the support and commitment on offer. Many profit making businesses are experiencing some tough times but we've been seeing entries from not-for-profit organisations which are performing really strongly, growing and providing valuable social benefits in Liverpool and throughout the UK. The overall quality of the entries has been incredibly high and it's been fantastic to see so many entries and learn how the Not for Profit sector is thriving across different regions of the country." About the Bank of Scotland Social Entrepreneur Awards offer not one but two awards...

1) Up to £5 million free of interest and arrangement fees for 3 years, or a one off cash donation of up to £500,000

2) Up to £1 million free of interest and arrangement fees for 3 years, or a one off cash donation of up to £100,000

The winner of each award will also secure a true 'money can't buy' reward of three days mentoring from one of the UK's best known social entrepreneurs and the title of 'Bank of Scotland Corporate Social Entrepreneur 2009.'

► For more information visit:- bossocialawards.co.uk.
► The national final takes place on 25 June 2009.