Kayleigh Winters is "Mrs Rocking Asia 2009"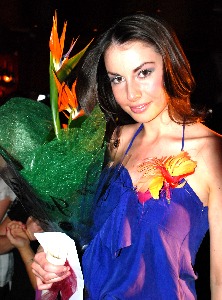 AT Rocking Asia, Southport was a hive of activity on Thursday, 30 April 2009, as the last 6 finalists again took to the catwalk to strut their stuff and battle it out to win the all important title:- "Mrs Rocking Asia 2009". The night was very well attended with a good mix of female and males in the audience, cheering their favourite girls on. Sadly, only one can be crowned with the title. Winning the night was Kayleigh Winters, who performed amazingly well. Coming in 2nd place was Laura Geraghty and third place went to Stacey Dutton. Michael, who organised the event said:- "I would like to thank all the girls who came to the event and performed. It was a very nice to see you all and I hope you all enjoyed it. I would especially like to thank the Southport Reporter for it's coverage and support as well as the Champion. Also without the other sponsors, The Vincent Hotel, Spencers Hair, The Latin Lounge, LA Fitness, FAB Mag and Uber Chic, we could not have had such a successful start. As it was the first one, we have learned a lot and we hope to build on our experiences. We are aiming at doing more events like this, so please keep an eye out for more information, very soon. Once again, Well done to all the girls. I am sorry only one could win, as you all performed amazingly well." Video highlights will be added to Southport.TV very soon... So keep your eyes online for it! To see lots more photographs taken at this event, click on here now!
INTERNET SPAWNS A NATION OF SELF-DIAGNOSERS
MORE than eight in ten people (81%) turn up to their GP or pharmacist to confirm a diagnosis they think they have already
made. That's according to a new survey released by Lloydspharmacy, the UK's largest community pharmacy chain. The internet in particular has given rise to a generation of people who routinely research their symptoms and reach a diagnosis before consulting a clinician. There are more than 380,000 websites offering health advice of some description. But Andy Murdock, Pharmacy Director of Lloydspharmacy, warns that a little learning can be a dangerous thing. "Of course it's good that people are taking more interest in their health and trying to understand what ails them. But people need to use the web as an additional source of information rather than as a substitute for timely advice and diagnosis by a clinician. Misuse of the internet or other sources of health information could lead to a dangerous outcome. While some websites, such as NHS Direct, contain well researched and reliable information, there are many which do not. This can lead to dangerous symptoms being ignored. More frequently it can lead to elevated levels of anxiety as people become convinced they've contracted a harmful disease. A mother brought her new baby into one of our pharmacies recently. She was convinced that her son was suffering from jaundice, as his skin had taken on a distinctive yellowish tone. Upon further investigation into the baby's diet, it transpired that the mother had been feeding the six month old mashed carrots and butternut squash twice a day, every day for the past ten days. The carotene in the vegetables had begun to colour the baby's skin! Another patient was seriously concerned about the possibility of having liver disease. He had been experiencing itchy and tingly feet for severely days. His internet research suggested liver disease as a possible cause. After a brief conversation the pharmacist it became clear that the patient merely had very dry skin. The problem was remedied with a course of mild heal balm applied to the area of concern twice a day. It's vital that people consult their physician or GP before self-diagnosing to ensure they are receiving the correct medication for their condition. Continued difficulties in making a GP appointment may be driving some people online to make a self-diagnosis." said Murdock. Research conducted by the Patients Association late last year (2008) suggests that 38 per cent of people have difficulty getting an appointment within the 48 hour target. Meanwhile the number of people turning to pharmacists for minor ailments has increased markedly. More than six in ten Lloydspharmacy pharmacies saw a significant increase in the number of consultations in the second half of 2008.
{Research Background for this report:- YouGov fieldwork conducted among 1972 adults 13 February 2009 to 16 February 2009. 2. Research conducted via Survey Monkey. Total sample size was 382 UK pharmacists with the research undertaken between 20 August and 13 October 2008.}