Southport Hotel Wins Top Architecture Award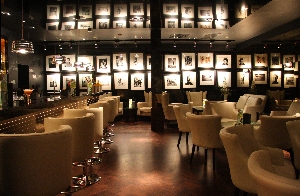 THE Vincent Hotel in Southport has won the prestigious North West RICS Tourism and Leisure 2009 award. Widely regarded as the region's property 'Oscars', the award recognises inspirational initiatives and developments in property, construction and the environment. Held at Manchester City's stadium, the Vincent beat off tough competition, including the Midland hotel in Morecambe and the Hard Day's Night Hotel in Liverpool, to take home the coveted award.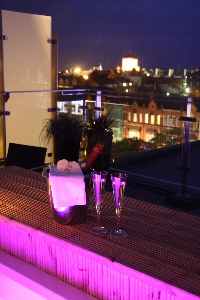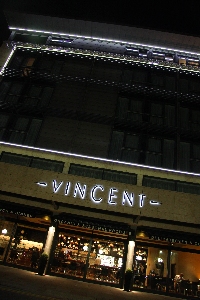 Opened in 2008, The Vincent Hotel, a contemporary boutique hotel located on Lord Street, Southport's main boulevard, was designed by award winning Architects Falconer Chester Hall.

With six floors of tranquility, the hotel has 60 guest studios, residences and penthouses, a destination V Cafe & Sushi Bar on the ground floor, the V-Spa and V Gym and the V-Galleria Suites for weddings and corporate events.
The hotel replaced a vacant ABC cinema and demolition was granted with Listed Building Consent. Clad in limestone and zinc, with aluminium windows and stainless steel features the lead architect on the project Adam Hall said the design was inspired by Southport's nautical references. "The hotel looks towards the sea and the use of glass and balconies gave the hotel a linear type quality. It was a great experience to work on such a visually stunning project that was embraced by both the local planners and general public alike." said Adam Hall, Falconer Chester Hall Architects.

For Paul Adams, owner of the Vincent Hotel, the award is recognition of a truly unique and stylish destination hotel, unlike anything else in the region:- "The Vincent Hotel is Southport's first boutique Hotel and we believe the award, not only recognises the hotel's striking design, but also its unrivalled levels of service and personal comfort. Fresh in its approach and unique in style." said Paul Adams, Owner, The Vincent...
PINK PAMPER PARTY FOR CHILDREN'S CHARITY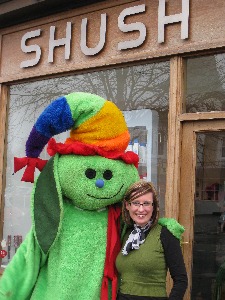 A Birkdale hairdresser is holding an exclusive charity pamper party for children.

The Pink Party is being hosted by Shush hair salon on Liverpool Road. Guests will be treated to a makeover, including hair styling, make up application and a mini manicure.

Children will be welcomed on a special pink carpet and will be given kids champagne and canapés. A raffle will take place and gift bags will be given to all children.

All money raised will be donated to the Jellybean Kids' Appeal. The appeal is aiming to raise £80,000 for a paediatric cardiac scanner for Wirral University Teaching Hospital. The scanner assesses cardiac function in newborn babies and children and will be used to treat youngsters across Merseyside, Cheshire and North Wales.

Rebecca Armstrong, creative director of Shush, said:- "We're delighted to be supporting such an important cause and do our bit to help save the lives of children. There has been a great response to the Pink Party so far and tickets are selling fast. All the children that attend will be treated like VIPs and are sure to have a wonderful day and will come out feeling truly pampered. We are also taking part in a 10km sponsored walk- walk4charity in Southport- in aid of the appeal. So far we have raised almost £300 in sponsorship and are gearing up for the event."

Debbie Green, fundraising manager for the Jellybean Kids' Appeal, said:- "The event line up looks fantastic and adds to the diverse range of activities that people are holding to raise money for the appeal. We think it's great that Shush has created an event just for kids, especially as the scanner will help so many sick children across the northwest. Shush is really helping to raise the profile of the appeal and that is invaluable for us."

A number of local businesses have added their support to the event including Southport's Fantasy Weddings and Beacon Learning, who is providing beauty therapists. The newly launched Everton Foundation has donated a signed football to the event. The special pink carpet is provided by United Carpet and prizes have been contributed by Central Prosthetics. Goldwell and KMS are giving hair products, beach mats and samples. Manicures are provided by Senses Beauty and Nails. The Pink Party takes place on 24 May 2009 from 10am to 4pm. Tickets for the event are £15 and are available at 01704 562 666 or shush-hair.co.uk. The Jellybean Kids' Appeal is being partnered by Halliwells LLP, Paver Smith, who has donated colouring books for the event, Wirral TV and Wirral CVS. For more information or to take part in fundraising, please visit:- jellybean.nhs.uk or call 0151 604 7469.
Beatles Day is officially launched
Photographs by Ian A Fairbrother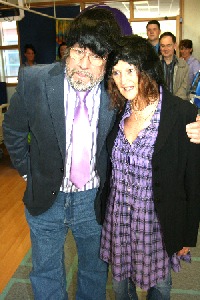 THE Beatles Day 2008 fundraisers collected £50,000 for charities and 2009 looks set to collect just as much or more. Cash raised on the 2009 Beatles Day on 10 July 2009 will again go to Alder Hey Children's Hospital's Imagine Appeal , as well as the Marina Dalglish Appeal.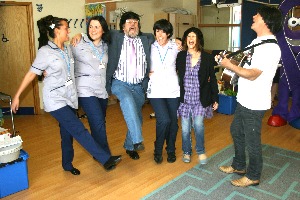 Ricky Tomlinson and Julia Baird (John Lennons Sister) launched the event at Alder Hey Hospital on Tuesday, 12 May 2009. Ricky and Julia also presented a cheque for £50,000 to the hospital from last years event.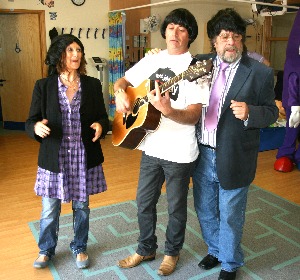 Organiser Gill O'Neill said they wanted the 2009 event to "go global."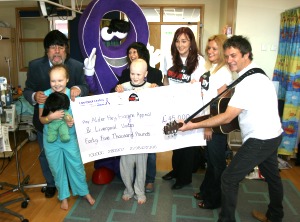 More information about the event can be found at:- beatlesday.tv.
Minimum Wage to rise
THIS week despite businesses calling for a stop to wage rises, the government has announced that the National Minimum Wage will go up. This could lead to many businesses closing or more jobs being lost. In a press release thought to the media the goverment says:- "Nearly one million people will benefit from October's increase after the government approved recommendations from the independent Low Pay Commission."

Business Secretary Lord Mandelson said:- "The National Minimum Wage has been in place for 10 years and remains one of the most important rights for workers introduced in that time. I am very proud of the difference it has made to the lives of the UK's lowest-paid workers. It protects them from exploitation and also creates a level playing field for business, making a huge contribution to the UK's economic success. The Low Pay Commission has carefully examined the latest economic data before making their recommendations on the minimum wage rate, balancing the needs of workers and businesses in the current economic climate. The government agrees with this assessment and has accepted the recommendations for these new rates to take effect in October. The deadline for submission of the Low Pay Commission's (LPC) recommendations to government was extended from February to Friday 1 May 2009 to allow Commissioners to take into account the latest possible economic evidence. As well as the rate changes to take effect this year, the government has accepted an LPC recommendation that the adult rate of the minimum wage should be extended to 21 year olds. This will be implemented from October 2010. The LPC also recommended that information should be available on employers who have shown wilful disregard for minimum wage laws. The government has today committed to develop proposals and consider the practical issues involved."

Chairman of the LPC George Bain said:- "These are very challenging times for the UK and unprecedented economic circumstances for the minimum wage. We believe that the Low Pay Commission's recommendations are appropriate for this economic climate. They reflect the need to protect low-paid workers' jobs as well as their earnings. This was a difficult year for the Commission but our evidence-based approach led to another unanimous Report. I am delighted that the Government has again accepted our recommendations on the rates this year."

These are the new wages:-

► Low paid workers aged 22 and over can look forward to an increase from £5.73 to £5.80 an hour.

► The rate for 18 to 21 year olds will also rise from £4.77 to £4.83.

► For 16 and 17 year olds, the rate will go up to £3.57 an hour from £3.53.

Will this affect your business? Let us know by emailing our news room to:- news24@southportreporter.com.