Southport businesses urged to tap into £4.8m skills funding...
THE Learning and Skills Council has announced £4.8m to ensure that businesses on Merseyside have the necessary skills to survive the downturn and are prepared for future growth. Funding has been made available through the LSC and European Social Fund to support companies which are re-structuring their business as a result of current economic conditions. Up to £90,000 is available to companies for bespoke training needs dependent on the company contribution. Support is available to Merseyside's large and small companies who have a clear need to-up-skill employees following restructuring or as a result of new investment. Helen France, Director of Area at the Learning and Skills Council Greater Merseyside, said:- "This programme will offer bespoke training that responds to the individual needs of employers. Our aim is to provide a rapid response to businesses on Merseyside ensuring that they are not only equipped for more difficult economic conditions but have the necessary skills base in place to capitalise on the upturn when it comes."

The support package is being delivered by local training provider - Sysco. Businesses wanting to know how to access the funding should visit the website or contact Train to Gain Brokerage Service direct on:- 0845 00 66 888.
MP John Pugh goes on the record...
THIS is a Flash Video. If you can not play it, we will be adding a Real Media copy to Southport.TV very soon. Also a transcript can be made if required.
If you have any views on the topics raised in this video please email our news room now to:- news24@southportreporter.com. Play to this as you look at other things. Click here to open our pop up larger player window.
LOCAL MEP IN EXPENSES TRANSPARENCY VICTORY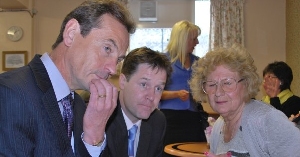 A campaign for open and honest reporting of the expenses paid to European MPs championed by North West Liberal Democrat Euro-MP, Chris Davies, has been given a major boost.

Lib Dem leader Nick Clegg announced at the launch of his party's European election manifesto in London that his MEPs would be required to publish details of all money they receive from public sources.

And he called on every candidate standing in the election on 4 June 2009 to do the same.

For Chris Davies it marked an important step forward in his campaign to secure reform and improvement of the current regime.

In February last year (2008) he blew the whistle on dishonest MEPs by leaking details of a confidential report from European Parliament auditors that revealed how some members were abusing the system of paying their staff.

Last November, North West MEP Den Dover, elected as a Conservative, was ordered to pay back £500,000 after it was revealed that he had paid £758,000 over a period of years to a company owned by his wife and daughter.

Davies says that unless MEPs are required to reveal full details of their expenses to the public in the 27 European Union countries there will be insufficient pressure for thorough reform.

MEP, Chris Davies said:- "I explained to Nick Clegg that the Liberal Democrats' current arrangements did not go far enough, and he has backed me 100%.
We may not yet be able to achieve reform across the whole of Europe, but we can at least promise voters in Britain that the candidates we put before them are committed to an open and honest approach."