HMS Daring at the Liverpool Cruise Terminal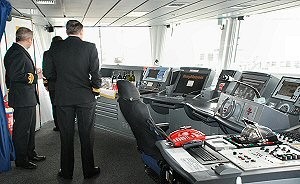 ON Friday, 22 Nay 2009 up until Monday, 25 May 2009, Liverpool was honoured by being chosen as the first official port of call for the new Type 45, Anti-Air Warfare Destroyer, HMS Daring, since it has been accepted off contract. She has been undergoing rigorous sea trials. She will be commissioned this coming January, and should be in service in 2010. Her Commanding Officer, Captain Paddy McAlpine, said that he was looking forward to visiting Liverpool, which he said had been chosen because of her maritime heritage, and that it was a popular city with the Royal Navy. He also said that he was grateful to be berthed at the new Cruise Liner Terminal, which is so accessible to the public. Captain McAlpine has been in this post only 2 weeks, but is obviously thrilled with this impressive ship and eager to aquaint us with her. Referring to her advanced weaponry and state of the art technology, he said she was very much a ship of the future. We wish him well in his command.

HMS Daring is the seventh ship to bear that name. She was launched at BAE Systems in Glasgow in 2006 and is the first of six ships of this class being built on Clydeside. Her length is 152.5 meters, with a displacement of 7,500 tonnes and a range of seven thousand nautical miles. Her speed is 30 plus knots, powered by revolutionary integrated electric propulsion, with enough energy to power a city. She is officially recognised in the Guinness Book of Records as the world's most advanced warship.

Her role will be the protection of UK national and allied/coalition forces against airborne threats. She is equipped for self-protection and to provide world-leading littoral (coastal) air defence and to support task forces. She will also have humanitarian and anti-piracy roles and Captain McAlpine alluded to her role as a peace-keeping presence around the world. This ship is highly versatile and is bristling with high technology; her defence systems are state of the art. Her flight deck is designed to operate with Lynx and Merlin helicopters.

Our visit took place on the grey and drizzly Friday, shortly after her arrival. Certainly there has never been another ship quite like this one. Her outline is definitely not conventional: clean, chunky almost, with few appendages that are visible on most traditional war-ships. Inside we were aware of an awesome array of IT including two control centres; one internal, controlling the delivery of her fighting capacity, the other, external, directing the operations in hand. There also seemed to be a bewildering number of companion ways, all steeply raked. No wonder there is a great emphasis on keeping fit!

During our visit, we were escorted by Marine Engineer Officer, Julian Lowe, from Chester and we met local ratings, ETME Lee Bate, LS Anthony Hughes, AB Leon Evans and Phil Bowen. All of whom were keen to talk about their ship which was described as a happy ship but very different to others. However, they were also keen to share the gems of Liverpool with their shipmates, in particular to two from New Zealand. They were looking forward to take part in sporting activities, already arranged, in port. Other visitors, on Friday, included many local dignitaries and children from Greenbank High School, Southport and Formby Range High School.

On Saturday and Sunday afternoons the vessel was open to the public. The weather was much kinder, mostly sunny. Well over a thousand attended on Saturday, and even more on the Sunday. Visits were well organised and the ship proved to be a very interesting attraction.

Along with our thanks for an enjoyable and instructive visit, we wish the Captain and the Ship's Company, a successful conclusion to the trials and "God Speed" for the Future.