A century of lending in Garston
AN historic Liverpool library has been given the Royal seal of approval for a century of lending. Her Majesty The Queen has written to staff at Garston Library to congratulate them on 100 years of loaning out books. The letter will be on display during celebrations on Tuesday, 26 May 2009, to mark the occasion. The day will also see staff dressed in period costume, an exhibition of old photographs and a visit from Lord Mayor Mike Storey, who will be cutting a special birthday cake.

Council leader Warren Bradley said:- "Libraries are an essential part of the fabric of our local communities, and Garston has served the area fantastically well for 100 years. Although the items it loans have diversified over the years, it is still essentially what it always has been, a place of knowledge and learning for all local residents to use. The council is committed to making sure that our libraries continue to thrive, which is why we have refurbished more than half of them over the last decade."

Garston is a Carnegie Library, built using money provided by philanthropist Andrew Carnegie at an original cost of £8,000.

The Order of Ceremony from the 1909 opening will also be on display. It shows that the library had 8,900 books:- "including works of interest to the student, the artisan and mechanic and the general reader". The document boasts that:- "the building will be suitably warmed in the winter time by a low pressure system of radiators". Originally, women and children were not allowed to read in the same room as men, and had a separate area. There were also strict rules for children warning that they must have clean hands and faces, and should not carry books uncovered in wet weather. Readers were fined half a penny for each day an item was overdue.

These days, the library has 25,000 books, CD's and DVD's in stock, gets 100,000 visits annually and issues 78,000 items. It was refurbished in 2003, when it also became home to a One Stop Shop, allowing local people to access council services under the same roof.
More than £8 million has been spent refurbishing 15 of Liverpool's community libraries over the last decade, with another £1.3million currently being spent on Toxteth Library. Plans are currently being drawn up for the redevelopment of the Central Library and Archive.

Liverpool libraries service has over 80,000 members and receives over 2 million visits per year, and the council spends almost £1 million annually on new books, information resources and multi media materials.
NEXT OF KIN - STANLEY KANE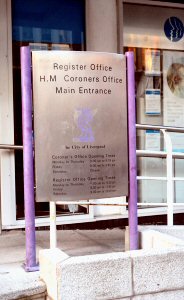 THE Liverpool Coroner's Office are appealing for the next of kin of Stanley Kane, 57, who died at a nursing home in Dovecot on Saturday, 23 May 2009. The Coroner's Office has been unable to trace Mr Kane's next of kin and is appealing for any relatives to come forward. There are no suspicious circumstances surrounding his death. Any next of kin, or anyone who has information about Mr Kane's next of kin, is asked to contact Liverpool Coroner's Office on 0151 233 4703.
FREE DRIVING LESSON OFFER

THIS week we are please to report a new offer is now online for our readers, thanks to The ADI Network. If you are looking at starting to drive and want to find an instructor, well this offer might help you, not only find a qualified and highly skilled instructor, but also it will let you have a free driving lesson as well. This offer is aimed at Merseyside area, but you can be from any area in the mainland UK (excluding Ireland and Northern Ireland). This could be the key to your driving success... Get filling in now! To find out more go to the advert page on Mersey Reporter via clicking here. To see our other offers, why not take a look at our offers page by clicking here.

More interesting offers for our readers are to follow very soon....
City Centre event will help Liverpool's young people 'know more'
YOUNG Addaction Liverpool, the UK's largest drugs and alcohol support service, have gathered together over 20 organisations from across Liverpool, for 'Know More' a fun and informative awareness event taking place on Friday, 29 May 2009, from 11am to 3pm.

Throughout the day local street dancers, poets, and drama groups will take to the outdoor stage in Williamson Square, alongside Mersey-famous Everton Tigers who will be performing basketball tricks and giving out training tips throughout the 'Know more' event. There will also be a range of information stands offering free & confidential help and advice.

Nick Evans, Young Addaction Liverpool Project Manager, said:- "Young people have incredible potential and we want to make sure that drugs and alcohol issues don't limit their futures. Our support workers offer non-judgemental, free and confidential support, to help young people overcome these problems to live independent lives again. We also provide support to their families and friends too, as they are often affected by young people's struggles with drugs or alcohol – and the 'Know more' event will be an easy way for people to find out more about all the different support we and our
partners can offer."

Gideon Ben-Tovim, Director of Liverpool Primary Care Trust, added:- "We are delighted that our Drug and Alcohol Action Team (DAAT) is working with Young Addaction Liverpool to offer specialist help for local young people who find themselves in challenging situations."

Councillor Marilyn Fielding, executive member for Safer, Stronger Communities, said:- "People should not be afraid to come forward and ask for help and advice if they or someone they know is involved in drug or alcohol abuse. There are a whole host of organisations funded by the City Council and the PCT which offer non judgemental help, support and assistance – and they all have a successful track record. We are using this event as a chance to showcase some of the services on offer in Liverpool, and I would urge people to go along and find out more."

Young Addaction Liverpool is one of the leading services in the city, specialising in support for young people and have recently launched one of national organisation - Addaction's - pilot services for 18 to 25 year olds. 'Know more' is on Friday, 29 May 2009, 11am- 3pm in Williamson Square, Liverpool and is supported by Liverpool Drug and Alcohol Action Team (DAAT) and Citysafe, Liverpool City Council.