Happy Birthday Liverpool ONE!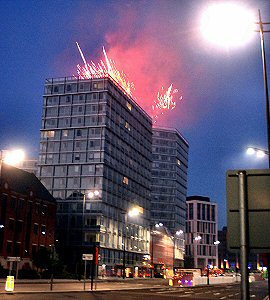 WHAT a lovely way to mark the 1st anniversary of the Official Opening of Liverpool ONE site. On Friday, 29 May 2009 the city center was buzzing, but this was not a big party. To celebrate events were deliberately low key. Besides shopping at the now well established centre, people of all ages, but especially young families, thronged the grass in Chavasse Park; picnicking, relaxing and generally enjoying themselves in the warm sunshine, even cooling themselves in the sparkling fountains. Children appreciated the attentions of some very talented face-painters and balloon sculptors, and the entertaining jugglers who circled around. Recorded music, and live jazz from a very lively Liverpool group, The Grapes, floated out over the area. Delicious snacks and mouth-watering fruit drinks were generously distributed by Wagamama where on offer. In the evening, the well known Liverpool Batala Community Samba Band took over, and the day culminated with a short firework display and the pounding of drums, echoing all around the area. Every one we spoke to was very pleased with the day, yet it was not only Liverpudlians who enjoyed it, as there were people there from far as far as Taiwan, Algeria and Lebanon (now resident). All of whom commented favourably on the city and its friendly people. A couple from Stoke said that they have been coming to Liverpool because of the Beatles, for many years and liked what has happened to the city. Several people mentioned the Mediterranean atmosphere to the day. Others visit regularly to shop and enjoy events. If you haven't yet visited Liverpool 1, the newly refurbished waterfront or the myriad other attractions, make haste and do so now; you should be pleasantly surprised; as were the American guests whom we met last week. Well done Liverpool One and lets hope this success keeps on going!
"HAPPY BIRTHDAY!"
SEE OUR PHOTO COVERAGE CLICK HERE NOW!
Useful URL's:- Batala Liverpool | Liverpool One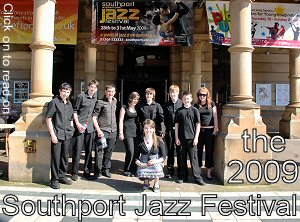 --- MORE NEWS REPORTS BELOW ---
Green art cornered in Liverpool
APPEAL FOR WITNESSES - RAPE - LOWER PROMENADE, SOUTHPORT
Annabelle, 12, looks to guide Prime Minister on aid policy
Vital community bus links for Crosby and Waterloo
213,800 people needlessly have Type 2 diabetes
LORD STREET BANDSTAND ART GROUP
Year in jail for housing benefit cheat
Southport Jazz Festival May 2009
Letters to the editor:- "Smoking fans help 96 year old's fag fine"
Southport at forefront of fight against healthcare bugs
DIRTY WEEKEND PLANNED FOR NEW ST HELENS WOODLAND
APPEAL FOR WITNESSES - SERIOUS ASSAULT, PENNY FARTHING PUB, LIVERPOOL
Police called to Woodwards Wine Bar, Birkdale
The Southport Melodic Jazz Club
Public rank carers alongside emergency services
Photos of the First Anniversary of the opening of Phase 1 of Liverpool ONE
The Liverpool Military Show 2009 - Photo Extra
The Queen pays tribute to North West volunteering groups with prestigious Award
Scott Mays Daredevil Stunt Show In Southport
Kites over the Mersey
MERSEYSIDE'S BUSINESSES OFFERED FREE ADVICE AND SUPPORT
DREAM LIFE
Letters to editor:- "The Arkanes at the Wellington"
A FREE pint for your Dad at the Ship Inn
HAPPY BIRTHDAY


If you have someone you want to say happy birthday to, for free,
then use the email address below to send us the names
you want us say happy birthday to, and/or a photograph.
Email
us today!