Yet another 50p Tax!
THIS week the Government has pledged to improve broadband infrastructure so every home can access at least 2Mbps broadband speeds by 2012. This sounds like a good idea, but as normal with this Government, it comes with yet another tax. This time a tax on every fixed line broadband connection in the UK. The cash raised by this new tax will, according to the Government, help to ensure those in rural areas have access to next-generation services. £175 million will have to be raised according to the Government, by 2017 in order to make sure the final third of the UK, who are still with our good connection, get up to the speeds enjoyed by those with high-quality networks. This new tax has come out of the blue and has angered many who are already struggling with the normal monthly contributions, but the Government says that households on low income will not be affected. The extra £12 per year, on top of the VAT and will be collected by broadband operators in the normal bills. Reacting to a call that this tax is unfair, the Government has justified the collection by saying that "We believe that it is only right to share a small part of the saving users are getting on the significantly reduced costs of broadband in the UK. This share of the savings will then be plugged back into the infrastructure. We feel that the 'Next Generation Fund' supplement of 50p per month on fixed lines represents a fair and sensible national investment to ensure that the overwhelming majority of the country can get access to next generation broadband." Do you agree with this latest hidden tax? Email us now to news24@southportrreporter.com.
FILMON.COM GIVES BUDDING FILM DIRECTORS THEIR BIG BREAK

CALLING all camera phone Spielbergs and Scorseses and digital video camera Coppolas, Hitchcocks and Tarantinos!

FilmOn.com, the UK's leading film and TV streaming portal is offering film fans all over the UK the chance to take part in a unique scheme designed to give the next generation of film makers their big break – and all budding directors have to do is upload a 1 to five minute video clip onto:- festivaltv.com.

"The video can be anything from a film spoof or a funny video moment to a completely new screenplay idea and entries will be judged on their originality and creativity so don't worry if you don't have the latest kit. The winning entry will win a once in a lifetime opportunity to have a film project funded by FilmOn.com with a red carpet premiere for the finished movie and entering couldn't be simpler - just go to www.festivaltv.com, create a free account and upload your movie with the words 'Fest Film' and then the title of your film. This competition provides a unique opportunity to break into an extremely competitive industry. Participants have until the end of July to upload their entries and we are looking to receive entries from all over the country as we believe there is some great talent out there that needs to be brought to a wider audience." says Alki David, founder of FilmOn.com.

So do you and your friends fancy filming a spoof of The Godfather or Gone with the Wind or do you have a great original concept that you think will take the film world by storm? If the answer is yes then get entering!
The Boogeyman
PARR Hall, Warrington, is pleased to play host to a jam-packed night of action from the world of extreme wrestling featuring the inimitable 'The Boogeyman' next month. Joining 'The Boogeyman' in the ring will be EWW champs 'The Dominator', 'The Wonderkid' Jonny Storm, 'The Playboy' Phil Bedwell and many more! This fast-paced event is an ideal evening out for mum, dad and the kids and is guaranteed to be action-packed and full of fun for all! To book your tickets or for further information, please contact Box Office team on 01925 442345 or visit:- pyramidparrhall.com. Listings Information:- EWW Featuring The Boogeyman, Sunday, 19 July 2009, 7.30pm, £12/£10
TESCO UK AND HER MAJESTYS COASTGUARD WORK TOGETHER IN AWARENESS PARTNERSHIP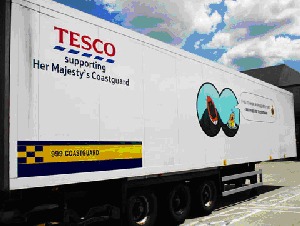 TESCO UK and Her Majesty's Coastguard have developed a partnership to promote dialling 999 and asking for the Coastguard if you spot anyone in trouble, on the beaches, cliffs and seas around our coastline.

Tesco UK will be carrying the key message on the rear doors of eighty articulated trailers that transport goods from four of Tescos distribution hubs to their coastal stores.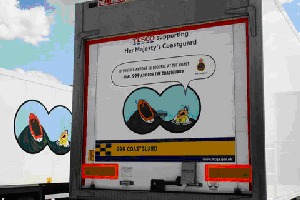 Alex Laffey, Transport Director for Tesco UK said:- "We are pleased that we can assist Her Majestys Coastguard in this awareness initiative. We take our corporate social responsibility very seriously and we have Community Champions in our stores who work extremely hard to engage with the local communities who are our customers."

Peter Dymond, from Her Majesty's Coastguard said:- "We are delighted that we are able to work in partnership with Tesco UK to promote this key message. It is vitally important that people dial 999 and ask for the Coastguard when they spot anyone in trouble, on the beaches, cliffs and seas around our coastline."
MPs condemn proposal of top slicing of the Licence Fee as disastrous
MPs of the NUJ Parliamentary Group express their disappointment at the Government's announcement to consult on the option of top slicing the Licence Fee, as laid out by the Digital Britain Report published this week. John McDonnell MP, Secretary of NUJ PG, said:- "Top slicing the licence fee would be disastrous - weakening the corporation's ability to continue as a world respected public service broadcaster and attacking the historic relationship between the licence fee payer and the BBC. Before embarking on this ill-advised path, we need an urgent investigation into other sources of funding in order to provide news beyond the BBC without damaging what is the bastion of broadcasting in this country." Liberal Democrat Shadow Culture, Media and Sport Secretary and Vice-Chair of the NUJ PG, Don Foster MP said:- "Maintaining the strength and independence of the BBC is vital. Top slicing - in whatever language - sets a precedence that undermines that independence. What guarantees can we have that future governments will not take more money from the licence fee to fund their pet projects, especially when they are unhappy with what the BBC is doing?"