NASA astronaut visit out of this world!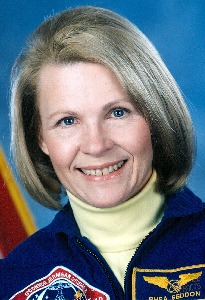 YOUNGSTERS are being given the chance to meet a real NASA astronaut, as Spaceport sets out on another journey into the world of space. American Dr Rhea Seddon, the 6th woman in history to make the journey into space, is visiting Spaceport as part of a whistle-stop tour of the UK.

On Friday evening, 19 June 2009, Dr Seddon will give a one-off talk to 100 space enthusiasts and the session is open to the paying public. On Saturday Rhea will meet and greet Spaceport visitors for free photographs, autograph signing and host a number of interactive questions and answer sessions throughout the day. Visitors can take the chance to quiz the NASA astronaut who has flown on board the Discovery (1985) and twice on the Columbia (1991 and 1993), clocking up an amazing 500 hours in space.

Ken Moss, Spaceport Manager, said:- "We hope this will be a day to remember for our visitors. In Rhea we have an astronaut of real pedigree and very few will ever get an opportunity to get this up close and personal. It's a tremendous coup for us to be able to host this visit by Rhea. She can talk about experiences many of us can only dream of. That's why Spaceport was put on the map – to share the magic of space in a way that is entertaining and educational."

During Saturday every child wearing space-themed fancy dress gets in free (max of 2 children per paying adult).

Dr Seddon will also spend time with children and families from Wirral charity Claire House, Merseytravel's corporate charity for 2009, on Saturday morning.

Ken added:- "This is perfect timing for our current exhibition, One Small Step, which explores space and space travel throughout the years, including the 40th anniversary of the Moon Landings. June 20 is exactly 1 month short of the 40th anniversary of the Moon Landings, a date and event that changed people's perception on reality and what could be achieved in space exploration. Rhea has benefited from that moment in history and has seen the world in a way that was unimagined even 60 years ago."

The One Small Step exhibition, another world 1st for Spaceport, shows images, film and detailed models the landmark stages that led to the historic moment of the moon landing on July 20 1969. A range of displays, interactive activities, meteorites and unique space memorabilia are brought together for the 1st time. The exhibition showcases the future of space-travel and the hope for travel to other worlds; until now only a dream. The visit also compliments the launch of a new dome show, called "We are Astronomers", and narrated by Doctor Who himself David Tennant. See the trailer for the new planetarium show at:- weareastronomers.com.
Dr Rhea Seddon visit timeline
Friday 19 June 2009
Spaceport "Meet a NASA Astronaut" evening – 7.30pm to 9.30pm

Dr Seddon will host a question and answer session between 8pm and 9pm, followed by screening of New Dome Show "We are Astronomers"

This event is open to the public on a pre-booked basis, with tickets costing £10, including light refreshments.

Tickets are available at Spaceport or by calling:- 0151 330 1333.

Saturday 20 June 2009
Spaceport "Meet a NASA Astronaut" family event – from 10.30am to 6pm (last admission 4pm)

No pre-booking is required, just turn up on the day.

However places in the question and answer sessions with Dr Seddon will be allocated on a first come first served basis.

Children in space themed fancy dress can visit FREE of charge (maximum of two children free per full paying adult). This also applies to joint Mersey Ferry and Spaceport tickets.

For further details visit:- www.spaceport.org.uk or call:- 0151 330 1566.

The programme for the 20 June 2009 is as follows:-
9.30am to 11am - Dr Seddon will meet families from Merseytravel's 2009 corporate charity Claire House.

Dr Seddon will then host a range of meet and greets, with photographs and autograph opportunities as well as a number of Q&A sessions throughout the day in Spaceport's Dome Theatre.

11am to 12noon:- Session 1 - Meet and greet with Dr Seddon on Spaceport's 1st floor, with signings and photograph opportunities.

12noon to 1pm:- Dr Seddon will host a Q&A session in Spaceport's Dome Theatre.

1.30pm to 2.30pm:- Session 2 - Meet and greet with Dr Seddon on Spaceport's 1st floor, with signings and photograph opportunities.

2.30pm to 3.30pm:- Dr Seddon will host a Q&A session in Spaceport's Dome Theatre.

15:30 to 16:30:- Session 3 - Meet and greet with Dr Seddon on Spaceport's 1st floor, with signings and photograph opportunities.
Robbery at Diamonds Direct
Photographs by Martin Jones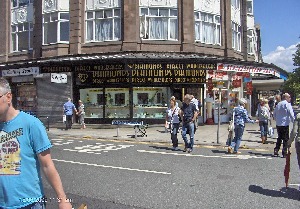 MERSEYSIDE Police are hunting four men who smashed their way into a Southport jewellers' (Diamonds Direct) on the corner of Lord Street, Southport. The incident took place at approximately 11:15am on 15 June 2009. The robbers are reported to have smashing their way through the shop display counter from the inside of the shop. Witnesses described seeing the staff watching as they hid behind shop counters, as the men used axes to smash through the glass The owner, Michael Bakerman, and his staff are reported to be highly shaken by the ordeal. The robbers are then said to have used a BMW Estate, to get away down Portland Street. It is thought that the car turning right into Part Street then into Cross Street. Then the BMW was set on fire on Railway Terrace. Merseyside Police have not given us full information yet, but they have said that they think the robbers fled in another vehicle and that the BMW was later removed from the highway for tests. A number of rings and other items are thought to have been taken. Anyone who witnessed the incident can call Crimestoppers anonymously on:- 0800 555111.