SPECIAL DISCOUNTS FOR ARMED FORCES ON NEW HOMES
THE North West's military servicemen and women are being offered special incentives to help them get their feet on the property ladder.

Personnel employed by the army, navy or RAF as well as anyone who served in the wars in Afghanistan or Iraq all qualify for Barratt Manchester's Armed Forces Discount Scheme. Anyone set to retire from the forces this year will be eligible until the end of 2009.

They will be offered a £500 discount for every £25,000 or part thereof on the cost of the property they are buying. For example, on a home costing £126,000 they would qualify for a reduction of £3,000.

The launch of the country-wide offer will coincide with the first ever National Armed Forces Day on 27 June 2009.

"This country rightly celebrates the achievements of its Armed Forces which many regard as the best in the world. We have an established track record of helping people into home ownership and this offer should enable servicemen and women finally to own the roof over their heads and save thousands of pounds. Now is a good time to buy because prices and mortgage rates are significantly lower than they were two years ago. We are offering some superb deals which won't be on the table much longer as our stock levels have reduced significantly. What gives us the edge over other people selling homes is that we can provide customers with innovative financial incentives which enable them to get a mortgage – the key issue for anyone buying today." said Dave Hodgson, Sales Director at Barratt Manchester.

All Barratt developments are open five days a week between 10.30am and 5.30pm. Can't decide which development? Then call Barratt Manchester's central sales team on 0161 855 2888 or visit www.barratthomes.co.uk where you can take a 360 degree visual tour of available properties.
APPEAL TO TRACE MISSING LIAM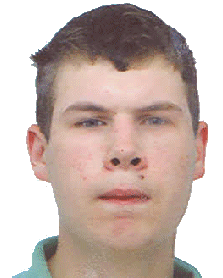 POLICE in Hertfordshire are appealing for help in tracing a vulnerable 21 year old man who was last seen in Crossbrook Street, Waltham Cross on Friday, 12 June 2009 at around midday. Liam Gibson, who lives with his family in Ware, is believed to have travelled into London. He is described as a white male, 5' 11" tall, of proportionate build, with short brown hair. He was last seen wearing a grey Lonsdale fleece, green t-shirt, blue jeans and white Velcro trainers. PC Andy Gorrell said:- "We are asking for the public's support in tracing Liam. We are particularly concerned about Liam because he has learning difficulties, which puts him at extra risk. Liam is fascinated by all forms of public transport and has been known to go into London for this reason. Since he has gone missing we believe he has been a victim of crime, as we have evidence to suggest his mobile phone is being used by another person, which makes us even more concerned for his welfare. If anyone believes they have seen Liam, or knows of his whereabouts, I would strongly urge they contact us immediately."
Anyone with information about Liam's whereabouts should call Hertfordshire Constabulary on:- 0845 3300 222.
MEDICASH HELP HOSPITAL STAFF GET FIT AT WORK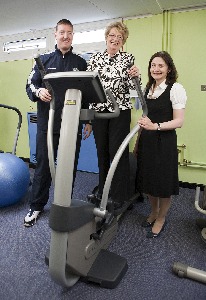 LEADING cash plan provider Medicash is urging employers to help their staff to get healthy and follow in the active footsteps of Alder Hey, one of the largest children's hospitals in Europe.

Medicash has recently donated two pieces of high-tech gym equipment to Alder Hey's newly refurbished onsite staff gym. The
donation of a cross trainer and stepper from Medicash coincides with an initiative by Liverpool Primary Care Trust called Active Workplaces which encourages managers to actively promote healthy lifestyles. Staff at Alder Hey are now benefiting from the scheme through the upgraded facilities and new fitness equipment which accommodates the broad range of fitness and ability levels of its staff.

Alder Hey employs 2700 staff and the percentage of the workforce joining the new gym is steadily increasing following the
refurbishment. Angela Jones, chair of Alder Hey said:- "We are really grateful to Medicash for their donation which has helped transform the gym and their equipment is proving to be two of the most popular pieces. Our workforce is our most valuable asset and this investment in their health and wellbeing will play a major part in ensuring ongoing delivery of world class care. As England's first health promoting paediatric hospital accredited by the World Health Organisation we are committed to ensuring wellbeing at work remains a priority."

The gym, which was re-named 'The Zone' following a staff competition, now gives staff access to state of the art health and fitness equipment dedicated to aiding weight loss, toning and general fitness improvements. A new exercise class timetable that responds to the preferences of staff is also being introduced and will include a diverse range of activities including Salsa, Pilates, Circuit Training and many more.

Sue Weir, chief executive of Medicash said:- "Medicash has had a longstanding relationship with Alder Hey since the early 1900's and we are delighted to continue our support by donating gym equipment to the staff fitness centre. Caring for employee health and wellbeing and promoting a positive approach to lifestyle and fitness should be of utmost importance to employers, and Alder Hey are a shinning example of how to do this. It is proven that a healthy, happy workforce is motivated and productive and the new gym facilities will hopefully encourage more staff to get fit which will benefit not only themselves but the children in the hospital."

The Zone was officially opened in May by Alder Hey's Chair, Angela Jones and player Chris Haslam from the Everton Tigers basketball team. The refurbishment was funded by Alder Hey's Charitable Funds and Imagine Appeal. In addition to Medicash, Liverpool: Active City also donated a multi-station 'Easy Line' exercise system.