ARRIVA REWARDS LOCAL CHILDREN IN NINTH YEAR OF KNOWLSEY CITIZENSHIP AWARDS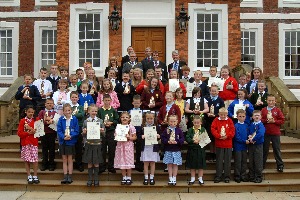 48 Knowsley school children will have had their good citizenship recognised and rewarded at a special ceremony to be held at Knowsley Hall on Thursday 18 June 2009. Arriva, which operates buses throughout the North West, is working with the Foundation for Citizenship at Liverpool John Moores University, to identify young people who are shining lights in their local community. Their achievements range from sporting success to coping with serious illness and often reflect the support young people give to families and friends during difficult times. Earlier this year, schools in Knowsley were invited by Arriva to nominate pupils who had shown great strength of character and proved themselves to be good citizens. Phil Stone, managing director of Arriva North West, and Lord David Alton of Liverpool John Moores University's Foundation for Citizenship will present the Awards to the children at a special ceremony. The Rt Hon George Howarth MP, the Mayor of Knowsley, Councillor Dave Smithson, and Damian Allen, Knowsley Executive Director for Children & Family Services, will also be at the event. Phil Stone commented:- "All the children who are entered for these awards show tremendous strength and deserve all the recognition that this ceremony offers them. We are happy to show our support once again for this moving and inspiring event." Lord David Alton, Director of the Foundation for Citizenship at Liverpool John Moores University, said:- "We're delighted that Arriva has supported our Citizenship Awards scheme for nine years now in Knowsley."
Liverpool Tots In Rhyme On Sing-A-Long CD
YOUNGSTERS from Children's Centres in Liverpool are the stars of a new CD of nursery rhymes. Parents, children and staff from 24 sites across the city have been involved in the album, which features classic tunes, as well as brand new songs.

The final song – 'Twinkle Twinkle Liverpool Stars' – has been recorded on Monday, 22 June 2009 at the Greenbank Sports Academy, and 50 toddlers and their mums and dads took part in the session.

When completed, the CD will be distributed among the Children's Centres, and used during physical activities such as dance routines to keep them fit and active. Mums and dads will also be given copies to use at home or sing along to in the car!

Councillor Keith Turner, executive member for education, said before the recording session:- "Everyone has a favourite nursery rhyme from their childhood, and this is a brilliant way of using them to get children active. If we can encourage children to be active from a young age rather than sitting in front of the television then they will be less at risk of obesity and will continue with exercise into adulthood. This is just one of the many inventive schemes we are running in Liverpool to tackle the problem of obesity."

The nursery rhyme project is run by Sportslinx, a partnership between the city council, Liverpool Children's Centres, Liverpool Early Years Foundation stage, Liverpool PCT and Liverpool John Moores University to help reduce obesity and encourage exercise and healthy eating among young people.

Other songs on the CD include 'Incy Wincy Spider', 'Ring a ringa roses' and 'If you're happy and you know it'.
A Trophy All True Blues Should Not Miss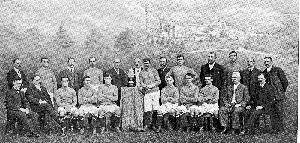 THE Unique Everton Collection FA Cup exhibition kicks off on Thursday, 25 June 2009 from 9.30am in the Marquee at Goodison Park. This will be a busy time for Evertonians as during the four day event the Club's newly refurbished store "Everton One" opens it's doors for the first day of trading at 9.00am on Saturday 27 June. From that time Blues fans will be able to buy their new home kit for the 2009/10 season, exclusively from Everton Retail. As a Club it is well known how Everton has embraced innovation and "firsts" throughout it's history and the outstanding Everton Collection currently being prepared for a full launch in September this year, is no exception to this. The exhibition in the Marquee will be the first time that any Premier League Football Club has been able to show so much memorabilia surrounding the world's premier football cup competition, The FA Cup. The famous trophy will be there as will many Everton FA Cup artefacts never seen for many years by football supporters. What about the actual ball from the 1933 Cup Final? Or Duncan Ferguson's tartan inlay football boots from the 1995 FA Cup Final? All brought to you by the Everton Collection.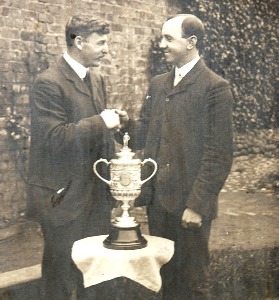 Pride of place however will be a trophy never seen before at Goodison for over 100 years, the 1906 FA Cup Trophy won by the victorious Everton team led by Jack Taylor. The Cup is the oldest existing FA Cup trophy and was used between 1896 and 1910. It was presented to Lord Kinnaird of the Football Association upon his retirement and auction house Christie's sold it a number of years back to David Gold, the Chairman of Birmingham City Football Club. "Our photograph shows the Cup along with the victorious Everton team and directors who won the trophy in the cup final held at Crystal Palace, where Everton beat Newcastle United 1-0 with Alex (Sandy) Young scoring the all important goal." Said Everton FC. The exhibition in the Marquee is open from 9.30am to 5.00pm every day from 25 June 2009 to the 28 June 2009 inclusive and entrance is free. Football fans will be able to have their photograph taken with the current FA Cup and all profit will go to the Everton Collection Charitable Trust to help with the continual upkeep and enhancement of the Everton Collection. Event organiser Tony Tighe said:- "This is a unique opportunity for whole families of Evertonians to come to Goodison and witness Everton's rich FA Cup history in one room. It has never been done before. To have the 1906 Trophy here for the first time, as far as I know in over 100 years, is a marvelous occasion and something every True Blue should see. I would like to offer my thanks to David Gold and the National Football Museum for letting us make this happen." Kitbag, Everton Football Club's new retail partner is offering a new home kit as a prize in a simple to enter competition at the exhibition.