Search for social care stars
A SEARCH is getting underway to find the most dedicated care and support workers in Liverpool. The 2nd 'I Care' awards are being organised by Liverpool JET Service (Jobs, Enterprise and Training) to promote excellence in social care, and to encourage more people to enter the profession. They are supported by the Social Care Partnership, a forum representing private, voluntary and independent employers in the profession.

Councillor Ron Gould, executive member for health, care and safeguarding, said:- "There are so many dedicated people working in social care who make a real difference to the lives of those that they help.
The awards are a chance to highlight the many selfless and generous staff who work above and beyond the call of duty.
I know from last year's awards that it is going to be a really hard task to shortlist and choose the winners from the many nominations."

There are 10 categories spanning everything from home care through to nursing homes, mental and physical health and working with children. One of the awards – "service users choice" - is chosen by people who receive care.

Last year's inaugural awards ceremony generated hundred of entries and the winners included Theresa D'Arcy – who was named the outstanding support worker in a nursing/care home for her work at Mossley Manor. She helped dreams come true by organising for the Irish Guards to visit ex-soldiers in the home. She also arranged trips out and masterminded activities such as knitting and sewing clothes for dolls and teddy bears.

Teresa said:- "I cared for my parents, so I was gobsmacked when I was nominated. I really love my job, and to think that people value my work so much to nominate me for an award was incredibly touching and the icing on the cake."

The event is sponsored by the 800 Group, a partnership of local charities which works together to improve services for vulnerable members of the community of all ages.

Dil Daly, the Chair of the 800 Group, said:- "We are delighted to be the sponsor of the second 'I Care Awards' which recognise excellence in health and social care. Although the 1st awards were launched in 2008 they have very quickly become a showcase for everything that is good in our sector. The 800 Group is very pleased to play a part in the awards in 2009."

• Outstanding care/support worker working in a nursing/ care home environment

• Outstanding care/support worker working in domiciliary care environment

• Outstanding care/support worker working with people with learning disabilities

• Outstanding care/support Worker working with people with mental health problems

• Outstanding care/support worker working with people with physical disabilities

• Outstanding care/support worker working with children and young people

• Outstanding "newcomer" to social care

• Outstanding manager in social care environment

• Outstanding award for continued professional development

• The Service Users Choice – outstanding employee selected by service users and carers

Nomination forms can be downloaded from www.liverpooljet.org or by ringing the People Pool on:- 0151 233 5452. The closing date for nominations is 19 August 2009.
The winners will be announced at an awards ceremony hosted by actor Danny McCall at the Holiday Inn in the city centre on 26 November 2009.
SOUTHPORT MERGER CREATES A MAJOR IFA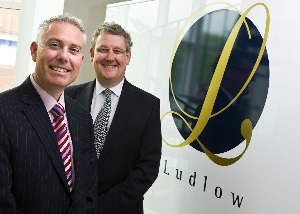 A merger has been announced that will see Chris Dewhurst Financial Planning, a well-established and popular IFA in Longridge, become part of Ludlow & Co which is currently listed amongst the top 150 Financial Advisor Groups in the UK. The deal, which will take effect from the beginning of July 2009, will see a Longridge office and staff being added to a growing regional portfolio for Ludlow's whose head office is based in Southport.

Sid Ludlow, managing director of Ludlow's said:- "Chris Dewhurst Financial Planning is the perfect partner and we are delighted to welcome the team on board. We believe we will be adding considerable substance to what is already a very successful independent financial advisor. This merger will bring to Longridge a strong back office support network, and wealth of financial knowledge and resources that you would associate with much larger organisations."

Chris Dewhurst Financial Planning has been established in Longridge for eight years. Managing director and company founder Chris Dewhurst said the deal, which sees the name changed to Ludlow's, will enhance the current service and product offer by bringing more resources to the community.

The decision to merge has been taken earlier than planned due to Chris's growing health problems. Chris said:- "My clients have been so supportive of my illness and shown considerable loyalty, but at the end of the day they are trusting my company with their future. Over the past few months I have met and considered carefully a number of possible merger candidates. Ludlow's was the only company who clearly demonstrated and held the same level of commitment, principles and ethics as us."

The Longridge operation will be headed by senior financial planning consultant Sarah Lees who has been with Ludlow's from its launch 16 years ago. Sarah has played a key part in the growth of Ludlow's which provides independent financial consultancy to over 1500 private clients across the region; being entrusted to manage more than £150 million of their funds. Ludlow's can be contacted on 01704 500324.
CANINE CAPERS GALORE AT DOGS TRUST MERSEYSIDE
DOG and dog lovers are in for a real treat on Sunday, 12 July 2009, as Dogs Trust Merseyside Rehoming Centre hosts this year's Open Day and Fun Dog Show. As well as the Grand Raffle with some excellent prizes donated by, amongst others, Liverpool and Everton FC, this year there will be a special kids' area including Hook a Duck, face painting and a bouncy castle. For the dogs there will be 'Have a Go Agility' and a Fun Dog Show and for the grown ups a fine array of craft stalls, homemade cakes, a BBQ and other refreshments. This year's Fun Dog Show will be judged by Sean Styles of Radio Merseyside, Nicki Platt of Barkbusters and a member of the Rutland House veterinary team. Gates will open at 12pm where entry is just £1 per adult and 50p for children. Dogs are very welcome but must be on a lead. The event will finish at around 4pm.

Dogs Trust Merseyside address is:-
Whiston Lane, Huyton, Liverpool, L36 6HP

There is free parking available on the corner of Whiston Lane and York Road.