Liverpool leads the way in providing support for families affected by mental ill health
THE city on Wednesday, 8 July 2009, was named as one of six 'implementer' sites driving forward new guidance that recommends adult mental health services should routinely assess the needs of children as well.

It has come from the government agency in charge of improving social care services for children and adults - the Social Care Institute for Excellence (SCIE).

It advises that professionals should 'think child, think parent, think family, and think outside the box' to support parents and their families.

It is estimated that there are 2000 young carers in Liverpool, and up to half of them are caring for a parent or person with parental responsibility with chronic mental health problems.

Liverpool helped SCIE develop the guidance due to the good practice already going on in the city.

Councillor Ron Gould, executive member for health, care and safeguarding, said:- "It is good to see that the work we have been doing in Liverpool for some time is now being used as an example of good practice for the rest of the country. Young people are under enough pressure when they are growing up, and the additional responsibility of caring for a parent means that it is vital we give them as much as support as we can. The challenge now is to embed the good work we are already doing further and wider so that as many young people as possible are supported."

Examples of good practice in Liverpool include the 'Family Room' project, which started from a collaboration called Keeping the Family In Mind, set up by Barnardos Liverpool Action with Young Carers and funded by the city council and Mersey Care NHS Trust.

Children spoke about their experience of mental health services and how they found visiting their parents on psychiatric wards frightening. This led to the introduction of the first Family Rooms in the country at four psychiatric units, to give them privacy when visiting their parents.

Another example is the Message In a Bottle scheme, which encourages families to keep their personal and medical details on a standard form located in the fridge so that the emergency services know where to look if they are called out.

23 year old Louisa is one of the people who has benefited from the partnership work with Barnardos.

She said:- "It's very hard for outside people to understand. After a certain amount of time I became my mum – I'd phone up and be my mum and write letters. It's what I did to get people to listen because if I wasn't doing it, it wasn't getting done. Now I have a support network, everything's changed. Our worker treated us both and we're happier."

SCIE's Deputy Chief Executive Amanda Edwards, said:- "It's easy for individual workers to focus on individual problems and not look at the wider family. This guide will help staff in adult mental health and children's services to plan and provide support that promotes improved mental health and wellbeing for all family members."

A new group has been set up which includes the city council, Mersey Care NHS Trust and Liverpool PCT and other mental health groups to drive forward implementation of the guidance.
BLUE PLANET AQUARIUM BEACH TIDY
THE Volunteers from the Blue Planet Aquarium in Cheshire Oaks will be joining Wirral Rangers and members of the public for a special Beach Tidy event on Heswall foreshore this weekend (Saturday, 11 July 2009). Blue Planet Aquarium's conservation group, Blue Watch, recently adopted the Heswall foreshore through the Marine Conservation Society's adopt-a-beach scheme. The scheme involves quarterly beach cleans and litter surveys which aim to monitor litter throughout the year and help reduce litter at source. "The beach was chosen as Blue Watch regularly works with the Wirral Rangers to clean it and it seemed only fitting to show the group's commitment to caring for that area of coast," said Blue Watch organiser Katy Seward. The adopt-a-beach scheme is funded by the Crown Estate and has been developed by the Marine Conservation Society. "The scheme gives individuals, groups and organisations like Blue Planet Aquarium the chance to learn about and actively take part in the conservation of their local coastal environment through beach tidies and surveys. All the rubbish we collect on the day will be separated out and itemised. After that we will recycle as much of it as we can while the rest will be disposed of safely." said Blue Watch organiser Katy Seward.

* The Beach Tidy is taking place from 10am. Volunteers welcome, gloves and collection bags will be provided but please make sure you wear suitable clothing/footwear in case it rains. The group will meet in the car park at Sheldrakes Restaurant, Banks Road, Lower Heswall, Heswall.

The next Beach Tidy will take place on Saturday, 8 August 2009. For more details and to find out about Blue Watch visit www.blueplanetaquarium.com and click on 'Conservation'.
Letters to the editor:- "Dangers at Rose Hill bridge, Southport"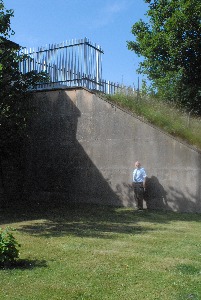 "AFTER I was selected as the Norwoods Conservative Spokesperson, I have continually worked on behalf of the local community. I am very interested in the safety of pedestrians and the motorist and this is a high priority to me. So the fist thing I did was surveyed the area. I was aghast at the danger on Rose Hill to members of the public, especially young children. With little safety measures the drop from the end of a pavement area on Rose Hill (higher and lower levels) as they broke all the rules set down to protect the public. So with the support of Southport's Prospective Conservative MP Brenda Porter, I repeatedly raised the issue to the relevant council department. They then acknowledged safety measures were needed to be put in place and identified required funding to complete the work. These photographs show the dangers at this site." Tony Crabree Norwoods Conservative Spokesperson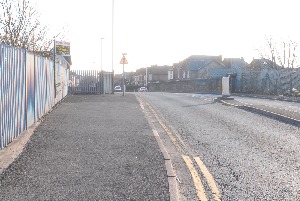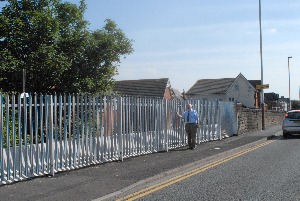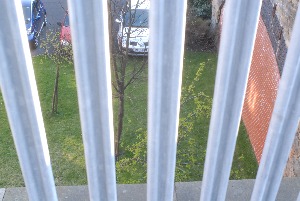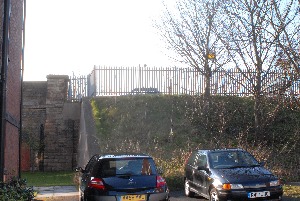 Cllr Brenda Porter said that:- "These dangers had not previously been raised and although advised of a freeze on funding persevered and won the day when these more acceptable safety measures were put in place."