LAUREL & HARDY "CHECK IN" TO OPEN SAYERS SOUTHPORT CAFE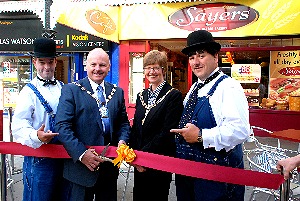 THE brand new Sayers cafe on Lord Street, Southport officially opened its doors today (Wednesday, 8 July 2009) at at 9.00am with the help of Laurel & Hardy and The Mayor of Sefton Cllr Alf Doran and Mayoress Cllr Gill Cuthbertson of Sefton.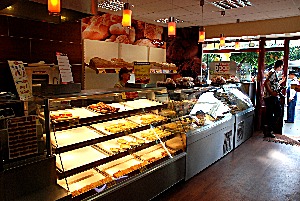 Cathy Fulton, Sayers Area Manager for the store in Southport said:- "We are very excited about opening our new cafe here in Southport and are delighted to have the support of the Mayor and Laurel & Hardy. The opening morning looks set to be full of energy and enthusiasm - alongside the classic slapstick comedy duo, customers will also be treated to a sweet giveaway with two hundred and fifty freshly baked cakes to be given away on the day. The first customer will also be treated to the famous Sayers breakfast."
More photos in next weeks issue.

CHIEF CONSTABLES TALKBACK EVENT SEFTON
MERSEYSIDE Police Chief Constable, Bernard Hogan-Howe, will be in Sefton on Tuesday, 21 July 2009 for a Community Talk Back Event. Your views and opinions about the issues that impact on your feelings of safety and quality of life are important to us. By telling us about them, you can help us determine how we will deliver local policing. The Community Talkback Event will take place from 7pm to 9pm in Bootle Town Hall, in the Assembly Hall. This event is your opportunity to get an update on policing in your local area and raise any issues or concerns regarding local policing. Please come along and have your say.
Healthy kids say 'Thanks Mate'!
LIVERPOOL youngsters have been honoured for helping to build a healthier future for their mates! A special event at Wavertree Sports Centre on Saturday, 4 July 2009 had city's 60 'Health Mates' attended. All of them thanked for their work with more than 300 young people across the city over the past year.
The young people, aged 13 to 19, have been recruited to in a bid to cut obesity in Liverpool and provide advice and guidance to young people who are overweight. They promote healthy eating and help youngsters get involved in activities that burn calories such as cooking, dancing, sport, and exercise.

Around 200 guests took part at the special event in Wavertree. As well as giving everyone the chance to thank the Health Mates for their hard work, the event also give people a taste of different cultures from around the world. Wavertree Sports Park was awash with colour, sound and activity as young people take part in a range of sports including football, tennis, badminton, basketball, netball, and even a rodeo bull. There was also singing, drumming and fashion workshops and a range of therapeutic activities, including reiki, indian head massage, aromatherapy, and meditation classes.

Young people had the chance to get active with aerobics, yoga, pilates and martial arts, as well as Bollywood and Afro-Brazilian dance. That's not forgetting a range of activities for disabled young people, including wheelchair basketball. Healthy food and cultural activities from Africa, China, Greece, Jamaica, Mexico, Poland and Spain was also be on offer. And there was a stage featuring performances from young singers, dancers and comedians. The special event, with the theme of 'Healthy mind, body and soul' has been completely put together by young people and everyone who took part was in fancy dress!

Before the event took place city council's executive member for education, Councillor Keith Turner, told us that:- "Our Health Mates scheme is proving to be a huge success. Youngsters are often far more influenced by their peers than anyone else, and older teenagers are able to inspire them in a really positive way. Today's children are tomorrow's adults and it's vital we do all we can to give them the best possible start in order to prevent them facing health problems in later life. Teaching youngsters the importance of eating healthily and getting fit helps them develop habits that last a lifetime. Health Mates is playing a major part in breaking couch potato habits and tackling child obesity, by finding innovative ways of getting youngsters out of the house and involved in physical activity. This action-packed event is the perfect way to thank our heroic Health Mates for the wonderful work they are doing."

Liverpool's Health Mates, including young people with disabilities, serve over 300 people aged eight to 13 at schools, community centres and youth groups across the city. The project, launched in 2006, is part of a massive drive to improve the health and well being of youngsters, and make sure every young person is taking part in at least two hours of exercise each week.

Liverpool has also become the 1st city in the UK to provide under 5's with free membership to fitness centres. The pioneering move, part of the 'Futures' scheme, means all children aged up to 16 year olds in Liverpool now have a free annual membership for the city's lifestyles centres...