MORGAN ASHURST'S GARY IS 'TOP GUN' AT RAF VALLEY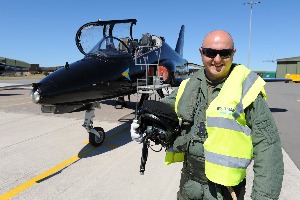 DAREDEVIL senior site engineer Gary Simister proved he is a 'Top Gun' when he performed a loop-the-loop in a fighter jet plane at RAF Valley – where he is helping to build a £20 million extension to the facilities.

Gary, 34, who works for Liverpool construction company Morgan Ashurst, is helping to construct a huge hangar, training suite and squadron building at the base in Anglesey – which is one of the largest live RAF training sites in the UK.

Determined to understand his client's needs, he jumped into the passenger seat of a Hawk T Mark 1 plane as pilot flight lieutenant Steve Eccles carried out a 'white-knuckle' training exercise, designed by the Ministry of Defence to give trainee pilots the chance to practise death-defying manoeuvres. The duo flew at speeds of up to 500mph at around 14,000ft.

At one point, Gary was invited to take the controls and performed a loop-the-loop and a barrel roll.

"It felt like being on the world's most amazing rollercoaster; it was absolutely superb. At one stage, we waved to a group of plane spotters who were standing on a ridge taking photographs and the views were beautiful! I honestly was not scared but after an hour of experiencing huge G Forces, I was ready to come down! This is something that I have always wanted to do so I feel really privileged to have had this opportunity." said Gary.

"We felt it was important that the team from Morgan Ashurst experienced the feeling of flying in one of these amazing planes. Gary was very brave. A lot of people get very, very sick on these flights. Anyone who gets remotely car sick normally ends up re-visiting what they had for lunch. It is also extremely tiring due to the G-forces involved." says RAF Valley's Squadron Leader Mark Byrne, who comes from Maghull, near Liverpool.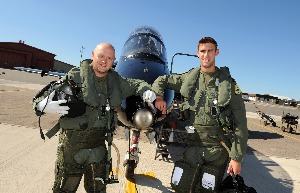 By car, it would take around one and three quarter hours to get from RAF Valley to Morgan Ashurst's office in Highfield Street. By fighter jet plane, it takes just eight minutes.

Morgan Ashurst is building a 12,000sq m hangar which will accommodate high-tech fighter planes, as well as areas for maintenance. The new squadron base will comprise a gym, IT suites and training rooms containing state-of-the-art computer simulators, which allow service personnel to practise flying planes before taking to the skies.

The contract is being carried out as part of the UK Military Flying Training System programme for VT Support Services, part of the VT Group. It is being delivered under a 25 year, £635 million private finance initiative to improve aviation training capability by Ascent, a joint venture between VT Group and Lockheed Martin UK.

The programme will provide Fast Jet Pilot Training at RAF Valley using the HAWK 128 aircraft, along with training infrastructure, teaching classrooms, simulators and aircraft hangars.
Samba Carnival is back in the City!
ON Friday, 3 July 2009 we where informed by that the Liverpool Carnival Company that they will be bring to Merseyside the 2nd Samba Carnival Parade, to Liverpool City Centre. This is the first major step in making this an annual event, that will bring in thousands of people, from all over the UK and through out the world to Liverpool, on a yearly basses, just like Mathues Street Festival. Last years carnival was run as part of the Liverpool Capital of Culture 08 celebrations and attracted crowds of over 20,000 people who lining the route, but this years is expected to be far bigger still. "We are going to build on what we have achieved last year. With the less big events taking place thought the world, it will be even more of an attraction, and as this is free to watch, so interest will be higher still."

This year has already confirmed are over 500 musicians and dancers from Liverpool the UK, Europe and Brazil who will be taking part in the parade. "It will make Liverpool's main streets and back streets a sea of colour, with amazing costumes, glittering floats and irresistible samba music." Roger Morris MD of the Liverpool Carnival Company told us.

This magical event will be held on Saturday, 1 August 2009 and will be is starting in the early evening at 8:30pm. The event is expected to finishing late in the evening, as night falls across the city. It will be truly an event for all the family. The parade can be watched from a host of venues along the route, which takes in Hope St, Hardman St, Bold St, Concert Sq, Duke St and ends through the Chinese arch. Full route can be see on the Liverpool Samba School's website.

Roger Morris MD of the Liverpool Carnival Company added that:- "Liverpool Carnival Company would like to thank our sponsors Awards for All and Liverpool City Council and for their continuing support for this event. We would also like to thank all the media and businesses who have helped promote this and we look forward to their help this year! Lets make it bigger and better. Lets put Liverpool on the map..."
National award for campaign to Make Smoking History for Sefton's children and young people
A campaign which saw 426 people in Sefton urge the Government to make smoking history for our children and young people has been recognised with a national award in London.

The region-wide 'Let's make smoking history for our children' campaign, which engaged public support for a tobacco free future for children and young people, won in the category Public Sector Campaign of the Year at the Public Affairs News Awards 2009. The award was presented by newsreader Daisy McAndrew to Smokefree North West, who co-ordinated the campaign.

As part of the campaign, 426 postcards in Sefton were sent to the Department of Health, calling for a long term plan to protect our children and future generations from the harm smoking causes. Across the whole of the North West region, over 60,000 people pledged their support – the biggest response in the country. The postcard responses were important in defining the current proposals for further measures to protect children, through removal of cigarette retail displays and restrictions on young people's access to cigarettes in vending machines, as set out in the Health Bill.

Wendy Meredith, chair of Cheshire and Merseyside's directors of public health group, said:- "This award is recognition of the success of an excellent campaign and for the clear public support for further measures to protect children from the dangers of smoking. Latest figures (see table below) show that smoking kills 580 people a year in Sefton and it is clear from the public response to this campaign that smoking among children and young people is a major concern. Tackling the uptake of smoking in young people is needed to break the cycle of tobacco-related health inequalities passing from one generation to the next."

Andrea Crossfield, Director of Smokefree North West, added:- "For this campaign to be recognised nationally is testament to the fantastic work and public engagement that took place in Sefton. The success of this campaign clearly demonstrates the will within the region to make smoking history for our children because every child and young person in the North West is entitled to a tobacco free future. I hope the accolade from this award is reflected through support from the region's MPs for the proposals in the Health Bill and that the influence of tobacco displays on children and young people, and their access to vending machines, become a thing of the past."