BUS COMPANY LAUNCHES APPEAL FOR ASPIRING GARDENERS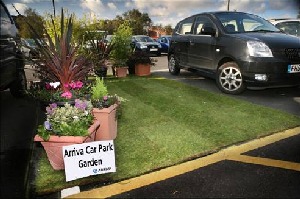 CALLING all green-fingered Liverpool residents! A local bus company is appealing for talented topiarists and budding landscape gardeners to design a car park garden.

Arriva North West, which runs numerous services into Liverpool from surrounding areas, is appealing for local people to get green and creative and design a garden which will fill a car parking space in the city.

Debra Mercer, marketing manager for Arriva North West, said:- "Buses offer a way to reduce congestion, with a full bus taking up to 40 cars off the road, and we know if more people left their car at home more open space could be freed with fewer car parks needed. Therefore we want the people of Liverpool to help us illustrate how much more greenery there would be in the city centre if the space used for a car park was a garden. By creating the car park garden we will hopefully show the people what could be achieved if more people caught the bus and left the car at home."

If you've got a passion for planting and would like to see your garden design created by Arriva visit:- www.arriva.co.uk/garden or call:- 0845 270 1660. The deadline for entries is 31 July 2009.
Households in danger with rogue electricians on the rise
NICEIC, the professional body for electricians, is warning North West households of a rise in bogus electricians as consumer complaints about dodgy individuals posing as NICEIC registered electricians have shot up by 33% in the last 12 months.

The chances of being scammed by a rogue electrician in the North West are high. A poll of 3,000 households reveals that a huge 18% of households in the region have already fallen victim to a rogue tradesman doing work in their home. 83% think the recession will make them more vulnerable to rogue tradesmen. Despite this, households are putting their homes and lives at great risk by failing to check electricians doing work in their home are properly qualified to do the job. New research from NICEIC, shows well over half (55%) consumers in the North West don't bother to check whether an electrician is qualified or registered with a Government-approved scheme.

Although not publicised by the Government as much as the safety laws around gas installations, unsafe and illegal electrical work is dangerous and potentially lethal with approximately 12,500 house fires, 750 serious injuries and 10 deaths caused by hazardous electrics in the home every year.

Tony Cable, NICEIC spokesperson says:- "Poor electrical work can cost lives and it is vital that homeowners check that anyone doing electrical work in their house is properly qualified and registered with Government approved schemes, such as the NICEIC. Registration with a scheme provider demonstrates their competency and ability to do a good, safe job, and will provide a warranty for extra peace of mind."

The NICEIC backed website website helps households locate a registered electrician in their area. It also holds a host of consumer friendly information about electrical work.
All work carried out by an NICEIC registered electrician is tested and certified as safe. The certificate that is issued for the work will prove to the homeowner and any future buyers that the work has been carried out correctly.