Well done Nellie!
A heroic youngster from Liverpool's Traveller community is to receive the ultimate honour for her work to combat bullying and racism.

Seventeen-year-old Nellie Delaney will receive the Diana, Princess of Wales Memorial Award at a special ceremony at London's Canary Wharf on Thursday, 9 July 2009.

The award, established in 1999, honours inspirational young people across the country and the contributions they make to school, family and community life. It celebrates the work of peer mentors, fund raisers, school counsellors, environmental campaigners, sports leaders, local community volunteers and those who have overcome adversity.

Nellie's award - a special certificate signed by the Prime Minister, Gordon Brown – will be presented by TV personality and Childline founder Esther Rantzen, who also who will also interview Nellie on-stage.

Nellie lives with her Irish Traveller family in Tara Park, an official Traveller's site. Her brother, Johnny, died six years ago after a brutal attack. Nellie has worked tirelessly to combat bullying and racism in schools, and contributed to the Holocaust Memorial Day Trust in 2008 by writing a letter for a school resource pack.

Her letter, which described both Traveller life and Johnny's death was distributed to every school in England and Wales. Countless children replied to her and were surprised she showed no anger or bitterness. Many thanked her for raising the issue as they had lost family members in similar circumstances.

Nellie will be rewarded for her strength, courage and determination and for being an inspiration for young people across the country.

She said:- "I am very surprised and extremely honoured to be receiving this award. My family is very proud!"

Johnny Delaney, 15, was kicked to death by a group of eight boys in 2003, in Ellesmere Port in what the police described as a racially motivated attack. Following the trial, where two of the eight boys were found guilty of manslaughter, Nellie's father Patrick was invited to travel the country to talk about the tragedy. He unfortunately died a few years ago due to grief and stress.

Nellie has continued her father's work, and in recent years has raised the profile of Travellers and educated others about prejudice and violence. She read her own poem at the 2007 Liverpool Inclusion Awards at the Everyman Theatre and had her art work showcased at the 'Young Brits at Art' exhibition at the Royal Albert Hall.

She has also made a Mobile Movie of her life with her sisters and cousins, and was one of the winners at the council's inaugural 'Celebrating Success in the South' awards in February.

Nellie and her cousin Eileen became the first young people from Tara Park to complete full time mainstream education at St Benedict's Catholic College in 2008. Both girls are now students at Liverpool Community College, studying towards a career in hairdressing. They are hoping to set up their own mobile hairdressing business.

The Diana, Princess of Wales Memorial Award is Nellie's second major national accolade in the past 12 months. Last year, she won the 'Anne Frank' Award for her work with young people. As part of her prize, she was one of the guests on a special VIP trip to Anne Frank's House in Amsterdam, Holland.

The city council's executive member for education, Councillor Keith Turner, said:- "Nellie is an inspiration, whose bravery, strength and determination to change people's views have set an example for us all. The Diana, Princess of Wales Award is one of the most prestigious accolades any young person can receive – and in Nellie's case, it is well deserved. She is a fantastic ambassador for Liverpool and a role model for young people everywhere."
OFFICIALS TICKLED AS KEN LAUNCHES NEW LIVERPOOL SERVICES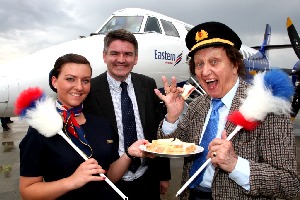 ONE of Liverpool's best loved sons, Ken Dodd, was at Liverpool John Lennon Airport, this week, armed with tickling sticks and jam butties to help launch Eastern Airways' new flights from the airport.

As ever, comedian Ken was on form, entertaining airport and airline officials and passengers as the UK regional airline's first scheduled flights from Liverpool to Aberdeen and Southampton took to the skies.

Ken is Honorary President of local Airport support group, the Friends of Liverpool Airport with the original idea of a friends organisation for the airport coming from him back in 1980.

The Humberside-based independent carrier has introduced three flights each weekday from Liverpool to Aberdeen and also three each weekday to Southampton.

"Ken is very much regarded as a British institution and we're thrilled he was able to give our new Liverpool services a great send off. He's a truly great entertainer and has such a presence, which has made our launch day in Liverpool such a memorable one." said Roger Hage, Eastern Airways' ground services manager.

Neil Pakey, deputy chief executive of Peel Airports, said:- "We were 'tickled pink' when we heard Ken Dodd was kindly giving up some of his time to come down and help celebrate the launch of these important new services from the airport. He is a tremendous ambassador for the city and has long been a big supporter of the airport."

Weekday services to Aberdeen depart Liverpool at 10.40am, 4.30pm and 7.20pm, arriving in Aberdeen at 11.50am, 5.50pm and 8.40pm. Flights leave Aberdeen at 6.40am, 2.30pm and 6.20pm, landing in Liverpool at 7.50am, 3.50pm and 7.40pm.

Southampton flights leave Liverpool on weekdays at 8.10am, 4.20pm and 8.10pm, landing at 9am, 5.20pm and 9.10pm. Flights depart Southampton at 9.30am, 3pm and 5.50pm, arriving in Liverpool at 10.20am, 4pm and 6.50pm.

The first passenger to check-in for the Southampton service from Liverpool was oil contractor Edward Smith, who happened to be from Knotty Ash. "These new flights from Liverpool are very convenient as I'll be in Southampton for 9am. It's ideal for me as it's just 20 minutes from my front door to the airport." added Mr Smith.

Eastern Airways is consistently rated one of the UK's best on-time performers, and its Liverpool schedules and timings are primarily aimed at business travellers from Merseyside, Cheshire, Lancashire and North Wales.

Customer care is very much at the forefront of Eastern Airways service and on board all its flights, passengers receive a friendly welcome and a fully inclusive service, including complimentary drinks and snacks. There are no additional costs for hold baggage or choice of seat.