Harry Potter for Grown up Muggles Child-free cinema-going at Vue
AS every good 'Muggle' knows, mobile phones going off halfway through a movie and children talking to their friends can sometimes ruin the magic of the big-screen. But for adult Harry Potter fans, Vue is offering extra screenings just for adults as it rolls out its 'Over 18s' screenings of Harry Potter and the Half-Blood Prince (Certificate 12A), across 62 of its cinemas nationwide. Not in front of the children…

From Sunday, 19 July 2009, Vue will be putting on extra screenings of Harry Potter and the Half-Blood Prince in Southport. 'Over 18s' screenings are unique to Vue, giving film-lovers looking for a quieter cinema-going experience greater choice when they plan a trip to the flicks. So, whether you're a couple without children, a sprog-free singleton, or parents planning a quiet night out, this is your chance to escape to the magical world of Hogwarts, without being brought back to earth with a bump thanks to unwanted disturbances that can often be from children or teenagers.

What's more, there's a member of staff in every screening too, so customers can have the added comfort level of knowing they can sit back, relax and enjoy the movie without other interruptions.

Mark de Quervain Sales & Marketing Director at Vue Entertainment, says:- "Harry Potter films are a phenomenal hit for children and adults alike. In fact, we asked Vue cinema-goers to vote for what their ideal 'Over 18s' screenings would be and the number one choice of thousands and thousands of customers was Harry Potter and the Half-Blood Prince. We're certain these screenings will be hugely popular, just as the adult book covers were a success for an older generation of Harry enthusiasts. The majority of our screenings for Harry Potter and the Half-Blood Prince will be open to everyone. We're just adding the extra choice of a few screenings only for grown ups , who want to escape into the world of Hogwarts interruption-free."

For film times see our advert on Mersey Reporter by clicking here Also you can visit:- myvue.com/over18s for ticket information… Please note that babysitter is not included.
Knight School For Southport Youngsters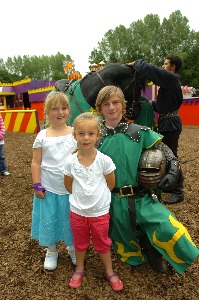 CHOLOE, 8 and Yasmin Williams, 5 from Southport have been awarded a very special privilege and attended Camelot Theme Park's Knight School. Honorary knight Chloe and Yasmin were chosen to receive a behind the scenes look at what being a knight is all about.

On Saturday, 11 July 2009 pupils of Camelot's Knight School learnt the tricks of the trade, including the art of foot combat, preparing the horses for battle and juggling with Jess the jester. Chosen by King Arthur himself Chloe and Yasmin were selected for their courage and quick wit showing they could be the future knights of Camelot's Round Table.

Chloe and Yasmin comment, "It was great fun and we learnt lots of tricks like juggling, I especially enjoyed getting the horses ready."

Chloe and Yasmin were two of 25 children selected from across the North West to attend Camelot's Knight School. The search sought to educate and entertain children about Camelot's history and divulge some of the secrets and skills of its famous jousting tournament.

Camelot Theme Park Marketing Manager, Sandra Dempsey comments:- "We know how popular the jousting tournament is and it's almost everyone's favourite part of the day. It was nice to give something back to our guests and let them see what happens behind the scenes when preparing for a show."
Alien artefact arrives from Area 51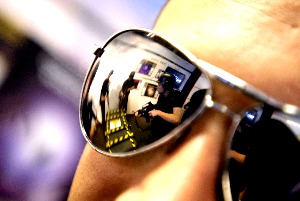 AN alien artefact Tuesday, 14 July 2009 arrived in Merseyside from Groom Lake – AKA Area 51 – under heavy armed guard.

Little is known about the artefact which has been brought to Spaceport, Merseyside by those known only as the Men in Black.

However, the public can see the unique discovery first hand when the hit alien encounter experience – Alien Wars – opens at Spaceport on Friday, 17 July 2009.

Brand new for summer 2009, Alien Wars is set to terrify the masses and is an experience that has never been to the region before.

Ken Moss, Spaceport Manager, said:- "Now the alien has finally arrived here, we fully expect it to scare the pants off of our visitors. Alien Wars will be one of the strangest and scariest experiences ever to hit Merseyside. Spaceport is going to be seriously spooky but also so exciting this summer. Even I don't know what's going to happen."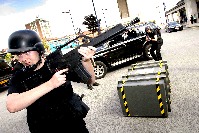 The frightening, fully immersive adventure opens on Friday, 17 July 2009 and the action begins from 2.30pm to 6.30pm every day. Throughout the summer holidays, Spaceport is open seven days a week. The experience isn't for the faint hearted and it is not suitable for children under the age of eight.

Spaceport, based at Seacombe Ferry Terminal, Wirral is the UK's most modern space-themed visitor attraction. It takes visitors on a journey through space, including Dome Show planetarium and a series of hands on exhibits and visual experiences. It is also currently hosting One Small Step, an exhibition celebrating the 40th anniversary of man's first landing on the moon. For more details call:- 0151 330 1333 or visit:- spaceport.org.uk/alienwars.
A Local Man Photographs Nigerian Oil Fire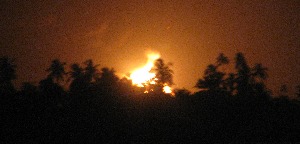 IN Nigerian rebels attacked an oil tanker facility very near to where a Southport man is working in another oil facility. The attack is reported to have left five dead. "I am not happy about being here. If this was a rebel attack I want to be on the next plain out!" he told us. These are two snaps of the Atlas Oil Terminal burning through the trees, taken from his location...