Bishop of Liverpool and Merseytravel unveil artistic tribute to "Amazing Grace" writer John Newton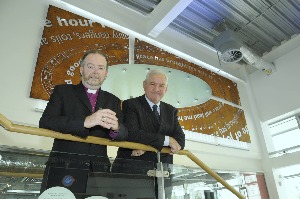 THE Bishop of Liverpool, James Jones, joined Merseytravel to unveil a brand new commission by artist Stephen Broadbent dedicated to the memory of reformed slaver, former Tide Surveyor of Liverpool and author of the hymn "Amazing Grace" – John Newton.

It is the first memorial to Newton, a former slave ship captain who found the faith and campaigned with MP William Wilberforce to abolish slavery, on this side of the Atlantic. The commission is one of the last phases of the new £10.5million Pier Head Ferry Terminal building, an exciting new addition to the spectacular regeneration of Liverpool's waterfront. Merseytravel commissioned the work as part of its ground breaking public art programme.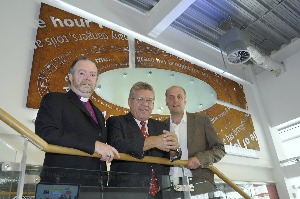 Councillor Mark Dowd, Chair of Merseytravel, said:- "The Pier Head has transformed in recent times and we are absolutely delighted to unveil this wonderful piece of art at our new Pier Head Ferry Terminal."

Neil Scales, Merseytravel's Chief Executive and Director General, said:- "We are very proud of what we have achieved with the new terminal building, we are proud of our public art strategy and we are proud of this magnificent new installation, the only honour to John Newton in Europe. We are trying to give our facilities and infrastructure a unique and memorable quality. Travelling shouldn't just be a journey, it should be an experience."

The Bishop of Liverpool, James Jones, said:- "I'd like to pay tribute to Neil Scales and the leadership of Merseytravel in creating this installation at the Pier Head. For many years, ever since I came to Liverpool, and knew the history of John Newton I have felt it was appropriate that there should be a memorial to this extraordinary man. John Newton commanded a slave ship and didn't realise the inhumanity that he was guilty of. John Newton was the only slave ship commander to give evidence to the Parliamentary Commission that led to the abolition of the slave trade. On the streets of this city the battle was fought to abolish the slave trade in the British Empire. So when we unveil this memorial for this universal anthem we do not do it lightly. By unveiling this tribute to this anthem we pledge ourselves to continue to strive against the racism in our society and throughout the world."

Liverpool and NW-based artist and sculptor Stephen Broadbent, who specialises in public art, is well known internationally with numerous projects including the 'Reconciliation Triangle' confronting the legacies of the slave trade. In Stephen's words, the artwork celebrates the connection between the lyrics of Amazing Grace, written in 1772 by John Newton as part of a volume of hymns called the Olney Hymns in 1779. Stephen added:- "Creating this work has been a journey. As an artist you get taken into these worlds and the story of Amazing Grace is one that has travelled across three continents. The lyrics are John Newton's and the melody came from the southern states of America."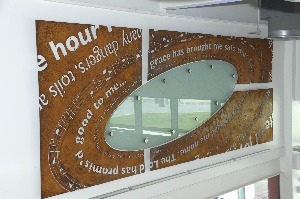 The artwork is comprised of three pierced steel plates which represent the three continents, Africa, America and Europe. They are connected by a glazed panel representing the Atlantic and etched with patterns of the former slave trading routes. The words and musical notes from 'Amazing Grace' flow through the artwork. The Sense of Sound Choir, finalists in this year's BBC Choice of the Year competition, performed Amazing Grace at today's dedicated ceremony, as well as "Happy Birthday" to artist Stephen Broadbent, who was 48 on the same day. The new Pier Head Ferry Terminal building, in front of the Three Graces on Liverpool's World Heritage waterfront, now boasts a new Mersey Ferries ticket office, shop, improved passenger facilities, Hamilton's café and a new extension to the Beatles Story, with its Fab4D experience and world first "White Feather: The Spirit of Lennon" exhibition. It will also soon have a new rooftop restaurant with stunning views of Liverpool's world renowned waterfront. The project was funded by Merseytravel with grant funding from the European Regional Development Fund (ERDF) and the Northwest Regional Development Agency, through the Mersey Regional Waterfront Park. The project was also supported by Liverpool City Council and by Liverpool Vision. Dave Moorcroft, Director of Economic Development at The Mersey Partnership said:- "The investment in the new Pier Head Ferry Terminal has been a priority for the Mersey Waterfront programme. This investment will further enhance the Pier Head as a world class visitor location."
STATEMENTS FOLLOWING THE SENTENCING OF GARY FINLAY
FOLLOWING following the sentencing of Gary Finlay on Friday, 10 July 2009, at Liverpool Crown Court Merseyside Police Detective Inspector Andy O'Connor said:- "These were particularly vicious attacks against a father and his son resulting in the death of a man who had his whole life ahead of him. This has been a very difficult time for Michael and his family. I would like to thank the members of the public who assisted us with this inquiry having witnessed such a horrendous attack. The intervention by members of the public during this attack undoubtedly saved Michael's life. I would like to reassure members of the community that incidents of this nature are rare and robustly investigated. My thoughts go out to the family and hope that the sentencing today will help them in part come to terms with their tragic loss."

A statement from Gillian McKenna, the wife of Graham McKenna who was murdered in January, also has been issued. She told the media that:- "Graham was a wonderful husband, father, son, brother and friend. "Graham served 22-years-in the armed forces in various places and different combat conditions. He loved the army and continued to play an active role in the forces through the Territorial Army. Since his death our lives have been turned upside down. His death has totally devastated all of his family and friends. Graham and Michael received similar injuries during the deliberate and brutal attack by Finlay. Graham died from his injuries and Michael almost did. I will never ever forgive him for what he has done. Finlay killed a defenceless man and attacked an innocent 14 year old boy in the street. Only a coward would and could do that. He will never know what love is as a man who is capable of killing a loving father and destroying a young boy's life cannot know the meaning of the word. He also destroyed my sister's life through physical and mental abuse whilst they were married. I have lost my soulmate, the love of my life, the father of my children and nothing will ever bring him back. It is better to have loved him than to never loved at all. My daughter Amy, reminds me that her dad will live on through her and brother Michael and future generations and so will never be forgotten I would like to thank the two men who came to Graham and Michael's aid after the attack. I don't know who they are but I would like to meet them as I am incredibly grateful for what they did. I would also like to thank the residents of Speedwell Road, the paramedics who attended, the hospital staff who cared for Graham and who saved my son, and the police. Our friends, family, work mates, Michael's school and the local community have all been incredibly supportive too. Our memories of Graham continue to give us the strength to deal with his loss and to help come to terms with what has happened. The sentencing of Gary Finlay today sees justice done in the eyes of the law, but it will never bring Graham back to us, his murder is something that we will never fully recover from and there will never be a sentence long enough for that brutal, cowardly man."
Greenbank High School rolls out the red carpet for cycling film première
A ground-breaking short film about cycling made by students from Greenbank High School in Southport will be premièred at a special event at Southport Arts Centre on Wednesday, 15 July 2009 at 6.30pm.

A group of girls aged 12 to 14 from the school have spent six months producing a film called:- 'Pedal Power – The Way Forward', which shows how they have explored cycling and the role it can play in local people's lives.

Around 150 guests from the local area, representatives from other 'Cycling Towns' in England and dignitaries will be attending the première. The young filmmakers will make a red carpet entrance, before they watch their film's first screening.

The film project was organised by the North Sefton City Learning Centre and CTC's Cycle Champions Officer for Sefton Juliet Jardine, who has been working closely with the school for over a year. Juliet said:- "The motivation of these young women has been fantastic. They have seen the very real benefits of cycling and made it their mission to spread the word."

Sections of the film were shot using 'helmet-cams', enabling viewers to appreciate first-hand the road safety advice and practical cycling tips offered by the girls. There are interviews with local people, healthcare professionals and cycling experts from CTC and Sustrans' local Bike It officer.

Following its première, 'Pedal Power – The Way Forward' will be featured on various websites, including greenbank.sefton.sch.uk, ctc.org.uk and dft.gov.uk. Southport and Ainsdale, as one of Cycling England's Cycle Towns, is a lively hub for cycling activities, becoming a real centre of cycle expertise in the North West. Introducing 'Bike Club' – enabling even more young people to use cycling to improve their lives

The success of young people's projects like this has prompted an exciting new initiative to ensure that more young people have similarly rewarding experiences. Bike Club is a new programme aimed at encouraging children and young people to explore the possibilities and freedom offered to them by cycling. Just like the girls of the Greenbank High School, young people in youth clubs, after-school clubs and other settings around the country will be given chances to enjoy new experiences, freedoms and responsibilities, simply by seeing how much fun they can have on a bike.

Whether children and young people are meeting at a 'biking breakfast club', learning road cycling skills, having a go at riding off-road BMX, repairing old bikes, or finding ways to express themselves on two wheels, Bike Club will aim to give them these opportunities.

Bike Club is a partnership between CTC – the national cyclists' organisation, youth club experts UK Youth and ContinYou, who specialise in providing rewarding experiences outside a conventional school environment. Bike Club officers will offer on-the-ground support in eight locations around England, including an expert based around the towns of Southport and Chester, both designated as Cycling Towns by Cycling England.

Additional funding for Bike Club has been pledged by supermarket chain ASDA, whose Pedal Power campaign will raise £1 million through activities such as chairman Andy Bond's Land's End to John O'Groats bike ride.
ATTEMPTED RAPE - BLACKTHORNE ROAD, WALTON
MERSEYSIDE Police have issued an appeal for witnesses following the attempted rape of a 37 year old woman on Blackthorne Road, near to Walton Hall Park, on Wednesday, 8 July 2009.

At just before midday the victim was taking some items out of the boot of her car on Blackthorne Road when a man approached her from behind. He put his hand over her mouth and tried to pull her towards some bushes. The victim fell to the floor and the offender assaulted her and tried to remove her clothes. She managed to fight him off and he ran away in the direction of Walton Road.

The victim was taken to hospital with minor injuries and she has since been discharged.

The offender is described as being white, in his early to mid 40s, around 6ft 2in tall, of slim build with shaven mousey hair and facial stubble. He was wearing a black T-shirt and a pair of navy Adidas tracksuit bottoms.

Detective Inspector Mark Guinness said:- "This was a dreadful attack on a woman going about her daily business. She has been left shocked and distressed by what happened to her and we are doing everything we can to find this man. I would like to reassure the community that this type of attack is rare and I am appealing for local people to come forward if they can help our investigation."

Anyone who recognises the description of the offender or who saw anything suspicious yesterday in the Walton Hall Park and Hornbeam Road areas is urged to call police on:- 0151 777 4567 or Crimestoppers on:- 0800 555 111.
POLICE APPEAL FOR HELP IN LOCATING WANTED MAN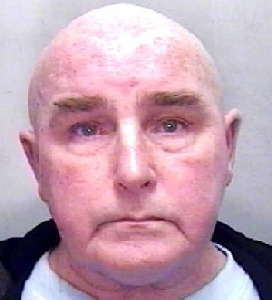 HUMBERSIDE Police are appealing for everyone to help in finding 64 year old Hull man Joseph CHAPMAN who was found guilty for numerous sexual offences at Hull Crown Court, Friday, 10 July 2009.

On Monday, 6 July 2009, Mr Chapman, who is also known as Thomas COURTIE, was due in Hull Crown Court to face the charges but failed to appear. On Tuesday, 7 July 2009, the Judge choose to start the trial in his absence.

Mr CHAPMAN was found guilty of seven counts of indecent assault against a girl under the age of 14 years, two counts of gross indecency with a girl under the age of 16 and three counts of rape of a female under 16 and was sentenced to 16 years in prison.

It is believed that Mr CHAPMAN left his home address on Pollard Court, Beverley Road, Hull at around 0820hrs on Monday 06 July 2009.

He is described as white, 5ft 7ins tall with a stocky build. He is bald, has green eyes and speaks with a Liverpool accent. Officers believe he may have a two to three week grey/white coloured beard.

Attempts by police to locate Mr Chapman have been unsuccessful so far.

Detective Constable Adrian Adamson from Humberside Polices Public Protection Unit in Hull, said:- "Mr Chapman offended against children over a substantial period. This man groomed and threatened his victims. Mr Chapman did not face up to his victims in court and his current whereabouts are unknown. He left his home address just hours before the trial began and is currently wanted by police. If anyone knows his current location please contact police on:- 0845 60 60 222 or Crimestoppers on:- 0800 555 111."

Police do not believe he poses any threat to the general public, but he should not be challenged.

Anyone who may know of his whereabouts is asked to contact Humberside Police tel:- 0845 60 60 222.
ARRESTS FOR THE MURDER OF JOSEPH LAPPIN
MERSEYSIDE Police on 14 July 2009 have confirmed that six people had been arrested for murder and attempted murder in relation to the Joseph Lappin case. The six males, aged between 16 and 23 from the Vauxhall area, have all been taken to police stations across Merseyside where they will be questioned by detectives. This was shortly followed by a further two arrests made by Merseyside Police where a 22 year old man and a 17 year old male, both from the Vauxhall area, where both detained.