Liverpool's engineering masterpiece to be honoured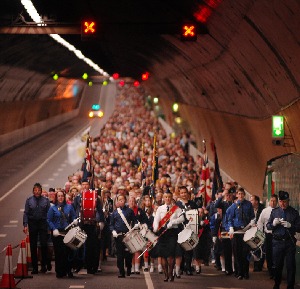 AT its time, it was an engineering feat without parallel – financially it was the biggest single municipal enterprise ever undertaken in Britain. 75 years have gone by and the Queensway Tunnel, linking Liverpool and Wirral, has stood the test of time – as the safest tunnel of its age in Europe.

On Wednesday 18 July 1934, more than 200,000 people gathered at the Old Haymarket in Liverpool city centre to watch King George V and Queen Mary officially open the Queensway Tunnel (Note: see BBC web link at the end of this news release). In Easter of 1934, just before being opened, almost 80,000 took the chance to walk through the tunnel, paying 6d each – all of which went to charity.

And 75 years on, it will close to traffic and open for one last public viewing for many years. Around 20,000 people are expected to celebrate the Queensway's 75th anniversary by walking through it – and again raise money for charity .

Under and Over the Mersey takes place on Sunday 19 July 2009 and it is expected to raise 10's of thousands of pounds for Claire House children's hospice in Wirral, Merseyside – supporting children with life-limiting conditions. It is Merseytravel's corporate charity for 2009. The event, which will be accessible to everyone, will be hosted by Keith Chegwin and includes a full programme of entertainment for all the family as well as a trip back over the river on the Mersey Ferries – also owned and operated by Merseytravel. Celebrities will count down the 5 planned walkthrough processions and crowds will be entertained with vintage cars, carnival rides, musical entertainment and dramatic circus performances. Everyone taking part is being encouraged to support their own worthwhile charities if they would like to, whether in fancy dress or through their own sponsorship.

Councillor Mark Dowd, Chair of Merseytravel, launched the event. He said:- "We want people to enjoy the day and make it one to remember. The event will be something to tell children and grandchildren about because we are not expecting to do this again for many years."

Under and Over the Mersey will give walkers an intriguing trip back through time. It will capture the 75-year history of the Mersey Tunnel by transporting people back in time to a 1930's carnival atmosphere. After the walk through the tunnel, everyone taking part can then sail back to Liverpool on a Mersey Ferry – with all three boats on the River for the day. Everyone taking part will also receive a medal to commemorate the day and celebrate their effort.

Neil Scales added:- "This is the legacy of a special event held last year to celebrate European Capital of Culture. We're making it even better this year and we hope that thousands of people will come along, take part, enjoy themselves and help raise some money for some truly fantastic causes that are close to their hearts. This year we are planning something special to celebrate a milestone in the history of the tunnel; at its time, the largest underwater road tunnel in the world. Seventy-five years on it is still an amazing feat of engineering and we'll be bringing some of that history back to life."
Also on the day veterans who helped build the Queensway Tunnel will be guests of honour.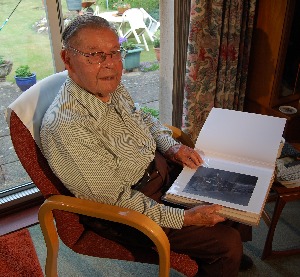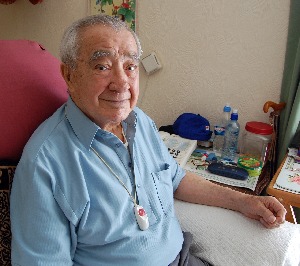 Jack Green and Victor Chinn, who have a combined age of 195 years, will also be meeting for the first time although they both worked underground at the same time.

Jack (96) helped load the wagons with rock from the tunnel face and Victor – who is 100 next month (August) was on the train that pulled the rock to the surface.

They live 200 miles apart but their lives are similar.

Both are still active and live in bungalows with daughters who pop in to keep an eye on them. And both are looking forward to meeting each other on the walk-through.

Jack Green, who is 96 years old and thinks nothing of walking half a mile to meet his mates in the village pub, lives in Moulton, Cambridgeshire.

Looking back on his three years working on the Queensway Tunnel Jack said:- "I was only 16 at the time and I lied about my age to get the job but nobody questioned me. That was probably because my Dad was also Clerk of the Works on the job. He travelled round the country working on different tunnels. My job was to load up the smaller rocks that had been blasted from the tunnel face into the underground train. Then the gang with the jackhammers would move in to break up the big stuff. I had three brothers also working on the Queensway. They called the Queensway the Allotment because there were so many Greens working there. I came from a family of tunnellers, I'd previously worked on the Piccadilly underground line in London but the Queensway was different. It was frightening at first – and you were wet all the time. You put your work clothes in a drying locker at night and put them on wet again in the morning. We worked a 12 hour shift for about £2 a week which was better money than working in a factory but it was very hard work. And it could be dangerous. There was a man called the 'powder monkey' who set the gelignite in the rock face. He lit the fuses and then we'd all run for cover to count the blasts. If one charge hadn't gone off someone had to go back to the face to see why – and sometimes it would explode while they were there. There were several injuries at the face."

Victor, who lives in Stockbridge village, Liverpool, worked on the Queensway for a year. He said:- "The thing I remember most was the water underground. It always seemed to be raining down there. They gave us capes to wear but we had to buy our own souwesters – they cost half a crown (25p) from Murphy's pawn shop in Birkenhead. I remember the explosions at the tunnel face. One lad had to give up his job because it brought back terrible memories of the First World War. He couldn't stop shaking. I also remember when there was the big underground ceremony attended by the Lord Mayors of Liverpool and Birkenhead. We got a £1 bonus – which was a fortune to us – and a certificate which I've lost over the years. It'll be great to join Under and Over the Mersey and meet someone else who's had the same experience as me."

After working on the Queensway Victor went back to his first love – the sea. He spent winter months sailing the world as a merchant seaman with Clan Line and Blue Funnel – and summers working on Liverpool Docks.

His love of the sea continued after his retirement. In fact Victor only gave up taking cruise holidays two years ago.

Councillor Mark Dowd, Chair of Merseytravel, said:- "We're honoured to have these two gentlemen join us for the walk through. It's going to be even bigger and better than last year's event which was our contribution to the Capital of Culture celebrations. This time we again want people to really enjoy the day but we'd also like everyone taking part to use it as an opportunity to raise money for their favourite charity. Merseytravel is donating money raised through ticket sales from "Under and Over the Mersey" 2009 to Claire House children's hospice in Wirral, which is our corporate charity for 2009. And we'd like to see as many walkers as possible to get out their fancy dress and sponsorship forms for their own favourite charity. Under and Over the Mersey 2009 will probably be the last chance for such a unique view of this engineering masterpiece for many a year so we're making the walk even bigger and better, more colourful and just as memorable."

Single tickets are £5 and family tickets (2 adults and 2 children) are £15. Walks are timed at 10.30am, 11.15am, 12 noon, 12.45pm or 1.30pm and everyone taking part can choose the time that suits them best. People can buy tickets at any Merseytravel Centre. For more information about the event, call the information line on 0151 330 1702.
History of the Queensway Tunnel
In 1922, Sir Archibald Salvidge proposed a report to Liverpool City Council to enquire into the possibility of either a tunnel or bridge to improve traffic across the River Mersey.

The option of a bridge was strongly rejected due to the threat of an outbreak of war and fears it could be an easy target for enemy bombers. It was reported that a double-deck road tunnel would cost less to construct and offer considerable economy in maintenance.

On 8 August 1925, a Private Bill authorised the project, and the setting up of the Mersey Tunnel Joint Committee.

On 16 December 1925, HRH Princess Mary (later the Princess Royal) switched on the power to the pneumatic drills and work began. Working from both sides of the river, when the 2 tunnels met mid-river there was a divergence of less than 1 inch.

Working conditions were grim as 1,200,000 tons of rock and gravel were excavated. This was replaced with 82,000 tons of cast iron and 270,000 tons of concrete. The tunnel cost £8 million to construct, employed 1,700 men, and at the time it was the biggest single municipal enterprise undertaken in Britain. The main tunnel is 44 feet in diameter, and carries 4 lanes of traffic for just over two miles between Liverpool and Birkenhead, with a branch tunnel exit at Liverpool Docks.

See the official opening on 18 July 1934 on the BBC website.
STATEMENT ABOUT JAGUAR HALEWOOD JOB LOSSES
LIVERPOOL'S political leaders have called for an urgent and effective response following today's announcement by Jaguar that they are ceasing production of the X-type at Halewood with the loss of around 300 jobs.

The leader of the council and leader of the opposition are backing workforce demands that the new greener-LRX model be built at Halewood.

They say everything possible must be done to secure car making jobs at Halewood and to retain the manufacturing skills of the workforce which are essential to the future prosperity of the city-region.

Council leader Warren Bradley said:- "We will be doing all we can to help retain the maximum number of car making jobs on Merseyside. We will be supporting the management at the plant to help secure production of the new green LRX vehicle at Halewood which would give the site a long term future. It's absolutely crucial that Lord Mandelson acts quickly and offers the financial support necessary to help the firm through the recession. It is not only the jobs of the workforce that are at risk, but also those at companies in the supply chain who manufacture components for the plant. It is vital we retain the skills of the workforce. The city council will also be working with businesses and the Learning and Skills Council to develop new opportunities for so that these skills are not lost to future generations, and which are so essential to the future prosperity of the Liverpool city region."

Councillor Joe Anderson, leader of the Opposition, said:- "The Jaguar Land Rover factory is a massive success story for the Liverpool city region. The workforce is a huge asset and produce world class vehicles which are of the highest quality. This is an extremely worrying time for the workforce and their families and we owe it to them to do everything we can to secure its long term future. It is vital that the whole region pulls together to offer whatever assistance and support we can to help the staff and firm through these tough economic times."
BACKING BRITAIN'S UNEMPLOYED IS OUR PRIORITY
TODAY unemployment continues to rise, but the help people are getting is working - as latest figures show that the number of people coming off Jobseeker's Allowance is the highest in over a decade.

New figures out from the Office for National Statistics today show that while unemployment has risen, the number of new claims being made for Jobseeker's Allowance (JSA) has fallen for the third month in a row and the rise in JSA is the smallest for a year. DWP also published statistics today showing that numbers on inactive benefits, such as incapacity benefits, remain stable.

Employment Minister Jim Knight said:- "Today's figures show that many in the UK are suffering the effects of the global recession. But there are signs that our actions to help the unemployed are starting to work. We have a lower unemployment rate than the United States, Germany and France. Through investing now in more staff, more training and working with local employers, fewer people are getting stuck on benefits for months and years. The active welfare state is working. People aren't being dumped on inactive benefits like incapacity benefit, and unemployment is nearly half a million less than it would have been without the Government's response. This summer our priority must be young people leaving education. While people of all ages have suffered in this recession, the Government recognises that unemployment for young people can adversely affect the rest of their working lives. We are therefore taking action to ensure that young people get as much help as possible to gain the vital experience and confidence they need to compete in today's labour market. We won't abandon an entire generation of young people to long-term unemployment."

This September all 16 and 17 year olds are guaranteed a place in school or college. We are creating 35,000 extra apprentice places. Through the Future Jobs Fund, we are creating an average of 10,000 new jobs for young people in every region of the country, and from next year every 18-24 year old at risk of being unemployed for more than a year will have a guarantee of a job, training or the opportunity to gain valuable skills through work experience.

In addition to the help people will receive through the Future Jobs Fund, the Government recently announced changes to Jobseeker's Allowance, meaning that graduates who have been claiming for six months or more will be able to do an internship for up to 13 weeks alongside claiming benefit and looking for work.
Children of the Revolution!
A LIVERPOOL city centre school has start its very own French Revolution on, Tuesday, 14 July 2009. Tuesday was Bastille Day, and children at Holy Cross Catholic Primary School are marking the occasion by bringing the cultural heart of France to Liverpool.

In a special event open to all parents, pupils serving up a real taste of French life. Helped by local businesses, they created a French market and café, and treated visitors to traditional food, from French onion soup to crepes.

Artistic youngsters tried their hand at French street art and portrait painting, that was not forgetting the chance for everyone to play a game of boules and watch a can-can dancing demonstration by local performers.

Budding directors tried their hand at French film-making, while young journalists deliver news reports on the storming of the Bastille. And for the 'piece de resistance', pupils re-enacting moments from the French Revolution!

Pupils at the school start learning French from reception age, and they where encouraged to speak the language as much as possible throughout the day.

The spectacular event formed part of Holy Cross' French-themed week, which will see pupils learning all about French history, geography and culture.

Headteacher at the school, Angela Holleran, said:- "We know how important learning a modern foreign language from a young age is, in terms of broadening pupils' horizons, improving their life chances and boosting their future employability. Our young people love learning French and I'm delighted they will be able to showcase their passion for the language and culture of France through this special event. As well as marking this significant date for France, our celebration has given our pupils the chance to get creative, use their imaginations and learn all about a fascinating period in French history. I'm sure it will be an unforgettable day."

Pupils and staff at Holy Cross Catholic Primary School currently have another reason to celebrate, because the school has just received a glowing report from OFSTED. The school has been rated 'outstanding' by the education watchdog, achieving the top score (grade 1) in 35 out of the 37 inspection categories. In its report, OFSTED says the school provides 'an outstanding education' with an 'outstanding curriculum' and 'dynamic leadership'. Inspectors praised the school for giving pupils 'first hand experiences of other cultures, beliefs and religions' to 'prepare them well for life in a diverse world.' The report highlights the teaching of French throughout the school which sees pupils 'quickly become fluent in the speaking and understanding' of the language. The report also praises 'outstanding pastoral care' and 'lively, child-led and challenging teaching' which is helping pupils make 'rapid progress'. Holy Cross has 127 pupils, aged three to 11. It serves an area of high social and economic disadvantage.
Liverpool City Council's executive member for education, Councillor Keith Turner, said:- "Staff at Holy Cross School do a wonderful job in helping young people reach their full potential, and their recent OFSTED report is well deserved. This Bastille event is a fantastic example of the varied and diverse curriculum which is delivered at the school, and the way it engages and excites pupils. I'm sure the young people's French revolution will be truly spectacular!"
Did you know?
Bastille Day is the French national holiday, celebrated on 14 July each year - commemorating the storming of the Bastille fortress prison during the French Revolution in 1789.
European Rules Must Change to allow UK Government to Support Pubs
CAMRA, the Campaign for Real Ale, has announced it will be writing to MPs to urge them to support a groundbreaking new campaign to persuade the European Union to amend existing rules preventing the UK Government supporting pubs by introducing a lower rate of beer duty for draught beer sold in pubs. John Grogan MP, Chairman of the influential Parliamentary Beer Group, is leading the campaign and has today tabled a Parliamentary Motion calling on the UK Government to seek a change to European Union rules. A reduced rate of duty on beer sold in pubs would help alleviate the severe problems facing UK pubs, which are closing at a rate of more than six a day. The European Commission has indicated that it is willing to consider changes to current European Union rules and a review process is expected later this year. Mike Benner, CAMRA Chief Executive, said:- "A lower rate of duty on draught beer sold in pubs would represent a golden opportunity for the Government to address the disparity between supermarket and pub prices, a problem directly associated with pub closures. This proposal would encourage a shift in alcohol consumption back to the regulated environment offered by well-run community pubs. This proposal would also stem the loss of community pubs and thereby reverse the decline of community life. CAMRA first raised the need for a lower rate of duty in pubs in a submission to the Parliamentary Beer Group's Community Pub Inquiry back in 2006, and we are delighted that this novel idea has the full backing of the influential Parliamentary Beer Group. An average pint of beer sold in the pub causes the consumer to swallow around 90 pence per pint in beer duty, VAT and employment tax revenue, and if community pubs are to survive, then the excessive tax burden they face must be reduced."