Czech's away! As Wizz Air commence Prague service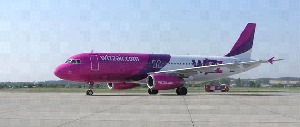 CENTRAL and Eastern Europe's largest low cost airline Wizz Air, who first started operating from Liverpool in late 2004, have commenced their latest route from Liverpool John Lennon Airport (JLA) with three flights each week to Prague, the capital of the Czech Republic.

Flights operate on Tuesdays, Thursdays and Saturdays, departing at 12:50pm, giving travellers to Prague convenient times and days of the week for short breaks or business trips.

The Capital of the Czech Republic, Prague is one of the most popular city break destinations in Europe with something on offer for everyone. The beautifully preserved historic city has stunning architecture and many famous sights such as Wenceslas Square, Prague Castle and Charles Bridge. The Czech hospitality is legendary and visitors are guaranteed a warm welcome to the trendy bars or cosy traditional restaurants. Prague is also famed for its Christmas markets which are among the best in the World and now for the first time passengers are able to travel direct from Liverpool to experience them.

Wizz Air already operate popular flights to the Polish cities of Warsaw, Katowice and Gdansk, carrying over 200,000 passengers on their Liverpool services last year and recently celebrated their fifth 'birthday' with passengers at JLA.

Neil Pakey, Deputy Chief Executive of Peel Airports, commented:- "This new Prague service is important for both leisure and business markets, linking the Liverpool City Region directly with yet another European capital city. At a time when many airlines across Europe are cutting back on services, Wizz Air clearly recognise the opportunities to grow their business from here."

John Stephenson, Executive Vice President of Wizz Air said:- "Prague is one of Central and Eastern Europe's most popular destinations and as such is well connected from most of the UK's regions. We are delighted to be the airline offering a direct connection for Liverpool to this booming cultural and economic center. We are confident that this new service will be just as popular as our existing routes from JLA to the CEE."
INJURY SHOOTING, EAST PRESCOT ROAD
MERSEYSIDE Police have confirmed that they are now appealing for witnesses and information after a man was shot in the leg outside a bingo hall in East Prescot Road, Dovecot, on the night of Saturday, 11 July 2009. Officers were called to the Granada Bingo Club, also known as 'Bugsy's', at 9.53pm, following reports that a man had been shot after confronting two youths on a scrambler bike. The victim, a 65 year old man from the Dovecot area, suffered a minor flesh wound to his lower left leg and was taken to hospital for surgery. No-one else was hurt during the incident.
Detectives investigating the shooting believe the injury was caused by one of four shots fired from what appeared to be a handgun by the pillion passenger on the scrambler bike.
The incident occurred after the victim, who works at the bingo hall, confronted a group of youths outside the building. Detectives believe that after a brief exchange of words, the victim followed two youths who were on an orange and white scrambler bike as it drove away from the bingo hall. Several seconds later, the driver then stopped and his passenger dismounted and fired four shots, one of which hit the victim in the calf, before getting back on and riding off down East Prescot Road in the direction of Huyton.

Detective Chief Inspector Richie Davies, from the Force's anti-gun and gang crime Matrix unit, said:- "This was a cowardly and violent attack on a man who had been at work at the local bingo hall. Fortunately, he suffered only minor injuries to his leg and is recovering in hospital. However we take all incidents of this nature extremely seriously and I would like to reassure the community that we are determined to catch those responsible and get them and the weapon that was used off our streets. I would appeal to anyone who witnesses the incident or has any information about who may be responsible to come forward. In particular I would like to hear from anyone who saw anyone riding around the local area on an orange and white CTM-model scrambler motorbike last night to get in touch."

The scene has been cordonned off while forensic examinations continue and the City-bound lane of East Prescot Road is expected to remain closed until later today. Several bullet casings have been found and will be forensically examined.
House to house enquiries have also been carried and detectives are examining CCTV from the bingo hall and the nearby shops.
Anyone who may have information in relation to the incident is asked to call the Merseyside Police gun crime hotline on:- 0800 458 1211, or Crimestoppers on:- 0800 555 111.
CRANE COLLAPSE, BALTIC TRIANGLE, LIVERPOOL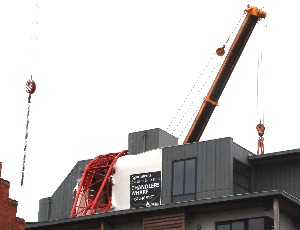 IT is still unclear as to why the crane collapsed, but a number of residents have been allowed back to their apartments following the successful removal of the damaged crane from the site over the weekend (11 July to 12 July). Residents living at 31/33 Cornhill were told the good news on Sunday 12 July 2009 and allowed back into their homes at around 4pm. They were accompanied by police officers, who, along with a private security firm, have kept the site safe and secure since the incident occurred on 6 July 2009. The removal of the damaged crane from the site and the heavy plant machinery used in this phase of the operation, means that Park Lane has also been able to be re-opened.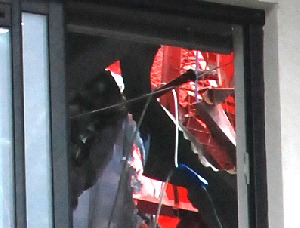 Work is now being planned by the partner agencies to remove the damaged crane's counter-balance which is still embedded in the building. Unfortunately for the residents of 24/26 Cornhill, the building has been declared structurally unsafe and they cannot be allowed to return yet for safety reasons. Arrangements are in place to provide them with a longer-term solution to their accommodation needs.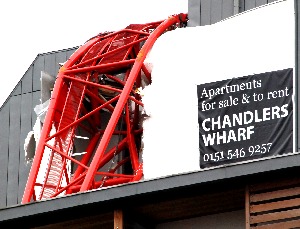 Superintendent Simon Irving from the Force's Liverpool North Command Team, welcomed the excellent progress made over the weekend. He said:- "I am delighted that the crane has been completely removed from the site this weekend and that this now means that some of the residents affected can return to their homes before the start of the week. People have been incredibly patient having undergone some serious disruption to their lives and we are grateful to them for that. This has been a difficult and complex operation requiring vast levels of planning and expertise from all the agencies involved and it is credit to that teamwork that this breakthrough has been made ahead of schedule. Plans are now being put together to remove the counter-balance which is still embedded in the damaged building and unfortunately this means that it is still not safe for some residents to return to their homes at 24/26 Cornhill. However everything is being done to complete the operation as quickly and safely as possible."