The NSPCC urges children to surf safely online this summer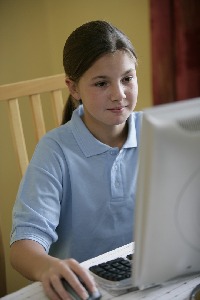 THE NSPCC is urging children and young people to stay safe while online during the summer holidays after previous research has shown that more than half of nine to 19 year olds in the UK have seen pornography online. With children on their summer break from school over the coming weeks, parents are also encouraged to familiarise themselves with what sites their children are accessing.

The reminder for children to take extra care when accessing sites on the internet coincides with a UK-wide campaign that the NSPCC is currently running. The NSPCC is calling for adult sites and content to be blocked to children who use the internet via their mobiles, ensuring social networking sites are doing all they can to protect young users. The campaign also calls for tougher measures around file sharing technology to make it harder for abusive images to be shared.

Research has shown that one in ten (10%) parents don't know what their child does on the internet, and a fifth (18%) say they don't know how to help their child use the internet safely. If parents do have any concerns regarding the safety of their child's online activity they should inform CEOP (Child Exploitation and Online Protection Centre) immediately.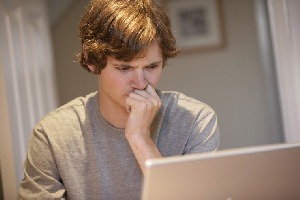 Research shows that one third of nine to 19 year old daily and weekly users have received unwanted sexual (31%) or nasty comments (33%) online or by text message, though only 7% of parents are aware that their child has received sexual comments and only 4% that their child has been bullied online.

Members of the public and contacts of the charity are being urged as part of the campaign to sign a petition to Gordon Brown which sets out priorities for the new UK Council for Child Internet Safety, which in turn reports to the Prime Minister. In Scotland the campaign is being jointly run with the NSPCC's sister charity CHILDREN 1st.
To sign the petition calling for the internet to be a safer place for children, log on to:- nspcc.org.uk/safetynetcampaign.

Sue Woolmore, NSPCC policy advisor says:- "Children face real threats on the internet such as sexual grooming, cyber-bullying, exposure to violent, pornographic and other unsuitable material and being lured into dangerous real-world situations. Online social networking is part of millions of children's lives. We must recognise and respond to this reality by helping them be safer online as well as helping them speak out about abuse at the same time."

Over the next three years the NSPCC plans to grow ChildLine and the NSPCC Helpline so that it can protect more children, through the Child's Voice Appeal. For further information, or to donate to the Child's Voice Appeal visit:- www.childsvoiceappeal.org.uk.
Benchmark of success!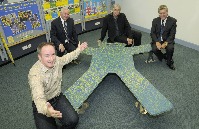 A lasting reminder of European Capital of Culture will be installed in Merseytravel's Queens Square Travel Centre – a true "bench" mark of a special year.

Colin Powell was one of only three winners of a European Capital of Culture creative challenge, called Benchmark, for members of the public to create a piece of public furniture.

His "All Together Now" Bench was chosen from more than 550 entrants and its installation was funded by Merseytravel as part of its ambitious public art programme.

Benchmark was run under the Open Culture banner, a project that aims to get more people creating culture, rather than just consuming it.

Open Culture is led by Phil Redmond who said:- "We set a creative challenge – it wasn't just to be a simple bench. It's a cultural resting place, something to sit on, reflect, read, or just watch the world go by."

The Benchmark project aimed to uncover and profile local talent, with the winning entrants being offered the unique opportunity of seeing their bench designs become a reality, adorning Liverpool as a lasting legacy of 2008.

Colin's concept is playful and celebrates the positivity, humour and camaraderie of the people of Liverpool, hence its title; "All Together Now."

The design uses recycled plastic for the seat, with profile cut stainless steel figures for the legs.

Colin said:- "After working within the constraints of the design industry for many years I saw the competition as a fantastic opportunity to give a simple piece of furniture a sense of fun and playfulness and some real personality, something which I think I have managed to achieve. I really wanted to focus on the great characteristics of the people of Liverpool. They have a great sense of humour and a great sense of togetherness. So I hope people sit together on it and smile."

Councillor Mark Dowd, Chair of Merseytravel, added:- "The legacy of Capital of Culture year is alive through our public art programme and we are continuing to do what we can to make people's journeys that bit more interesting. The fact that this was a public competition and we have helped turn someone's creative ideas into reality is even more special."

Neil Scales, Chief Executive and Director General of Merseytravel, said:- "As an organisation we recognise the importance of art, culture and accessibility to the city. We were delighted to support this project and, through our public art programme, we are looking at a number of ways we can bring more life and creativity across the transport network."

B Rourkes and Co Ltd, a Lancashire based manufacturer, constructed the All Together Now bench, continuing its long term relationship with Liverpool.

Company Director Barrie Ogden said:- "We are delighted to continue our long term relationship with the City of Liverpool, having manufactured the Paisley Gates and more recently elements of the New Liverpool Museum. This design competition has resulted in some very exciting concepts that we are very pleased to be involved in bringing to reality. Being a resident of this City I really appreciated the chance to work on a project that was both unusual and interesting."