Liverpool student negotiates her way to Chicago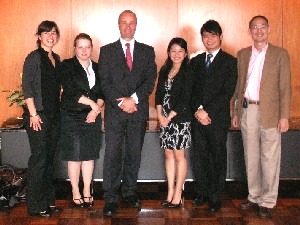 CHARLOTTE Whitehorn, a College of Law student from Liverpool, has won a prestigious national negotiating competition and represented England and Wales in a global law competition in Chicago. Charlotte, from Huyton and her team-mate Charles Shoebridge beat off stiff competition from law schools around the country to win the national final of The Negotiation Competition, held at Liverpool John Moores University.

The competition saw 12 pairs of students making deals and resolving disputes on behalf of fictional clients during the course of 3 negotiations.
They were judged by legal practitioners and academics on the outcome of the negotiation, their preparation, flexibility, teamwork, ethics and relationship with the opposing team.
The pair then represented The College of Law at a national level in Chicago where they clinched a top four position out of 16 teams from across the world.

Charlotte, 24 and a student barrister, is a former pupil of St Margaret Mary's Junior School in Huyton and The Belvedere School, and is currently undertaking the Bar Vocational Course (BVC) at the College of Law in Bloomsbury, London.
She graduated from the London School of Economics and Political Science in 2006 with a 2:1 honours degree in Law and was awarded a Cassel Major Scholarship from Lincoln's Inn.

Charlotte Whitehorn said:- "I'm elated to have won the national competition and felt honoured representing the nation at a global legal competition. I really got to put my negotiating skills into practice."

Richard de Friend, Bloomsbury regional director of The College of Law, said:- "This is fantastic news and I'd like to congratulate Charlotte for her stellar performance. It is very important in today's global market that would-be barristers have the know-how and skill-set to negotiate effectively across contexts, cultures and national boundaries."

The College of Law is the leading provider of professional legal education and training in Europe with centres in London, Birmingham, Chester, Bristol, Guildford and York.
£118m boost for vulnerable in Liverpool
COUNCILLORS in Liverpool have approved funding of £118 million to support people with learning disabilities and mental health needs.

The new 4 year contracts draw together cash from the city council's Adult Community Care and Supporting People budgets together with money from Liverpool Primary Care Trust (PCT), and will benefit almost 1200 people. The type of services being provided included care and housing support, and help for people with autism.

It follows a massive consultation exercise by health and social care bosses in the city, involving people who receive services and their carers. They were asked what they thought about current services and what they would like to see improved. Some of them also played an active part in the selection process and were involved in the final evaluation interview, helping influence the decision making process.

Emphasis has been placed supporting local social enterprises with a good track record of delivering care services. The aim is to improve quality and choice for residents, while providing better value for money by reducing the duplication of services.

Councillor Ron Gould, executive member for health, care and safeguarding, said:- "We have worked hard at actively involving people who receive services in this process. Key to this process is making sure that they receive a real choice in the support they are offered, and that it meets their needs. We will work with people to manage any transition carefully and sensitively and they will be fully supported."

People who receive services from existing organisations that have not been made it through the detailed evaluation process will be able to stay with their current provider through a direct payment if they wish.

Gideon Ben Tovim, Chair of Liverpool Primary Care Trust, said:- "This exercise has been about ensuring that some of the most vulnerable people in Liverpool are getting services that are appropriate and continue to meet their needs, and their involvement was absolutely crucial to the whole process. We have a responsibility to ensure that we commission the most cost effective and highest quality of services, so we cannot afford to be complacent. This type of consultation exercise ensures that we continue to provide service users with the right services, at the right time and in the right way."

Samih Kalakeche, Director of Integrated Adult Health and Social Care Commissioning at Liverpool City Council and Liverpool PCT, added:- "As a result of this process the voluntary sector in Liverpool and local businesses are in a much stronger position than before. It has improved the sectors infrastructure which is great news for service users and carers, who can be confident these providers are some of the best in Liverpool."

The successful companies will be notified in the next couple of weeks. A decision on a further phase of contracts worth a further £38 million to support people with physical and sensory impairments and older people with dementia will be made later this year.