CCTV Images Of An Armed Robbery Released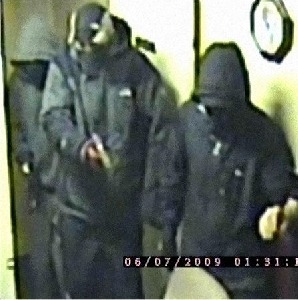 MERSEYSIDE Police have released CCTV images of three men they would like to speak to in connection with an armed robbery at Knotty Ash Taxis on East Prescot Road, Knotty Ash, in the early hours of Monday, 6 July 2009.

At just before 1am three men entered the taxi office armed with a firearm, a knife and a crowbar. They threatened the members of staff and stole mobile phones and a handbag.

The offenders are described as white and they all had their faces covered. The offender who was carrying a firearm was wearing a black and grey North Face jacket and a North Face cap with a light coloured stripe. The offender who was armed with a knife was wearing a black North Face jacket and black clothing. A third offender who was armed with a crowbar was wearing a oversized grey tracksuit with a hood.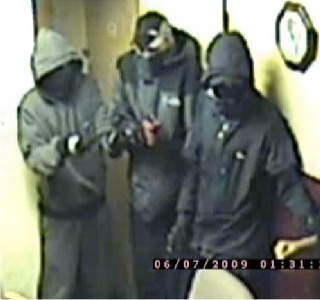 The men escaped in a dark coloured car which is believed to have been driven by a fourth offender.

The victims were left very shaken and upset by the incident.

Detective Inspector Dominic Harrison said:- "I am very keen to identify the men captured on these CCTV images and appeal for the public's help. I would like to reassure businesses and the local community that Merseyside Police does not tolerate this criminal behaviour and we are doing everything we can to trace and arrest the people responsible."

Anyone who recognises the men or who has any information is urged to call police on:- 0151 777 4810 or Crimestoppers anonymously on:- 0800 555 111.
Story Removed by request...
MERSEYSIDE Police have requested that we remove this report that was given to us by them, as well as the subject named with in it. We can confirm that the subject named with in the story is has not committed any offences related to the story and is not wanted by the police.
LETTERS TO THE EDITOR:- "QUARRY SAFETY PLEA"
"WITH the school holidays starting for most next week I would like to appeal to parents to ensure their children stay safe - by staying out of quarries this summer.

Already this year, two teenage boys have been killed after entering quarries.
A 15 year old drowned in a quarry in Derbyshire, whilst an 18 year old fell to his death in a quarry in Warwickshire.

Both quarries were old workings protected by fences.

The danger is very real and with a warm summer expected the Mineral Products Association is raising awareness to try and prevent any more tragic deaths.

The message is simple Stay Safe … Stay Out.
It is not only illegal to trespass in quarries, but it is also extremely dangerous.

Our members take their responsibilities seriously. Many liaise with local schools to deliver the safety message, they're in regular contact with the emergency services and regularly check their perimeter fencing. Some sites even use CCTV and security guards.

But perhaps more importantly, we need the help of parents, teachers and youth workers. Please keep your children safe by ensuring that they are aware of the dangers posed by trespassing in your local quarry." said Simon Van Der Byl Executive Director Mineral Products Association