Could you Crack the Krypton Factor Assault Course?
HAVE you got what it takes to grapple with the most challenging assault course on TV? Children Today Charitable Trust is offering you the chance to defeat the legendary Krypton Factor assault course on Sunday, 20 September 2009 in Richmond, North Yorkshire.

This assault course requires 100% physical and mental commitment as you tackle the 600m course. There are 10 minor balance dexterity obstacles and 10 major obstacles such as the climbing wall, Queen Mary rope swing and the zip wire. This course is not for the feint hearted!

Commenting on the challenge, Fundraising Manager Elizabeth Oakes said:- "Anyone taking part will find it a tremendous experience and extremely rewarding knowing that the funds they raise will go towards the purchase of specialised equipment for disabled children throughout the UK"

The charity is looking for volunteers to raise a minimum of £100 to take part in this iconic challenge. To find out more please contact the Events Team on:- 01244 335 622 or email:- ceri@childrentoday.org.uk.
Biking for girls!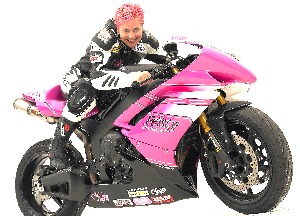 MOTORCYCLE manufacturers are waking up to the fact that women are no longer content to ride pillion and let men have all the fun. With women climbing higher on the corporate ladder, opting to have children later in life or staying single, their spending power is increasing and they are buying motorbikes of their own in ever greater numbers.

Nowadays big bikes are more streamlined and easier to handle and what's more they go even faster with a lighter-weight woman on board.
On the racing circuit women are competing against the guys in the British Superbike Championship and making their presence felt.

There are estimates that up to 20% of all bikers are women and, as with cars, they are still statistically safer riders than their male counterparts. Because women bikers are less likely to be involved in an accident Bikesure, insurance services, offers a generous discount to female bikers.

"We've looked at the stats and there's no getting away from the fact that women make far fewer claims than men so it seems only fair to reflect that in the price of their policies." says Bikesure's Robert Balls.

Women are also likely to invest in good quality helmets, leathers and protective clothing, so will be especially interested in Bikesure's competitive Helmets & Leathers policy.
So lads ride safer and you might get these savings as well!
New Classic Car Show at Knowsley
THIS is the first time the classic car and bike show has been held at Knowsley Hall, although it's one of 30 events being staged by Woodward Automotives this year. Set in the picturesque parkland in front of the hall, Knowsley promises to be a spectacular venue for all the vintage vehicles, which include classic cars, motorbikes and light commercials, displayed by individual enthusiasts and car clubs.

Over 400 exhibits have been confirmed, so far, including gorgeous old bikes like BSA's and Norton's as well as classic cars ranging from Rolls Royce's, Sunbeams and Aston Martins to Vauxhalls, Minis and Morris Minors. There's also the tool and trade stands and of course the ever popular Auto Jumble, but the highlight of the event has to be the displays from the many car clubs. This year sees presentations from New Lancs VW Club, Jaguar Enthusiasts Club, St Helen's Classic Car Club, Granada Members Club, Morris Minor OC, Sunbeam Rapier OC, Teal Kit Car Club, Midget and Sprite Owners Club and various MG clubs. With running commentaries and judging of classes, there are plenty of competitions and prizes for exhibitors.

Mark Woodward who has organised the show said:- "It's great to have a different venue in our calendar of events. It's always exciting for me to see the hundreds of vintage vehicles being paraded around somewhere new. The Hall only has a limited amount of days that are open to the public, so this event gives visitors a chance to view not only the fabulous collections of cars and bikes, but also to explore the Hall, gardens and breathtaking parkland. I know Knowsley will be the perfect backdrop for this new show!"

The first Knowsley Hall Classic Car and Bike Show opens from 10am to 4pm on Sunday, 16 August 2009. Admission prices are: Adult £6.00, Under 14's £2.50. Home to Lord Derby, Knowsley Hall is easy to find and is well signposted off the M57, near to the famous Safari Park.

Knowsleys' charming tearoom and restaurant will be open throughout the day and guided tours are available at a small extra charge.
CURRENCY FOR KIDZ
MECCA Bingo in Southport has launched a new campaign that will turn old coins and leftover holiday coins into much needed funds to support the independence of young wheelchair users in the local community.

The club's Currency for Kidz scheme asks people to bring any foreign or old coins to the bingo club on Lord Street to be donated to Mecca Bingo's charity of the year Whizz-Kidz.

Jo Dale, General Manager of Mecca Southport says:- "Whenever you come back from a summer holiday it always seems like you have a pocket full of leftover foreign coins. The banks won't take them but, until the end of September, we're accepting any foreign or old coins as a donation for Whizz-Kidz – all money raised will go to deserving kids in the region. Last year Mecca raised more than £280,000 for Whizz-Kidz and we're hoping that with initiatives like currency for Kidz will help us to smash that this year!"

Ruth Owen, Chief Executive of Whizz-Kidz, added:- "We are absolutely thrilled with the enthusiasm and inventiveness of all Mecca team and club members in raising money to support young wheelchair-users' independence. Disabled children stand virtually no chance of getting a powered wheelchair on the NHS. Through Mecca Bingo's funding of powered and manual wheelchairs and training, more children now have the opportunities previously denied them. Please help us raise even more money to make real differences to young lives."