MPs call on Government to do more to help North West through the downturn
A report published by MPs on the North West Select Committee, on Friday, 31 July 2009, says that more help is needed to get the region get through the recession.

The report, which looks into the impact of the downturn on the region, welcomes the steps Government agencies, like Jobcentre Plus and Business Link, are taking to try to keep people in jobs and businesses afloat. But, it says, more still needs to be done. The MPs are particularly concerned that people and businesses are not always aware of the help that is available and have used their first report to call on the Government to put this right. The report also says that access to finance continues to be a problem for many businesses and criticises the delays in implementing Government finance schemes, such as the Venture Capital Loan Fund.

The Committee says that supporting manufacturing in the region must be a priority over the next year. The report warns that retaining and boosting skills during the downturn is vital to ensure the North West is not disadvantaged by a skills gaps in future. Help available to keep young people in apprenticeships needs to be promoted more widely and people who are facing redundancies need to be given early advice by Jobcentre Plus. The Government should continue funding successful training schemes such as Train to Gain. It must also ensure problems do not occur when new Agencies take over the Learning and Skills Council in 2010.

Chair of the Committee David Crausby MP said:- "The North West economy is in need of urgent support. The wealth of the region relies heavily on industry and more needs to be done to protect our manufacturing base. We welcome the enthusiasm with which the new Regional Minister has taken up his role, but action must follow in order to convince us that the role carries real weight and influence. A good start would be to speed up the delivery of the £2.3 billion Automotive Assistance Programme. To keep cash flowing public and private sector firms that do not pay bills on time should also be named and shamed. The committee looks to the Government to provide an early response to our report - and more importantly urgent action."

The Committee is calling on the Government to:-
* apply pressure on banks to increase lending to businesses in the region and to educate their staff about Government finance schemes and the services provided by Business Link
* speed up the delivery of the Automotive Assistance Programme;
* name and shame public and private sector organisations that do not pay bills on time

The Committee also wants to see a commitment from Government that the North West Development Agency will not face any further cuts to its budget.

The North West Committee is 1 of 8 new regional Select Committees set up to monitor and scrutinise the work of regional bodies, such as North West Development Agency, Business Link Northwest, and the Government Office for the North West. The membership of the committee was appointed on 3 March 2009. The Impact of the Current Economic Situation on the North West and the Government's Response is the first report to be published by the Committee.

All of the 5 members of the committee have constituencies in the region. They are as follows: Mr David Crausby (Chairman) MP for Bolton North East, Rosie Cooper MP for West Lancashire, Tony Lloyd MP for Manchester Central, Mr Eric Martlew MP for Carlisle, Geraldine Smith MP for Morecambe & Lunesdale.
Honouring Liverpool Champions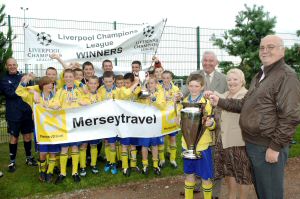 A team of talented young footballers fought off competition from teams across the region to win a major regional trophy in honour of a former Merseytravel politician.

Netherley Wood Lane Legion won this year's coveted Liverpool Champion's League trophy, named after former Merseytravel Vice-Chair George Howard who passed away in 2005.

George's widow Sandra joined Councillor Mark Dowd, Chair of Merseytravel and fellow Merseytravel member Councillor Chris Blakeley to present the George Howard Memorial trophy. Merseytravel sponsored the event, held at Edge Hill University's Ormskirk campus, and had funded a new kit for the Netherley Wood Lane Legion under 13s.

Councillor Mark Dowd, Chair of Merseytravel, said:- "It is always an honour to celebrate the commitment of the winners of this trophy.
We have supported this event for many years now and every year it fills me with pride.
The fact the trophy is so hard to achieve means every one of the boys taking part has had to show grit, determination and great team effort.
That resonates with me because they were the greatest attributes of the man the trophy is named after.
George was a dear friend, a powerful ally and a committed man."

Netherley Wood Lane Legion who were representing the Belle Vale League had to make their way through various league qualifying rounds before making it to the Liverpool Champions League finals. Nehterley Wood Lane Legion beat SMT 1- 0 in the final deciding game.

Jimmy Woods the event co-ordinator said:- "This is a fantastic competition and, as ever, we were delighted to have the support of Merseytravel.
The Liverpool Champions League is a good opportunity for many of these young boys as they are meeting different players from different areas, and that in itself is helping to break down barriers in our communities. This is more than just a competition.
Over the past six years professional sides have used this to discover new talent they think have the potential to sign for clubs. Some 20 players have been discovered through this competition alone."