SUMMER MOTORWAY WARNING TO PEDESTRIANS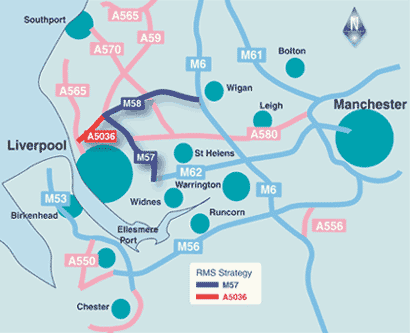 THE Highways Agency is urging pedestrians of all ages to stay safe this summer – by keeping off the region's motorway network.

With the arrival of the long school holidays and light evenings the Agency is urging parents to talk to children about the dangers of playing on or near the motorway network. And adults are being reminded that motorways are not the place to take short cuts.

Meanwhile, Highways Agency contractors across the North West have been finalising a programme of checking and shoring up fencing at parts of the motorway network vulnerable to pedestrian 'intrusions' – including by children.

Highways Agency engineers in Manchester, responsible for operating, maintaining and improving the regional motorway network and some major A roads, have tasked contractors to match intelligence on 'trouble spots' with repairs and improvements.

Highways Agency Traffic Officers who patrol the region's motorway network around the clock and operate motorway CCTV cameras from the North West Regional Control Centre near Warrington will also be increasing their work with local police and reporting sightings of adults and children walking along or playing on the motorway network.

Children straying onto the network risk getting a visit from the police at home while any adults spotted wandering along the motorway can receive a £30 on-the-spot fine.

Throughout the year Highways Agency staff, Traffic Officers and contractors visit schools and colleges – often in partnership with other organisations like the police and fire service - to drive home the motorway safety message. They take part in things like the danger-awareness raising Crucial Crew campaign and back initiatives like Lancashire Police's annual Operation Haribo which targets children playing on the motorway network across the county.

However, work by the Highways Agency's Regional Intelligence Unit has identified a number of areas of continuing concern where adults or children have regularly been seen walking or playing on the motorway network. They include:-

* Junction 1 along the M57 near Huyton, Merseyside

* Junction 23 of the M6 near Haydock, Merseyside

* The eastern section of the M60 in Greater Manchester between Oldham and Ashton-Under-Lyne with frequent reports of
children and adults walking or playing on the network

* A similar problem around junctions 2 and 3 of the M602 in Salford, Greater Manchester.

* Junctions 4 to 7 of the M61 between Farnworth and Horwich near Bolton, Greater Manchester

* Further up the M61 near Chorley in Lancashire

* Other spots in Lancashire along the M6 at Junction 31 and 31a east of Preston

* Regular reports of children being spotted playing around junction 10 of the M65 near Burnley.

* Around Junction 34 of the M6 at Halton near Lancaster where children are pulling down fencing to get to a pier on the other side of the motorway and then jumping into the river.

* Reports also also received from time-to-time about children playing on or around parts of the the M53 on the Wirral in Merseyside.

* Incidents around Junction 7 of the M62 in Cheshire not far from Widnes

In some of these areas contractors have been out repairing fences which have simply been vandalised by adults and teenagers trying to get onto the network or taking a shortcut to somewhere else.

The Highways Agency has a regular inspection regime for fencing but is looking at better ways of protecting fences in areas where they are more frequently breached or vandalised. Money is being spent on improvements such as tougher fencing and anti-climb paint.

Matt Sweeting, the Highways Agency's Regional Performance Manager, said:- "We work very hard through our own staff and with other agencies throughout the year to get the safety message across but as well as safety awareness we are out all the time checking and improving physical measures to prevent people coming onto the motorway network. However, parents have a key role in reminding children of the dangers and the sometimes tragic consequences of playing on or near the motorway network. In the case of other pedestrians we are urging them to think twice this summer before using the motorway as a shortcut and stop their friends from doing so."
55% of all drinkers support lower strength beer option in pubs
AMRA, the Campaign for Real Ale, has launched a campaign at this week's Great British Beer Festival, which could save drinkers 60 pence on a pub pint of lower strength beer as well as giving them greater choice.

CAMRA is calling on the Government to introduce a "People's Pint" by abolishing excise duty on all beers at 2.8% abv or below. As well as saving consumers 60 pence on a pub pint of lower strength beer the move would make it easier for drinkers to enjoy a night out while drinking within sensible limits. Alcohol Concern has expressed support for CAMRA's new campaign.

A 60 pence reduction on a pub pint of lower strength beer would help get people back into pubs at a time when pubs are being battered by the recession, huge increases in beer tax and fierce competition from supermarkets selling alcohol as a loss leader. Pubs are currently closing at a rate of more than seven a day.

CAMRA will be showcasing Welton's Brewery's 2.8% abv beer 'Pride 'n' Joy' at the Great British Beer Festival being held in Earls Court, London this week. Visitors can comment on 'Pride 'n' Joy' at www.gbbf.camra.org.uk/beers.

Mike Benner, CAMRA Chief Executive, said:- "Zero duty on lower strength beers is a win-win scenario for brewers, pubs, consumers and the Government. Quality lower strength beers can be packed with flavour- a lower alcohol content does not need to translate into a reduction in flavour. For the consumer, this proposal means greater choice as well as a saving at the bar if they opt for a beer of 2.8% abv or less. For the Government, this is an opportunity to make it easier for people to drink responsibly whilst also supporting the tens of thousands of jobs under threat as a result of falling beer sales and pub closures."

Don Shenker, Alcohol Concern Chief Executive, said:- "We support CAMRA's call to revisit the issue of alcohol duty in order to encourage the drinks industry to produce lower strength beers. People are entitled to have more choice and greater control over their own drinking. Having more lower strength drinks on the market allows people to enjoy a night out while making it easier to stay within safe drinking guidelines."

CAMRA's "People's Pint" campaign follows alarming new figures from research body AC Nielsen which suggest that off-trade sales through supermarkets could overtake beer sales in pubs next year and that there is a need for lower priced beers in pubs.

Mike Benner continued:- "Pubs provide a safe and sociable place for adults to enjoy alcohol responsibly and it is essential that the Government supports our campaign to enable pubs to compete more effectively with ludicrously low supermarket beer prices. With 55% of drinkers in favour of a lower alcohol beer option*, the demand is clearly there and the Government is free to introduce a zero-rate on beers of 2.8% abv or less under existing EU rules and should therefore do so."

CAMRA claims that while pub prices for lower strength beers could be up to 60 pence a pint lower, the effect on supermarket prices would be minimal.

Ray Welton, Head Brewer at Welton's Brewery, said:- "There's always the element of lower strength beers being unique selling points, and I know of a few pubs where licensees are thriving because of offering a low strength beer option to their customers. A low strength beer allows people to enjoy a beer when they may wish to moderate their drinking levels. There is certainly already a consumer demand for a low-strength beer option in pubs, but to further this, there needs to be a national campaign in order to champion its merits."

Do you agree with this idea? Let us know by emailing us with your views to news24@southportreporter.com.
North West key workers demand action on alcohol
A major survey of North West key workers has shown strong backing for Government action on excessive alcohol promotions. The online survey of 1,354 NHS, local authority, police workers and others showed that 72% want the Government to ban activities such as all you can drink offers and dispensing alcohol directly into customers' mouths.

Of the other measures proposed in the Government's proposed new code of practice for alcohol retailers, 97% supported mandatory free tap water in pubs and clubs, 71% supported measures to make sure that smaller measures are always available and 85% supported measures to ensure that information on the number of units in drinks is available to customers.

A number of respondents expressed anger on the issue including an A&E nurse from Greater Manchester. Calum Irving, head of campaigns and advocacy for Our Life commented:- "Alcohol consumption is having a vast draining effect on the NHS, both in the treatment of alcohol dependent patients and alcohol related diseases. On top of that there is the verbal and physical abuse that staff tolerate on a daily basis within the wards, departments and the A&E's. The majority of attendees to our already very busy and over stretched A&E's are in some way related to the excessive consumption of alcohol. The cost and stress caused to key workers across the North West by excessive alcohol promotions has gone too far and people are making their voice heard now. The government should take note and resist pressure form the alcohol industry to 'do nothing' and implement a strong code of practice as soon as possible."

Do you agree with this? Let us know by emailing us now to news24@southportreporter.com.