Full steam ahead for award-winning transport scheme helping local people into work
AN award-winning programme designed to help thousands of people into work is set to continue for the next eighteen months with the announcement of new funding from the Pathfinder Enabling Programme, a European Social Fund initiative.
The £4m "Let's Get Moving" scheme, co-ordinated by the Merseyside Transport Partnership, is to receive £1.5million from the ESF. This will add to the existing contribution by Merseytravel of £2.5m to provide supported bus services in our most disadvantaged communities.

The programme helps people from disadvantaged communities who are having difficulty getting to places of employment. It provides clear, commonsense information about the most convenient and least expensive ways of travelling to work and offers a wide range of advice and support.

It also bridges gaps between employers and other agencies, such as Connexions, Jobcentre Plus and the Learning and Skills Council to ensure that transport issues are taken into consideration and resolved at an early stage.

Last year "Let's Get Moving" won Beacon Status for Merseyside Transport Partnership and Halton Council, recognising its excellence and innovation in improving the quality of life for local communities. More than 12,000 people have been helped since the programme began.

This number includes almost 500 lone parents, more than 1,500 people returning to work after a period of unemployment and almost a thousand people with basic skills.

Neil Scales, chairman of the Merseyside Transport Partnership, warmly welcomed the new funding announcement. He said:- "This programme has been breaking new ground since its inception, and we are extremely proud of what has been achieved throughout the region. We are offering solid, practical advice, support and solutions and we have had terrific results. For example, if someone is nervous about finding their way, sometimes all it takes is for a travel buddy to make the journey with them a couple of times, pointing out landmarks to watch for and working out a plan for what do if they get lost. At the other end of the scale, we have worked closely with colleges and employers on detailed travel plans to make sure that local people can take full advantage of the opportunities that are on offer. This new funding will ensure that this hugely important work continues during what is going to be a challenging economic period, when supporting people into work is going to be even more vital than before."

Councillor Mark Dowd, Chair of Merseytravel, said:- "Transport can be a lifeline to many people and linking them to jobs, is a vital part of Merseytravel's role, working closely with all the Councils of Merseyside. This money will support those people and communities that most need access to public transport. We want this project to continue to make a real and lasting difference to people's lives."

The Let's Get Moving programme brings together neighbourhood travel teams in each of the five Merseyside boroughs and Halton. Activities so far have included:-

* Personalised travel plans;
* "How to get to" guides for large employment sites detailing all modes of transport;
* Travel cards offering up to one month's free travel to work;
* Passenger "buddying";
* Travel surgeries in local venues ;
* Displays and advice at jobs fairs;
* Facilitating liaison with other agencies;
* Provision of scooters under the "Scooter Commuter" scheme, which offers six-month loans of scooters to people who cannot get to work via public transport;
* Discount schemes, maps and safety advice for cyclists;
* Support for the development of travel plans for employers, particularly at large employment sites.

Over the coming eighteen months, the new programme expects to:-

· Help 6,000 people to access places of employment;
· Provide 250 six-month loans of scooters;
· Issue 3000 travel cards;
· Support 10 workplace travel plans into adoption;
· Produce 20 "How to get to" guides;
For further information please see:- www.transportmerseyside.org
KNOWSLEY FLOWER SHOW –A FUN DAY OUT FOR ALL THE FAMILY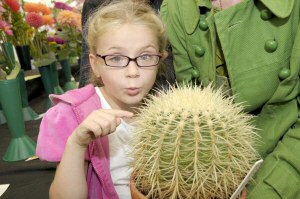 IT'S the north west's biggest free flower show with more than prize-winning blooms and vegetables to woo its visitors.
The Knowsley Flower Show on Sunday, 9 August 2009 at the National Wildflower Centre has events and activities throughout the day for all the family – as well as more than 100 show classes.

Whether you tend your own allotment, nurture a window box or just love beautiful flowers there is something for everyone at Court Hey Park.

This year's show – the eleventh, has displays from Hawkeye Falconry and the H&M Dog Display Team, arts, dance and entertainment in the Youth Arts Friendship Field plus live theatre performances for children.

There's a large craft marquee, circus skills, a gardeners' question time, plus lots of plant sellers and growers giving advice and helpful tips.

Fresh Start's Enterprise Zone will offer advice on small business start ups and Knowsley Community College will be staging demonstrations and advice on their latest range of courses.

There are prizes on offer, for everything from pot plants to vegetables, as well as lots of children's classes, plus a photography competition.

This year the free shuttle service from Huyton, Kirkby and Bowring Park to the site has been extended to include a service for Halewood.

Councillors Eddie Connor, Cabinet Member for Leisure and Cultural Services said:- "We believe this will be the best flower show yet with lots of things for all the family to see and do in the marquees and the beautiful grounds of Court Hey Park.
It's free and this year the free flower show bus service will ferry visitors from Kirkby, Prescot, Bowering Park, Huyton and Halewood to the event all day."

Show secretary Christine Yates said:- "We'd like to encourage children to enter this year's show – and there are 11 classes designed especially for them!
We'd like to see not only flowers and vegetables, but your photographs, pictures and garden designs too.
There is also the opportunity for children who enter a picture to have their work published as the design for the cover of the 2010 Knowsley Flower Show publicity.
Each year we hear people saying things like; 'my tomatoes are just as good as those!' - well come and show us and you may even win a prize for your efforts!"

Contact Christine on 0151 480 8666 for show class information, or visit the show website:- www.knowsleyflowershow.com.

Knowsley Flower Show, 9 August 2009, 11am to 5pm
Location:- Court Hey Park, Roby Road, Huyton.

Free shuttle services from:- Huyton bus station; Kirkby bus station; Bowring Park and Golf Course; Ravenscourt bus station and Halewood Village.