PIER HEAD PARTY 'ON THE WATERFRONT'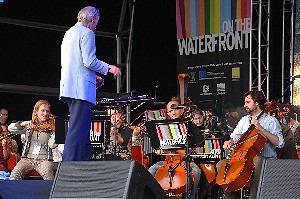 LIVERPOOL'S iconic Pier Head was transformed into a massive outdoor concert venue this over Friday, 31 July 2009 to 2 August 2009. The city's World Heritage Site hosted the first in a trilogy of free cultural festivals. We popped down to take a few photographs at rehearsals of the 'Rightful Owners Of The Song' event that was a reprisal of the Capital of Culture smash-hit concert - staring the city's best pub singers, all performing classic popular songs by the greats from Sinatra and Elvis to Ella Fitzgerald. They were accompanied by the Royal Liverpool Philharmonic Orchestra over a two-hour concert. From what we heard, this was a brilliantly balanced and entertaining line up.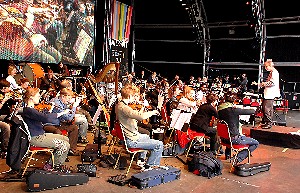 On Saturday 1 August 2009, the venue then hosted Africa Oyé.

The musical extravaganza reached its climax the following day with a classic Lazy Sunday Afternoon, featuring some of Liverpool's finest Latin, Blues and Funk players and visiting international artists. Star acts included The Grapes Band, the seven piece funk monster band - 6ix Toys, Lightnin' Willie and the Poor Boys and Connie Lush - widely regarded as one of the finest blues singers the UK has ever produced, having been voted Best UK Female Vocalist by readers of Blues In Britain for 5 separate years.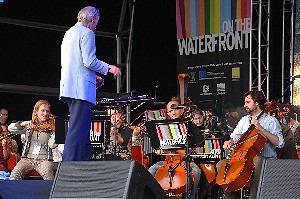 Also throughout Sunday afternoon Samba performances took place at the south side of the Pier Head by Liverpool Carnival Company, and music and dance from young performance groups working with Brouhaha International.

In total more than 200 musicians and performers, from 9 countries took to the stage for more than 12 hours of free music!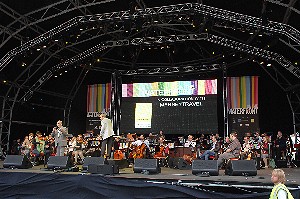 Just before the event Councillor Gary Millar, Liverpool City Council's Executive Member for Culture and Tourism, said:- "Liverpool's waterfront is one of the greatest in the world and deserves to be the home of a world class festival. On The Waterfront has all the hallmarks of what was best about best of capital of culture – free, ambitious and appealing to everyone. And what better way for a world music city like Liverpool to begin than with a celebration of the sounds that shaped this city and the world."

If you missed all that then you will be pleased to know that the waterfront festival was just one of the showpiece highlights of Liverpool's 2009 cultural calendar and will incorporate elements of Liverpool's critically acclaimed European Capital of Culture programme.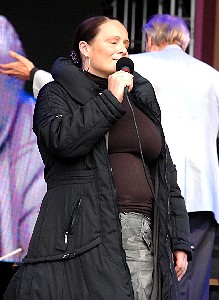 On The Waterfront Part II - Art on the Waterfront runs from 14 August to 16 August 2009

Friday 14 August 21.30 to 22.30 and Saturday 15 August 20.30 to 22.30 will be held on the Pier Head. The event is inspired by Tate Liverpool's summer exhibition Colour Chart, the evening programme will lead to a special Sound and Light event featuring coloured lanterns, coloured fire, lighting effects and projections working to an especially commissioned sound score with additional performance elements on the Saturday night.

Friday 14 August 11.00 to 17.00 and also Saturday 15 August 2009 from 11.00 to 20.30 as well as on Sunday 16 August from 11.00 to 17.00 at the Albert Dock, Salthouse Dock and Canning Dock, will host a family-friendly weekend programme with interactive theatre performances, an outdoor Colour Tent in Mermaid Court hosting a range of colourful creative activities including lantern making.

On The Waterfront Part III - Film on the Waterfront runs from 25 September to 27 September 2009. It will be located at the south end of the Pier Head site, with the window of the new Liverpool Museum acting as a gigantic cinema screen, this is a weekend of cinema and digital arts produced in partnership with FACT.

Friday 25 September 2009 from 19.30 to 23.00 will be 'Abandon Normal Devices' a Festival of New Cinema and Digital Culture, and a partnership between three of the northwest's media art organisations; FACT, Folly and Cornerhouse. Expect cinematic shenanigans and an evening of remixed and re-mastered innovative and contemporary screen work.

Saturday 26 September from 19.30 to 22.00 will see 'Pictures at the Pier Head'. This will be a night with a big screen cinema classic, with thematic connections to the waterfront location, and a supporting programme of locally produced short films.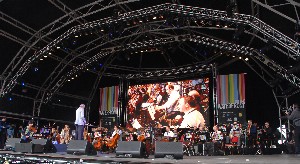 Did you know?
'Culture Liverpool' is Liverpool City Council's new Business Unit which funds and delivers culture and events in the city and manages international relations. Its aim is to help Liverpool build on the success of '08 by creating a dynamic programme that reflects the character and creativity of the city, placing citizens at its heart and inspiring all who participate and spectators alike. Liverpool's European Capital of Culture programme featured more than 7,000 events, 10,000 artists and over 60 world or European premieres. The year helped generate £800m boost to the regional economy, attracting 3.5million first time visitors to the city with most cultural attractions recording a 30% rise on 2007 attendances. For more information visit:- liverpool.gov.uk/culture.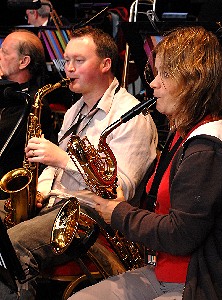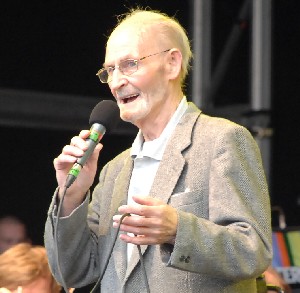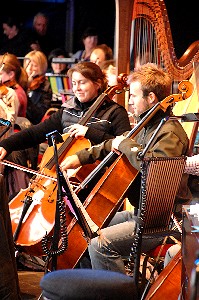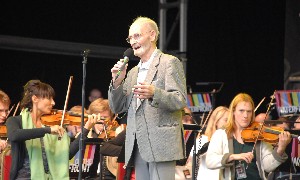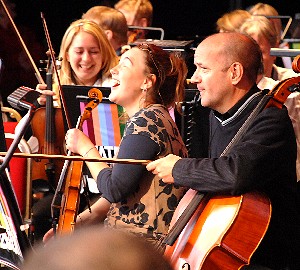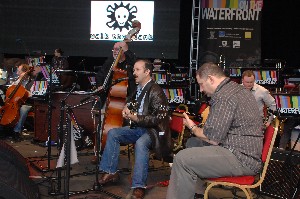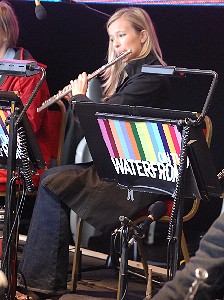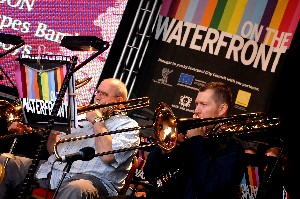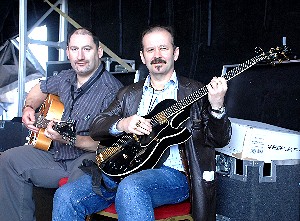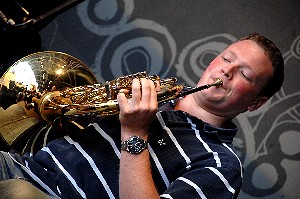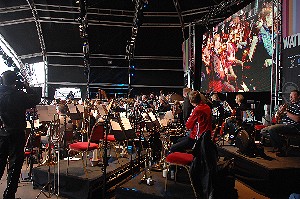 Page 1 of 3
If you like the photos, please order them and do not copy them. Help to keep this site online. Click here to find out out you can get you copy of these photos.