Nice 'n' Naughty sponsors Scally Rally Team for Help For Heroes Charity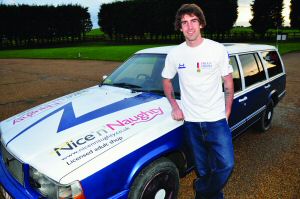 SINCE the first Nice 'n' Naughty store opened in Chester in 1999, Nice 'n' Naughty has worked closely with all communities, regularly giving to charity and raising funds for good causes. This month sees them sponsoring a team who are taking part in the 'Scally Rally – Arctic 2009' in order to raise money for the Help For Heroes Charity.
Nice 'n' Naughty's National Retail Manager, Richard Allmark, commented, "The team will do a great job and we're happy to sponsor them in order to help raise money for Help For Heroes, a charity that is dedicated to supporting our wounded servicemen and women returning from conflicts across the globe. For more information about Help for Heroes and the work they do, go to:- www.helpforheroes.org.uk."

Mark Hamilton, one of the team members, explained the challenge:- "We will be driving from The Hague in Holland to Bodo in northern Norway (just inside the Arctic Circle) in only five days. That's a distance of 2500 miles. We have to average around 500 miles a day as well as complete secret tasks set by the event organizers everyday. The biggest catch of all is that we had to buy our car for £100 or less! We eventually found a 1990 Volvo 740 estate for exactly £100 and have christened her Hilda. She's not needed too much work doing and hopefully will see us through all the way to Bodo. Any donations are hugely appreciated. They all go to the charity as we are paying for the trip ourselves. We've set ourselves the target of £2000 which we'd like to beat as it's such a good cause. Please give as generously as you can at:- www.justgiving.com/nicennaughtyandmartyn/. "
BLUE LIGHTS HORSE OF THE YEAR 2009 - LAST FEW TICKETS REMAINING
MERSEYSIDE'S three emergency services are saddling up to compete against each other at the 'Blue Lights Horse of the Year' charity show at the Aintree International Equestrian Centre this week.

The competition follows last year's highly successful inaugural 'Police Horse of the Year' show which was run by Merseyside Police as part of the World Firefighter Games. This year it has been made even bigger and better by being open not just to the police but also to competitors from Merseyside Fire and Rescue Service and the North West Ambulance Service.

The event is open to the public on the afternoons of Thursday 6, Friday 7 and Saturday, 8 August 2009. More than 60 emergency services workers will compete for the Blue Lights Horse of the Year trophy with categories including dressage, show jumping and an obstacle course. Any profits will be donated to Crosby Riding for the Disabled.

In addition, there will be shows from the Merseyside Police Dogs' Section, the Pony Club, the Merseyside Police band, Crosby Riding for the Disabled Association and exciting competition finals including Police Horse of the Year.

Visitors will be able to enjoy food and drink, pony rides, street entertainers, market stalls, a mini farm and face painting for a great family day out.

A raffle will also be held for a family ticket to see 'War Horse' at the New London Theatre. War Horse is the story of a young First World War recruit and the incredible bond he has with his horse.

Merseyside Police Assistant Chief Constable Patricia Gallan said:- "We are proud to be hosting this year's Blue Lights Horse of the Year show. Horses and dogs form a vital part of modern policing and I am delighted that the public will get a chance to see how skilled our staff and their horses and dogs are. Last year's event was incredibly successful and raised £6,000 for Crosby Riding for the Disabled - a charity that does such good work in our community. I'm sure this year's show will be just as enjoyable for everyone involved."

Kieran Timmins, executive director of resources at Merseyside and Fire Rescue Service and a keen rider himself, said:- "Last year's equestrian event was a real success, drawing crowds of 1,000 each day and with horses taking part from all over the country. It was such a success we decided to carry it on for this year, rebranding it the Blue Lights Horse of the Year show to reflect the fact that it is has been opened up to members of all the emergency services. It will also feature displays for the public, featuring the police mounted and dogs sections, and pony club jumping competition. We are hoping to make this into an annual event and the equestrian centre at Aintree have been great supporters."
Scouts rise to the challenge of an Icelandic Adventure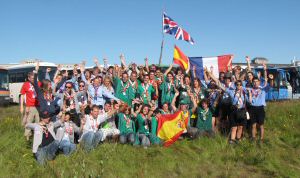 SCOUTS rise to the challenge of an Icelandic adventure UK Scouts join 3000 others from across Europe in high adventure camp in the Arctic Circle. The Scouts also contributed to Climate change debate.

Friday 31 July 2009, Iceland:- 100 Scouts from Northern Ireland, London, Merseyside, Staffordshire, Newcastle, Avon , Cheshire and Scotland joined up with 3000 16 to 25 years olds from around Europe to take part in an adventure of a lifetime.

Their time in Iceland was split between a 4 day journey, that took in Iceland's spectacular natural scenery; a community project, that saw the Scouts helping to build fences, pathways and dig latrines; and a central camp where all 3000 Scouts joined together for more fun and some opportunity for cultural exchange and environmental learning. As part of this work Scouts from the UK linked up via a web link with, Ed Miliband Secretary of state for Energy and Climate Change to contribute to a discussion on how young people from across the Europe could reduce the impact climate change.

The high adventure activities undertaken by the team included visiting a glacier and seeing how rapidly it was melting. Jon Peers from Birkenhead, Merseyside said:- "Seeing the glacier was draw dropping. The water was so cold it took my breath away. It would be really sad if we did not take action to stop this disappearing. I have never been to Iceland and I would love to bring my friends back in future years to see these wonderful sights. We must stop global warming now"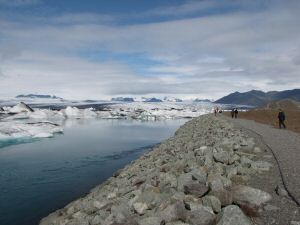 Scouts from Italy, Spain, France and Germany joined those from Cookstown. They spent some their adventure exploring ice caves in glaciers in the Skaftafeel National Park. They were wowed by Iceland's spectacular scenery. Nigella from Italy said:- "Iceland is the most amazing place. At the start of the event we went on a hike around Iceland and we had to deal with rain, sleet and sun all in one day. Working in a team of Scouts from Rumania, Spain UK and Slovenia was a real challenge but we worked as a team and had great fun along the way."

Heidi McConnell the UK expedition leader said:- "I have had an amazing time. I have never led a contingent of over 100 young people before in such an environment. It's been hard work but very rewarding. It's great to see so many young people being taking on by some fantastically rugged country and rising to the challenge. I am confident that what they learn here they will take home with them and it was great fun working with Team Tyrone"
THE REDUCTION OF PCSOS IN SEFTON
ON Wednesday, 5 August 2009, Cllr Bill Weightman, Chair of Merseyside Police Authority, and Deputy Chief Constable Bernard Lawson, Merseyside Police, said:- "We are saddened by the withdrawal of funding that was made available by Sefton Council for PCSO's in their area. This reduction makes the work of the Police Authority and Force just that little more difficult. The Police Authority and Merseyside Police has taken every opportunity to provide continued funding for PCSOs across Merseyside, but we need the financial support from our partners to do this. The Police Authority and the Force will work to limit the impact of this reduction on the Sefton Community." Let us know your views on this education by emailing us via news24@southportreporter.com.