INVESTMENT IN TRAVELWISE CHOICES FOR MERSEYSIDE SCHOOLS
THE government has awarded £391,149 to schools across Merseyside for School Travel Plans. A total of 62 Merseyside schools will benefit from the funding, which will be spent on initiatives to help reduce congestion outside the school gates by encouraging TravelWise choices such as walking, cycling and public transport.

The new funding will be split across 10 schools in Knowsley, 21 in Liverpool, 13 in Sefton, 13 in Wirral and five in St Helens. Each school will use the money to implement a School Travel Plan with help and support from the Merseyside Transport Partnership's team of School Travel Advisors.

School Travel Plans can include all sorts of initiatives from Walking Wednesdays, where pupils are asked to walk all or some of the way to school every Wednesday, to new cycle storage facilities and Bikeability cycle skills courses, designed to facilitate cycling to school.

Neil Scales, Chair of the Merseyside Transport Partnership, believes School Travel Plans really are making a difference in Merseyside in terms of reducing congestion and improving safety around the school gates. He said:- "This new funding from the Department for Transport will provide a huge boost to Travel Planning for Merseyside schools. I am confident the initiatives that will be put in place as a result will help to reduce congestion, further improve road safety near schools and ultimately encourage people to make smarter travel choices."

Since the region's first schools started adopting their own Travel Plans more than eight years ago, there are now 450 Merseyside schools with a Travel Plan. To find out more about School Travel Planning, visit:- LetsTravelWise.org and check out the schools pages, or call:- 0151 330 1290 for more information.
BANK ROBBERY- MERTON ROAD, BOOTLE
AT about 3.40am Merseyside Police Officers were called to the Royal Bank of Scotland on Merton Road, Wednesday, 29 July 2009, following reports about a large mechanical road digger having been driven into the bank. The large digger had been stolen from roadworks on Christ Church Island just prior to the incident and had been driven into the bank removing the cash machine in the process causing extensive damage. Police believe four offenders were involved in both incidents. The offenders abandoned the digger in the middle of Merton Road and left the scene in two vehicles, a white Ford-type flatbed truck with the cash machine on it and a silver saloon type car. They drove away in the direction of Hawthorn Road. Merton Road was closed between its junction with Litherland Road and Hawthorn Road to allow for forensic examination of the scene. Detective Inspector David Keegan said:- "I would appeal to anyone who witnessed this incident, in particular anyone who may have seen people acting suspiciously on Christ Church Island or near to the bank at this time to get in contact with police. The investigation is in its early stages and both the digger and the scene are being examined by forensic experts. Officers are also examining CCTV footage and making enquiries in the area. Merton Road is a busy thoroughfare and I would urge anyone who may have been in the area at the time and may have seen either of these vehicles to come forward."
Detectives are urging anyone who witnessed the incident of has any information to call Merseyside Police on:- 0151 777 3165 or Crimestoppers on:- 0800 555 111.
CUT ID CARDS TO PUMP CASH INTO COMMUNITIES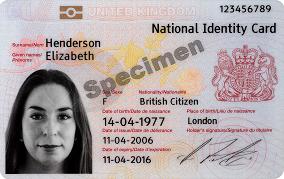 UNISON, the UK's largest public sector trade union, called on the Government to put a stop to costly plans for ID cards, calling on them to pump cash into communities through spending on public services instead.

It was revealed that the ID card scheme has already cost more than £215 million, and could need a further £5 billion funding over the next 10 years. The union is calling on the government to use this cash to fund services, including plugging serious shortages in children's social work, and care services, as well as expanding their Future Jobs Fund.

Dave Prentis, UNISON General Secretary, said:- "Public services are the rescue remedy for getting communities through difficult times. From debt advice to housing, they are helping families cope with the worst effects of the recession. Instead of wasting billions on ID cards, the Government should be shoring up public services now, and for the future. There are already serious shortages of social and home care workers that leave children and vulnerable people exposed. These billions could fund new hospitals, schools and expand much needed job creation programmes – a vital investment in our future.

This government has made good progress in moving away from the Tory legacy by regenerating public services. But if cuts are made in the future, we risk turning back the clock, leaving families and communities to pay the price."

Instead of spending £5billion on ID cards and biometric passports and database, the Government could spend money on:-

· £500m would allow the government to recruit an extra 10,000 children's social workers this year, bringing child protection caseloads back down to manageable levels.

· £1.5billion would fund 50,000 more hospital cleaners for the NHS, taking staffing back up to the levels of the 1980s before the cuts that created current problems with hospital acquired infections.

· £2billion would allow local authorities to provide home care services to 370,000 people currently denied it due to funding constraints, and in the process create the equivalent of 80,000 full time jobs.

· £2.8 billion would secure equal pay in local government, boosting the spending power of hundreds of thousands of women providing vital services to local communities.

· A one-off investment of £5 billion would fund a local authority-led programme to improve energy efficiency by upgrading 10 million homes currently without cavity wall and loft insulation, creating 20,000 new jobs.
Useful website link.