Prince Charles honours learning programme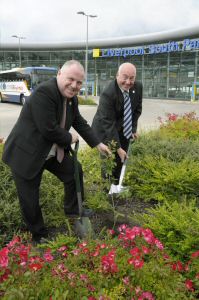 AN oak sapling, presented by Prince Charles, has been planted at a major city interchange as a permanent reminder to Merseytravel's ground breaking learning programme.

The sapling, along with a corporate award and top prize, was presented to Merseytravel by Prince Charles for its Merseylearn programme which helps employees improve numeracy and literacy skills. The award was handed over at a garden party hosted at Clarence House, for the annual Business in the Community (BITC) Awards for Excellence.
The Prince of Wales is President of the BITC. The sapling has been planted at Merseytravel's flagship Liverpool South Parkway interchange.

Neil Scales, Chief Executive and Director General of Merseytravel, said:- "The BITC award is an honour for all our staff to share and we're proud that our achievements have been recognised. Merseylearn has been a resounding success since it was introduced five years ago. It has proved to be of enormous benefit to both our staff and the organisation."

Liz Chandler, Merseytravel's Head of Learning and Transformation, added:- "Merseylearn is enormously popular and has provided access to learning for 95 per cent of our employees. It's also good for morale. We've seen a reduction in staff turnover and absenteeism - and customer complaints have gone down by 50%. It has been so successful that we have extended the Merseylearn programme to include Merseyrail as well as local taxi and bus companies."

Andy Hurren, Chair of the Award judging panel, said:- "I congratulate Merseytravel on their achievement of Example of Excellence. Great leadership and commitment has been demonstrated in driving the programme forward, in partnership with the trade unions. Merseytravel are fantastic ambassadors for sustainable workplace learning, with the capacity and ability to continuously improve."

For more details on the BITC awards website.
Manchester is burglary capital of UK!
LIVERPOOL did not even come close to the top of a league table of UK break-in "hotspots". Many people think Liverpool is not very safe and a hot spot of crime, yet new figures reveal a far better view of Liverpool and Merseyside over all, than that of our nearest rival big city Manchetser. It is now official that Manchester is the most burgled area in the UK, suffering almost 20 break-ins every single day. The Conservative Party in Manchester told the media that the figures a shocking picture that shows the worst areas had a burglary "in almost every street" in the Manchester area.
The Home Office data for the Manchester area showed 35 domestic burglaries per 1,000 households for 2008 to 2009, a total of 7,167. Interestingly, the Liverpool area comes out at 2,617 over the whole of Merseyside! In the same table Salford ranked number 20 with 22.3 burglaries per 1000 homes, with a total of 2,181 incidents for 2008 to 2009. Worryingly, for Manchester residents, this crime problem appears to be worsening, having risen 8% from 6,646 from the 2007 to 2008 figures. Interestingly listed 2nd in the top 10 burglary hotspots was Nottingham, with 33 per 1,000 homes, closely followed by Reading, and Haringey in London, both with 30 per 1,000 households! Sadly last week's overall crime figures for 2008-9 showed a 1% rise in domestic burglaries, representing the first annual increase for 6 years over all. The best areas for came out as the rural area of Teesdale, County Durham, with less than 1.3 break-ins for every 1,000 homes on average. That comes out as just 14 offences in total! The figures also revealed that the overall the number of police recorded crimes fell by 5% between 2007 to 2008 and 2008 to 2009.
The figures went on to show that police recorded 6% fewer violent against the person offences, 10% fewer vandalism offences and 10% fewer offences against vehicles. Most importantly for us all, when it comes to our insurance premiums next year, is that the risk of becoming a victim of crime as measured by the BCS rose from 22% to 23%, but is well below its peak of 40% in 1995.

| | | |
| --- | --- | --- |
| Top 10 | City | Burglaries per 1,000 homes |
| 1 | Manchester | 35 |
| 2 | Nottingham | 33 |
| 3 | Reading | 30 |
| 4 | Haringey, London | 30 |
| 5 | Leeds | 28 |
| 6 | Bradford | 27 |
| 7 | Luton | 27 |
| 8 | Enfield | 26 |
| 9 | Slough | 26 |
| 10 | Bristol | 26 |
Note that Liverpool is not in the top 10! That is contrary to popular national opinion!