Formby Churches Together Family Fun Day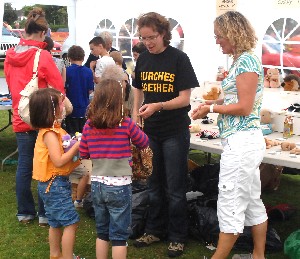 ONCE again happy sounds resounded around Formby's Duke Street Park as, on Saturday, 10 August 2009, was thronged with folk enjoying the third Annual Family Fun Day, for the under 12's, organised by the Churches Together.

This year's theme was Animals - come - meet them. Thus once again, against today's greedy trend, this was all for free, a gift from the Churches to the Formby Community. There was much to see and do.

Many tents holding interesting activities, such as making animals from scraps and other crafts; face painting and tattoos; hairbraiding and jewellery making; a plant stand and Science is Fun interactions; animal mask making; an accompanied Noah's Ark and many were aboard enjoying the rides it gave around the park; there was also a model steam train on a miniature railway which plied its way along its track carrying eager little passengers on board. Many others activities available including brainy attractions, a climbing wall while a clown demonstrated his art to would be Cocos of the future. Sports coaching was given too.

As the name suggested,real animals were also well in evidence, among them was a most unusual albino skunk. Rides were available on horses from one of the riding schools. In the arena lots of beloved family pets were proudly put through their paces in the popular dog show. The K9 Dog display team thrilled the spectators

Refreshments, from Waitrose and M & S went down a storm with the very plentiful supplies running out at about 2.45pm. Throughout heartening music emanated from the Redress Elbow Irish Band, which lifted the spirits of the listeners during the showers. The trio played on the balcony of the Sefton Youth trailer. Wow, all the fun of the fair!

Despite the drizzly start to the day the weather held out until a torrential shower occurred very close to the end of the Fun Day. It caused the events to pause for a while as people dived under all available cover, as it looked as if Noah's Ark might have a more immediate significance, but it abated just long enough for families to collect themselves and make for home before a second deluge cleared the field of the fair goers.

This was a worthy effort and great credit goes to all who voluntarily worked so hard to put the show on, not forgetting the assistance of the St John Ambulance personnel, the Police, Sefton Council and other behind the scene's contributors to the success. Here's to next year's!
... Click here for more photographs ...