New Party Political Candidate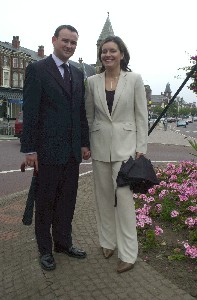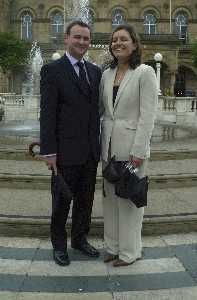 Thursday night the Conservative Association met to finally choose their new PPC. The final choices were Les Byrom, previous PPC and long time member of the conservative party, Alf Doran Formby's councilor, Mark Stuart Bigley, also a young member, although tied to politics for most of his adult life. After a long and hot session Mark Bigley, who was considered the outsider, won and he is now the new PPC. There had been 10 candidates originally and they went through a three-interview process, so the choice was not taken lightly.
Mark is 33, supports Liverpool FC and is engaged to be married to Alison next August. Alison when asked whether she realized what she had let herself in for replied, "Marks been involved with politics throughout the time I've known him, and I will be supporting him all the way, my own Marketing and Management skills will help with the campaigns to come".
Achievements to date, include, Sefton Chamber of Commerce Advisory Council member, Investment Manager for Wigan Borough Partnership, Town Centre Manager Wigan Borough Partnership, Town Centre Manager for Southport TCM Enterprise Scheme, which includes the building of the Princess Diana Memorial Gardens. He is also a Managing Director of a company called Upshots and partner in Stubbs Enterprises.
The day after, we were invited to the press conference that this was announced at. The first question asked was how he felt to have been picked, and in reply, he said, "That it was a privilege to represent his home party in his home town". He was also asked which platforms he would campaigning with, and he replied with the usual Education, Health and Transport, but when asked if he was for Southport withdrawing from Sefton he replied "I believe that Southport should be able to determine it's own future and finances, if this means that we should withdraw from Sefton then so be it". He was also asked whether he thought the Southport party were a threat, and he replied that only in that they have given the people of Southport a platform for Southport. He hopes to focus on Southport as part of his own forum and this should negate the Southport Parties main attraction. When asked about his youth with comparison to other parties or previous candidates, he replied "Politics is still important to younger people and they should be involved in politics, but also maybe it's time to have younger view in politics for the country. Anyway age should not be an issue".
Although he has only been a member of the Conservative party for 12 months he has been involved with politics most of his life, and when asked whether he was Left or Right wing within the party he replied, "I don't want to be pigeon-holed I am a conservative. You decide whether I'm left or right wing I don't think like that". He also pointed out that robust political debate within the party is healthy and helps to sort out policy and keeps it representative of the public.
The only reason I have only recently joined the party is that previously I have had little opportunity or time, to do so. His political hero is Michael Heseltine because he stood up for himself, was not a sycophant and actually got some things sorted out, such as urban renewal, and the city challenge scheme.
His view on Europe is not to go with the single currency, but to have a free trade economy. Keep the pound. Cannabis should not be legalised because this sends out the wrong message to the youth in this country, if you make Cannabis legal, you move the line of what is acceptable, where do you draw the line.
Capital punishment should be bought back for certain crimes, multiple murders, and child killers that sort of thing, but only when proved beyond a doubt. Corporal punishment as well should be bought back, as in his opinion teachers have lost control of the classroom and the kids now rule there, after all "They had the cane when I went to school, and we were far better behaved than the kids are today".
In response to the railways, they should be privatized, after all businesses have more resources now than the government. We need better integration of transport to bring more money into Southport therefore improve transport further.
As to the question of Asylum seekers, "Those who are legitimate seekers then they should always be granted asylum, but those who are abusing the system, the fakers if you will must be kept out. As to the Euro Police force that is to keep illegal asylum seekers out of the country, patrolling the waters around Britain and Europe, they are a good idea".
And our final question which of course was about the internet, and it's place in business and politics. He said "The internet is as much a part of business as the telephone or the fax, and all businesses, should they be solely on the net or unconnected to the net, should be treated the same way and by the same regulations. After all the risks are identical, although some of your overheads are different".
Article by E G Lyon-Taylor, Photographs by Patrick Trollope.