Talent Camp


As has already been mentioned on these pages before, the Talent Camps are showcasing the talents off our young athletes and giving them the opportunity to learn from sporting personalities and coaches.
The 8 to 16 year olds, both able-bodied and disabled, were chosen from 9 different athletic fields. Twelve hundred competitors from the local area, Preston, Blackpool, Southport and Formby all attended, and competed in the 9 events. the North West had the largest percentage of disabled athletes taking part in the wheelchair basketball, athletics and swimming.
The Queen's Jubilee Baton will be taken to the Talent Camp at Lancashire University, on Saturday evening. This is on it's penultimate leg of the journey around the Commonwealth, the last leg being the journey to Manchester Stadium on the 25th July, where it will be passed to the Queen to officially open the games.
Councillor David Newton, Chair of the Active Sports Talent Camp Board said: "It is our intention that a number of young people along with some of their coaches will go on to represent England at future Commonwealth Games or at other key events.
The Talent Camp will also provide a unique opportunity for coaches and volunteers to learn from each other, and for good practice to be shared. may I wish everyone involved a wonderful weekend of learning and fun, and wish them all success in the future."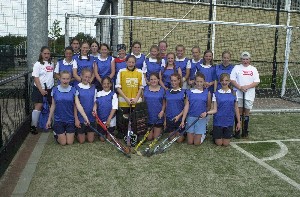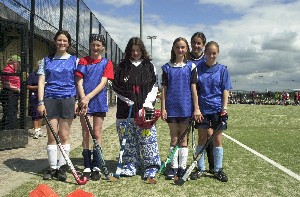 Merseyside Girls on left above, Isle of Man Girls on right above, below left, Isle of man Lads, below right, Merseyside Lads.