BRITS RETURN TO 'MAKE-DO AND MEND' MENTALITY
WHILE we're waiting for the promised green shoots of recovery, North Westerners are turning to 'make do and mend' techniques reminiscent of the 1940s, according to research published by npower hometeam.

The study of almost 2,000 people found that 53% of those in the North West say they have considered mending something they would have thrown away before the recession. Perhaps unsurprisingly, more expensive items such as white goods, boilers and furniture were high up the 'repair not replace' list. However, despite the availability of super-cheap clothes, as a nation we're dusting off our sewing machines and threading those needles – 41% of people living in the North West would repair clothes and 22% would mend shoes. What's more, we are returning to our gender stereotypes, with men most likely to fix electrical (25%) and white goods (23%) in addition to getting the boiler or central heating serviced (14%). Women, meanwhile, are more inclined to mend clothes (44%), shoes (23%) and soft-furnishings (31%).

The original 'Make-do and Mend' book was published by the Ministry of Information in 1943 and included tips such as:

"Don't waste a whole lemon if you only need a drop. Stick a skewer into the lemon and squeeze out the juice you need. Wrap the lemon in foil and keep it in the fridge."

"Mend clothes before washing them as the tear or hole may become unmanageable."

"Unwrap new soap and store it among towels and bedding. The soap will scent the linen and it will also harden making it last longer."

Chris Thewlis, head of operations at npower hometeam, which installs, services and repairs boilers, commented:- "While we're not returning to Blitz-mentality, the research has shown we are moving from a throwaway society to something more sustainable. We are returning to the times of home maintenance to extend the life of products, and this seems to include everything from boilers to blouses.

While the economy may be showing signs of recovery, this way of living is likely to stay with us for many years to come. Whether it's maintaining items ourselves, or getting others in to do it for us, it's a sensible way to live to avoid big bills."

Servicing a boiler ensures it is operating safely and efficiently and, when done annually, can produce savings of as much as 10-15% off household energy bills.
NEXT OF KIN APPEAL - DOREEN PRITCHARD
THE Liverpool Coroner's Office are appealing for the next of kin of Doreen Pritchard, 69, who died at a nursing home in Wavertree on Tuesday, 1 September 2009. The Coroner's Office has been unable to trace Ms Pritchard's next of kin and is appealing for any relatives to come forward. There are no suspicious circumstances surrounding her death. Any next of kin, or anyone who has information about Ms Pritchard's next of kin, is asked to contact Liverpool Coroner's Office on:- 0151 233 4702.
NEXT OF KIN APPEAL - ROBERT HANLEY
LIVERPOOL Coroner's Office are appealing for the next of kin of Robert Hanley, 63, who was found dead at his home on Pinehurst Ave, Anfield on Friday, 4 September 2009.

The Coroner's Office has been unable to trace Mr Hanley's next of kin and is appealing for any relatives to come forward.

There are no suspicious circumstances surrounding his death.

Any next of kin, or anyone who has information about Mr Hanley's next of kin, is asked to contact Liverpool Coroner's Office on:- 0151 233 4702.
Passengers can patent a penguin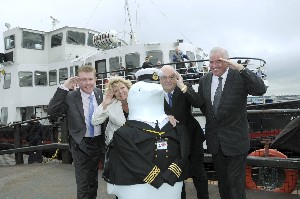 AS part of its involvement as presenting partner for Go Penguins, Merseytravel is giving one of its three penguins to the public of Merseyside.

The open competition is open to anyone to create their own striking designs.

An artist will be chosen to bring the winning design to life as part of the magical transformation of Liverpool into an Antarctic wonderland this winter.

Councillor Mark Dowd, Chair of Merseytravel, said:- "The Superlambananas captured the public imagination so spectacularly last year and we hope Go Penguins will do likewise. Competitions for people to design their own Superlambananas were a huge success and now we are opening up this competition to everyone for Go Penguins."

To enter designs and for full the terms and conditions people can visit:- levartyesreml.gov.uk.

All art forms will be considered including traditional or new media, sound or video or poetry and photography and the competition runs until 25 September 2009.

Neil Scales, Chief Executive and Director General of Merseytravel added:- "We don't want to restrict people's creativity so have a totally open mind about what will make a winning entry. Once the winner has been chosen we will find a top artist to bring it to life and we will display it for everyone to see on the transport network."

Merseytravel has commissioned three of the penguins in the Go Penguins colony, which will total more than 100 as part of a unique Winters Trail.

The second is being designed by the children of Claire House Hospice in Wirral, Merseytravel's corporate charity for 2009.

A design for the third will be chosen by Merseytravel from portfolio of creative ideas submitted through the Go Penguins call to artists submission process.

Go Penguins is a mass participation public art event, commissioned by Culture Liverpool and organised by Wild in Art – the team behind 2008's hugely successful Go Superlambananas.

From mid-November 2009, colonies of small and large penguins will be on display for seven weeks in a special Liverpool city centre trail.

For more information about Go Penguins, visit:- gopenguins.co.uk.

The initiative is a highlight of A Winter's Trail which runs from November to January and will see a series of special penguin-themed events take place across the city, with the support of numerous cultural organisations.

Go Penguins have been inspired by Liverpool's Year of the Environment, and the festive spectacular also aims to raise awareness of climate change by reflecting on the melting of the ice caps in Antarctica.

Merseytravel is also an official partner of Year of the Environment.


Picture caption: Cllr Mark Dowd and Cllr Chris Blakeley joined Cllr Warren Bradley, Leader of Liverpool City Council and Sally-Ann Wilkinson, Director of Wild in Art, to launch Merseytravel's Go Penguins competition on board the Royal Iris.