Film Review:- "District 9"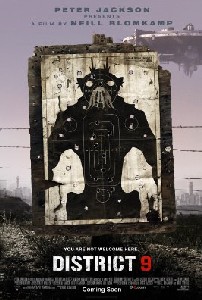 THIS film is very interesting on so many levels. When Vue Southport told us about this film, I was a bit puzzled if I would like it. I love sci-fi, but something was just not correct about the advert for this film. The tag line says it all... 'You are not welcome here', but do not take that the wrong way! The first thing at that struck me is that it was the format that it shot shot in most. This film had been shot and edited in a type of mock documentary, disaster TV movie style. The closest thing in resents years I can think on on the cinema thought was the film 'Age of Stupid'. Then the next thing that got me was the feeling of dajavo as it reminds me of quite a few other sci-fi films, thanks to the graphics, costumes. and the story, but that is, in my view, its intention. Not to spoil the plot, but it also based on the short sci-fi film, 'Alive in Jo'berg', that was shown back in 2005, so that might explain some of the dajavo. The plot is a fantastic story that has quite an interesting moral subplot. This is reinforced throughout the film, thanks to it being set in Johannesburg, South Africa. This message is hidden in good action and a fantastic plot that will keep you guessing. I often find films like this lacking focus, but this one keeps going on track and delivers some good twists along the way that add to the experience. The story is about the tense relationship that exists between a group of aliens, nicknamed "The Prawns" and the people of Johannesburg. "The Prawns" are said to have arrived in a massive star ship bearing a bedraggled alien population. Twenty years later, after initially being welcome by the human population, relations between the aliens and humans have broken down. Also the humans over that time have been trying to keep them segregated and under their control, in a militarized ghetto called 'District 9'. This 'refugee camp' only course more problems, thanks to the squalid conditions and a group called Multi-National United (MNU) are asked to relocate them. But the company/group are solely interested in exploiting the aliens' superior technology to make money and not in the well fair of the aliens. So when MNU worker Wikus van der Merwe (Sharlto Copley) is sent in by the company to forcibly evict the population of 'District 9', things do not quite go to plan. This film delivers on nearly all points and is very well thought out. It also used CGI in just the right balance, making it more realistic! Well timed with its release, thanks to all the political things going on. This film I feel will pick up quite a cult DVD following, but it is best seen in my view in the cinema... We could not give it 5 out of 5 as it has one annoying quality, that most films like this have, it is poorly advertised...

Our star rating out of 5...






4½ out of 5
Star rating explained
Tagline:-
"You are not welcome here."
Directors:-
Neill Blomkamp
Main Cast:-
Sharlto Copley, Jason Cope, Nathalie Boltt, Sylvaine Strike, John Summer, William Allen Young, Elizabeth Mkandawie, Greg Melvill-Smith, Nick Blake, Jed Brophy, Barry Strydom.
Running time:-

112 minutes

Certification:-
| | |
| --- | --- |
| | To view this film, why not visit Vue? See our listings on Mersey Reporter for film times at Southport Vue or go to myvue.com for lots more times and information! |
Film Review:- "The Final Destination 3D"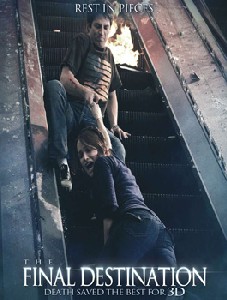 OK, Death has not yet court up on this cheesy franchise, as it lives on and on... I think I see a paten... $$$$ Sorry, enough bad jokes. If you liked 'Scream' and 'Jeepers Creepers', you love 'The Final Destination 3D'. This film is not entirely terrible in a normal showing 2D, but the 3D effects does make a huge difference. The 3D, just makes it that added bit extra; you could say the impact to the horror that is lacking in the 2D showings. As normal we where asked to pop on over and see the 3D showing at Southport Vue, so off we went, pens and note books at the ready... We found that the film plot is the same and is now very old hat, making it a tad predictable. If it was not for the 3D it's easy to forget what a good film the original Final Destination was... Saying that, the plot is still is not entirely terrible, but do not be under any illusions that this plot will follow a new direction... I think I just said that....? But having said that I do not want to jeopardize your enjoyment. What makes this one different is the use of the 3D, as this does makes you jump and it is for that, and only that reason, we would say it is good fun. Well almost only that, as it will also be good if you have not seen any of the others! This film will still have jumping, as the plot unfolds at times, but if you have you will enjoy the 3D horror more! If you see it in 2D, it will just be another film on this conveyor belt of sequels, so it will not stand out. It works best in 3D! Saying that, most Final Destination fans will still enjoy it no matter if it is in 2D or 3D. I found it slightly disturbing that most of the audience found some of the deaths very funny, so be warned... In this film most of the deaths where funny in a dark way. So not being desensitised to graphic sense is a odd issue, thanks to the nature of these films. It is an ideal film for your dark side, to enjoy. Mind you, that depends on your threshold for laughs and blood... The 'plot' thickens, but we cannot say a huge amount more with out giving it away, as it has the normal twists and turns you would have expected. The story in brief centres around the character Nick O'Bannon, who gets a horrific premonition of an impending disaster at the racetrack. As a result of this he saves his friends. However, Nick's premonitions continue and the crash survivors begin to die in increasingly gruesome ways. Q the fantastic, violence and graphic cinematography, with cool CGI... In short this film not fantastic, but still worth watching, if in 3D. Sadly the acting is a bit flat and fits the 'Love Boat' more than a horror film at times. Heck it is a 15 certification... Also this bad acting adds to the darkside of this film. It is the very definition of a diminishing plot... This is a hard film to rate. If I had not seen the others I could have scrapped it in as a 4 out of 5, but due to the plot not being original, and the bad acting, the film sadly it drops to 2½ stars (only when in 3D) and 2 stars when shown in 2D. Our main star rating out of 5...






2½ out of 5
Star rating explained
Tagline:-
"Take the trip in Real D 3D"
Directors:-
David R. Ellis
Distributor:-
New Line Cinema
Running time:-

82 minutes

Certification:-
| | |
| --- | --- |
| | To view this film, why not visit Vue? See our listings on Mersey Reporter for film times at Southport Vue or go to myvue.com for lots more times and information! |