CCTV IMAGE RELEASED: ARMED ROBBERY, TESCO, HANOVER ST, LIVERPOOL ONE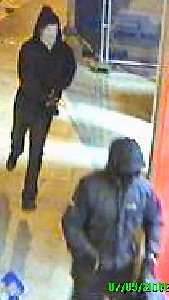 MERSEYSIDE Police are appealing for information following an armed robbery at the Tesco store, Hanover Street, Liverpool One on Monday, 7 September 2009.

At around 10.50pm three men armed with a knife entered the store and demanded cash from the tills.

The three men had their faces covered and were wearing dark clothing and dark jackets. One man is described as being 5ft 10in tall and of slim build. One man was of medium build and around 5ft 9in tall, and the third man around 6ft tall and had his face covered with a grey scarf / balaclava.

The men exited the store with an amount of money in a bag and sped off in a black VW Golf car towards the Parr Street / Seel Street area.

Staff members and customers were left shaken, but unharmed.

Any witness to the robbery or anybody with any other information is asked to contact Merseyside Police on:- 0151 777 4061 or Crimestoppers anonymously on:- 0800 555 111.
LEADING THE WAY FOR SENIOR MANAGERS IN MERSEYSIDE
SINCE it was launched in January, an initiative that supports training for business leaders and managers in the North West has worked with 419 businesses in Merseyside, helping them access almost £343,492 towards the cost of training.

The Train to Gain: Leadership and Management Advisory Service helps equip managers with the skills to become more effective leaders, enabling them to take the business forward with increased confidence. Smart and effective leadership supported by a strong management team can unleash the potential of an organisation and its employees, which is more important than ever in the current economic climate.

The service, which is managed by Business Link Northwest, offers advice and guidance about the type of training that could be beneficial to senior managers within a company. Through the service, businesses may be able to access funding from the Northwest Regional Development Agency and the Learning and Skills Council.

Subject to eligibility, a maximum of £1,000 per individual is available for up to seven managers per organisation. The grant can be used for coaching, mentoring and some non-qualification based courses, as well as formal training. The first £500 of approved cost is available free and a further £500 of funding is available on a 50% match-funded basis.

Donna Edwards, Operations Director at Business Link Northwest said:- "This service will equip people with the skills to become more effective leaders. It will build managers' confidence, enhance problem-solving capabilities and improve communication and team-working skills. It offers specialist support from our Leadership and Management Team who will signpost businesses to the right training and development to meet their needs. One of the real strengths of the service is that it is completely flexible. Businesses can use the funding to pinpoint training that really meets their company and individual needs and that's something we felt strongly about when we designed the Leadership and Management Advisory Service. To date participants have undertaken a wide spectrum of training from mentoring and coaching, to marketing and business management."

In addition to its Leadership and Management Advisers, Business Link Northwest also has a team of Skills Advisers. They can work with companies to identify the training requirements of all employees and signpost the business to appropriate training and any subsidies that they may be eligible for.

For more information about Business Link Northwest or the Train to Gain: Leadership and Management Advisory Service, visit:- businesslink.gov.uk email:- advisory@businesslinknw.co.uk or call:- 0845 00 66 888.
APPEAL FOR INFORMATION - SEFTON ROBBERIES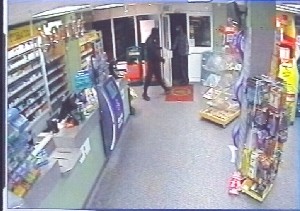 MERSEYSIDE Police are now appealing for witnesses to two attempted robberies that occurred in Sefton last week.

On Tuesday, 1 September 2009, at about 9.45pm, two men entered the Spar shop in Tree View Court, Maghull and approached the shop assistant. The offenders threatened the shop assistant and pushed her to the floor. Demands were then made to her to open the till. A second shop assistant was able to phone the police and the offenders fled empty handed.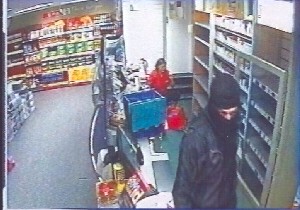 Both offenders are described as being white and in their late teens or early 20's. One of the offenders is described as being about 6ft 2 ins tall and is wearing a black hooded jacket and black tracksuit bottoms. The second offender about 5ft 10 ins tall wearing a hooded top with a hooped pattern.

The second incident took place on Wednesday, 2 September 2009. Just before 9.30 pm two men entered the Londis Store on Waddicar Lane, Melling. One of the men was armed with a golf club and the other was armed with a knife. The offenders made threats toward to the shop assistant and demanded her to open the safe. However, the offenders were disturbed by the shop owner and they both fled empty handed.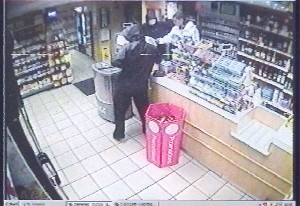 Both men were on foot and left the store along Waddicar Lane then onto Liddell Avenue towards Wheeler Drive.

Both offenders are described as being white, aged in their late teens or early 20's, wearing black hooded jackets and black tracksuits bottoms. One offender had a black scarf covering the lower part of his face, the other had a white scarf covering his face.

Detective Inspector Dave Keegan said:- "We wish to speak to anyone who may have any information in relation to these incidents. We are making extensive enquiries and will do all we can to catch these offenders and put them before the courts. Although incidents of such a nature are rare, Merseyside Police wish to advise extra vigilance to shop owners in Maghull and Melling areas. We have stepped up high visibility patrols in the areas to reassure the public and we would urge the community to help us with our enquiries and find those responsible."

Detectives would like to speak to the men featured in the stills as they may be able to assist them with their enquiries. Anyone who thinks they may recognise the men and anyone with information relating to the incident to contact the Sefton CID Robbery Team on:- 0151 777 3110 or contact Crime stoppers on:- 0800 555 111.