Liverpool's plan to 'Disarm' launched
LIVERPOOL'S strategy to tackle gun, knife and gang crime is being officially launched this Friday, 11 September 2009.

'Disarm' is a partnership led by the city council's Community Safety service, in partnership with Merseyside Police and education and criminal justice organisations.

It also brings together areas of the council that are involved with young people and families such as the Youth Service, Youth Offending and the anti social behaviour unit.

The group was set up a year ago, and has already had significant success, with the latest figures showing violent offences are down by 40 percent compared to the same period in 2008 (January to June).

The strategy is being backed by victim support group SAMM (Support After Murder and Manslaughter).

The proposals outlined in the document, which is being launched at the Town Hall, include:-

• Creating four vulnerable witness protection and support programmes in gun and gang hotspots to promote additional reporting of crimes

• Intervening in families where young people are most risk of gang violence and providing diversionary activities and help and support with jobs, education and training

• Giving front line staff and community activists mediation skills to resolve conflict and prevent violence

• Working with a dedicated lawyer to secure effective sentencing for gun and knife crime offences

• Commissioning hard-hitting theatre and drama productions to show the impact of guns and gangs

Councillor Marilyn Fielding, Liverpool's executive member for safer, stronger communities, said:- "We have made huge strides in reducing violent crime in the last few years and Liverpool is one of the safest big cities in the country. However, we are not complacent and know we have to re-double our efforts to prevent young people getting involved in gun and gang crime. Our approach is focused on educating young people about the danger of gun and gang crime, targeting those families who are involved in it, and supporting the police, victims and witnesses in bringing prosecutions."

At the launch, there will be a presentation from local writer Carol Cullington, who has produced a play titled 'Da Boyz'. It has toured local communities in Liverpool challenging the idea that being a 'grass' is worse than the crime itself.

There will also be performances from two arts projects targeted at young people. They are:-

· 'Crossing the Line', a short film made by Urbeatz in which youngsters from the north and south of the city visit each others area

· The 'You're the Voice' youth choir, who have recorded the John Farnham song. It is being released later this month as an anti-violence message

Merseyside Police will also be demonstrating one of two brand new hi-tech portable knife poles, funded by Citysafe, which are to be used to prevent people carrying weapons into pubs and bars. Liverpool is one of the first places in the country to use them.

Deputy Chief Constable Bernard Lawson, said:- "Merseyside Police is determined to tackle gun and knife crime. We have developed a strong partnership with the local authority and other agencies to combat these type of crimes and the launch of the Disarm Strategy, which cements the relationships we have built over recent years. This shows our joint commitment to making the streets of Merseyside safer. Last year we saw a 37 per cent reduction in the number of firearms discharged - 52 less incidents - in Merseyside compared to the previous year and we also saw people sentenced to more than 400 years in prison for firearms offences. The Force has also implemented a robust, long-term approach to dealing with knife crime and as part of our total war on crime officers will continue to target those involved in knife crime. We will act on all information reported to us regarding gun and knife crime and I would urge anyone who has information to contact us immediately."

Gaynor Bell from SAMM Merseyside, who lost her son Steffan in an unprovoked attack, said:- "We are pleased to be part of this approach to reducing youth crime and re-establish pride in local communities. We are pleased to be playing such an active role by using our volunteers, who have all lost a child through murder, to educate young people."

Anyone with information about gun or knife crime can contact Crimestoppers on:- 0800 555 111.
Merseyside Police also has a dedicated gun crime hotline and the number is:- 0800 458 1211.
Local Euro MP hails victory for Michael Shields justice campaign
THE Local Labour Euro MP, Arlene McCarthy commenting on the announcement by Justice Minister, Jack Straw to grant a pardon to Michael Shields said:- "Finally after over four years of fighting and numerous setbacks Michael is free. It is fantastic news and I now hope that Michael can start to rebuild his life. As Michael's Euro MP I have always said that I would never give up until we secured justice for Michael. We have campaigned for the last four years for the Bulgarian authorities to recognise and rectify this blatant miscarriage of justice but our pleas have fallen on deaf ears. The Bulgarian's failure to accept their democratic responsibilities to right a terrible wrong has meant that we have been left with no option but to put pressure on our own Government and on Jack Straw personally to do the right thing and free Michael. I have always believed looking at the evidence that Michael is morally and technically innocent. Someone else has confessed to the crime; the Bulgarians admitted that the conviction was doubtful; there is numerous evidence that Michael was not at the scene of the crime; the identification evidence has been discredited and Michael has passed a polygraph test. Of course Michael is still determined to clear his name and I will continue to put pressure on the Bulgarians to review the evidence and to co-operate with us in achieving this. I regret the length of time it has taken to resolve this issue. It is not the way judicial and police co-operation should operate between European partner states and sadly an innocent man has lost four years of his life because of this failure. I am delighted for Michael's family who have shown tremendous patience, strength and courage, that after such a long wait they will be reunited with their son and be able to build their family life again and I am looking forward to celebrating with them"
Statement from Liverpool City Council Leader Warren Bradley
FOLLOWING the news that Liverpool FC fan Michael Shields has been granted a pardon, Liverpool City Council Leader Warren Bradley said:- "I welcome the decision of the Justice Secretary to grant Michael Shields a pardon, and facilitate his release from prison. It is a victory for common sense. It is a great pity that Jack Straw didn't do this four weeks ago, despite being provided with the evidence to release Michael. He prolonged the period of incarceration and the agony Michael, his family and supporters must clearly have felt. Michael must now receive the appropriate support which will enable him to begin to rebuild his life following the nightmare situation he needlessly found himself in. I will work alongside Opposition leader Councillor Joe Anderson to assist him in finding new opportunities. On a personal note I would like to pay tribute to the Michael's family, his legal team, Councillor Anderson and all the supporters who have campaigned on behalf of Michael. They have conducted themselves with dignity at a time when they must have been frustrated and deeply concerned for Michael's wellbeing."
MORGAN ASHURST LAUNCHES GIVE BLOOD CAMPAIGN TO SAVE 1,000 LIVES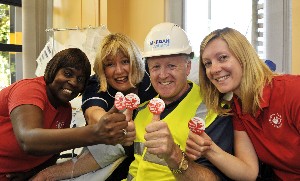 STAFF from Liverpool construction company Morgan Ashurst are helping to save 1,000 lives by giving blood as part of a national campaign launched in partnership with the National Blood Service (NBS). The team, based at Highfield Street, also aims to help the NBS to increase its blood stock to cope with the swine flu pandemic which is expected to get worse this Autumn.

Morgan Ashurst is the first in the UK to respond to an appeal by the National Blood Service for more people to give blood and increase stocks, in case the virus spreads and large numbers of people are unable to donate. "It costs nothing to give blood but the gift of life is the most precious thing we can offer. We are extremely proud to lead the way in helping the NBS to boost blood stocks in case swine flu spreads this winter. We carry out a lot of complex schemes in the health sector and in the heart of local communities. These people are our lifeblood so we want to give something back to them." says Ray McAuley, Morgan Ashurst business development director.

It is a cause that is close to Ray's heart, as his father-in-law John Payne died in 2006 from an aggressive form of leukaemia. During treatment, he was given donated platelets and Ray saw for himself how this temporarily improved his condition. Since then, Ray has given blood 28 times – enough to help save or improve the lives of up to 84 people. Lynda Hamlyn, chief executive of NHS Blood and Transplant says:- "It's great news that Morgan Ashurst has responded so quickly in support of our 'Blood Buddies' appeal. We're grateful for the opportunity they are giving us to meet their employees and encourage them to come with their work mates to donate."

Over the next year, Morgan Ashurst will work with the NBS to set up presentations and donation days at its offices.