Gene linked to more effective diabetes treatment
PEOPLE with Type 2 diabetes, who have variants of a certain gene, respond better to the diabetes drugs known as sulphonylureas and are over three times more likely to achieve good blood glucose level targets than people without the variants who take those drugs, according to new research funded by leading health charity Diabetes UK. The results of this observational study mean that people with Type 2 diabetes taking sulphonylureas, who have the gene variants may be less likely to develop devastating diabetes complications such as heart disease, kidney disease and stroke. The research, carried out at the Biomedical Research Institute at the University of Dundee, looked at 1,073 people with Type 2 diabetes who had been treated with sulphonylureas for up to 18 months. The study found that the 6 people in every 100 people with 2 variants of the gene CYP2C9 were 3.4 times more likely to achieve their blood glucose target of less than 7% compared to people who did not have those variants.

Dr Iain Frame, Director of Research at Diabetes UK, said:- "This research is important because it demonstrates the effect that genetic variations could have in determining treatments for people with Type 2 diabetes. The CYP2C9 gene produces an enzyme which breaks down sulphonylureas in the liver. In people with variations in this gene the enzyme is less active, which could explain their improved response to sulphonylureas. This study adds to the pharmacogenetic field of research which may in time lead to better tailored prescriptions for people with Type 2 diabetes so that treatment is optimised in light of a person's genetic make-up. This could in turn eventually lead to a reduction in the amount of money that is spent on ineffective diabetes drug treatments by the NHS."

There are 2.25 million people with Type 2 diabetes in the UK and approximately 550,000 of them will take a sulphonylurea as a treatment. Diabetes UK recommends that people with diabetes aim to reach a blood glucose target of under 6.5% or under 7.5% if they are at risk of severe hypos. However, targets vary according to individual needs.

Dr Ewan Pearson, who led the study by the Diabetes Research Group, said:- "Variants in the CYP2C9 gene have been known to effect blood levels of the sulphonylurea drugs for many years, but this is the first time that anyone has shown that this impacts on response to diabetes drugs. This is the first study to show such a large effect of an individual's genes on response to diabetes drugs used in Type 2 diabetes and is a significant step on the path towards being able to use genetics to personalise medicine for those with Type 2 diabetes."

To find out if you are at risk of diabetes visit:- diabetes.org..uk.
Magic in the air at Claire House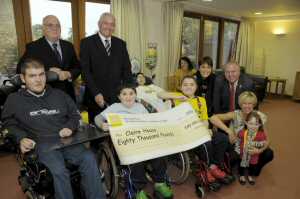 MERSEYTRAVEL has handed over a cheque for £80,000 to Claire House Children's Hospice in Wirral – its adopted corporate charity for 2009. The cheque draws together money raised from 2 spectacular events held this year.

Merseytravel's Under and Over the Mersey event, held in July to celebrate 75 years since the opening of the Queensway Tunnel, helped raise £60,000. It also included a £20,000 film fee from Warner Brothers, paid to Merseytravel for using the Queensway Tunnel to film elements of the forthcoming Harry Potter film, Harry Potter and the Deathly Hallows. Merseytravel chose to donate the fee to the hospice.

Councillor Mark Dowd, Chair of Merseytravel, was joined by Councillor Peter Millea, Councillor Chris Blakeley and a team of Merseytravel officers to present the money on Friday evening. Cllr Dowd said:- "Over the year we have forged a very special relationship with many of the children, families and staff at Claire House. We are proud of that connection and that this money will go towards supporting such a worthwhile cause that is doing so much good."

Neil Scales, Chief Executive of Merseytravel added:- "We know this money will be put to good use, supporting the families of some truly deserving children. This is a donation from us, but it was given with thanks to everyone who took part in Under and Over the Mersey and to Warner Brothers."

The money comes in addition to £6,500 already raised by Merseytravel from a number of in house fundraising ideas.

Pat Faragher, Head of Appeals at Claire House, said:- "We have been overwhelmed at the commitment and support shown from Merseytravel who have never left our side for a minute this year. The support we have enjoyed has been instrumental in helping us to maintain our fundraising this year. We are truly overwhelmed and grateful for this help and of course the amazing sum of money, which will help to secure the future of our vital service."