Share your experience and help other bereaved parents
THE expectancy and joy of a new life brings hope. Unfortunately this is not always the case when a pregnancy ends through miscarriage, stillbirth, neonatal death or termination for abnormalities. Thankfully, such instances are rare, but nevertheless they still bring about deep feelings of despair and grief. Baby loss is one of the most traumatic experiences a family can go through. The midwives at Ormskirk & District General Hospital wish to ensure that parents and families are sensitively supported at this most difficult time.

Subsequently, the role of the midwife in such circumstances is to give support, be it emotional or physical, to offer guidance and comfort and assisting to make some sense of such a difficult and traumatic experience. Albeit, not just for the mother and father, but the extended family too. Such a loss can have a huge rippling impact on everyone involved, triggering lots of varied emotions.

Southport & Ormskirk Hospital NHS Trust would like to invite bereaved parents and families who have experienced a baby loss to come together with our specialist Bereavement Team to share their experiences and listen to their thoughts on how we can improve the support we offer.

Midwife Rachel Johnston of the Bereavement Team commented:- "The term 'Midwife' comes from the Latin meaning 'with woman'. At Ormskirk we feel grateful, despite the trauma, numbness and the unreality parents must be feeling, to be able help transform a birth where a baby dies into a life-lasting memory.

Midwives encourage parents to see, touch, hold and spend time with their babies, although we always respect the parents' wishes if they do not want to. Midwives help parents to come to decisions about the creation of memories of the baby by taking photos, hand and foot prints, naming the baby and placing these in a remembrance box. Such special memories can begin to help with grieving.

In order to meet the needs of our families, we want to extend the role so we can offer bereavement support for families that continues even after they have left the hospital; educating on grief and loss, showing families their emotions and feelings they experience are normal in their time of a loss."

If you have any experience or thoughts you would like to share with the Bereavement Team or wish to support or help fund the Bereavement Focus Group, please contact midwife via email.
Brass night on the Prom
SOUTHPORT Links Rotary Club have for the past nine years run Brass Night on the Prom at the Southport Theatre, raising over £50,000 for local and international charities. This much enjoyed event, which is very popular with local audiences, is happening again on Thursday, 22 October 2009.

The world renowned Leyland Band is once again leading the show which will include the entire favourite 'Last Night of the Proms' music ie. Land of Hope and Glory, Jerusalem... etc. Back by popular demand to host the show is David Carter who will also be performing some popular standards.

The show this year is sponsored by Renacres Hospital, Ramsay Health Care. All proceeds are going to two very worthy charities 'Care for Carers' and 'Help for Heroes'.

Tickets are still available from the Southport Theatre Box Office:- 01704 500036.
Canal tours cruise to all-time high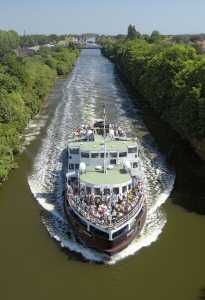 THE Mersey Ferries' Manchester Ship Canal tours are defying the credit crunch – coasting through the 22,000 barrier for the first time.

Merseytravel, owners and operators of the ferries, has seen demand for the cruises, one of the jewels in the Mersey Ferries crown, up 6% on last year – Liverpool's year in the global spotlight as European Capital of Culture. The figure is more than double the 10,500 passengers being carried in 2004.

Councillor Mark Dowd, Chair of Merseytravel, said:- "The fact that these cruises are proving to be more popular, year on year, justifies our decision to continue to invest in the ferries. In just five years we have doubled the number of passengers on these cruises. We are delighted that people, locally and from across the world, are continuing to support the ferries like this."

Neil Scales, Chief Executive and Director General of Merseytravel added:- "The ferries business is incredibly important to us and we're delighted with the success of the cruises. We've invested more than £60million in the Mersey Ferries business over the last ten years; and made them an intrinsic part of the region's tourism economy. In that time we have made improvements to all three ferries and terminals, including new and exciting attractions such as the U-Boat Story and Beatles Story expansion."

Cruises usually depart from Liverpool's Pier Head on Saturday's and Salford Quays on Sundays. The final Ship Canal Cruises of 2009 season will depart on Saturday 17 October (from Liverpool) and Sunday 18th October from Salford Quays. The cruises take in the spectacular scenery of the Manchester Ship Canal, leaving passengers with a sense of how its construction shaped the region. The 6-hour, 35-mile cruise includes a live commentary giving an insight into the facts, history and dramas of one of Britain's most important waterways.

Mersey Ferries vessels carry passengers in comfortable modern surroundings following their multi-million pound refits. The Ferries have a bar and food is available to purchase in the lounge areas. The cruise costs £35 per head (£33 for senior citizens), with a 10% discount for groups of 20 or more, and includes bus transportation to take passengers back to their starting point at the end of the cruise.

Tickets are only available by advance booking. Contact Mersey Ferries on:- 0151 330 1444 or book online.