8,000 health visitors needed to fulfil Health Secretary's vision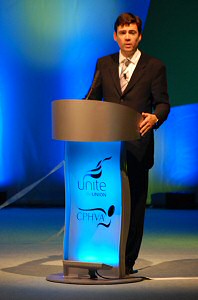 NHS trusts will need to employ 8,000 more health visitors to ensure that Health Secretary Andy Burnham's vision for the profession outlined today on Wednesday, 14 October 2009 is to be achieved.

While Andy Burnham did not specify numbers when he addressed the Unite/Community Practitioners' and Health Visitors' Association, in Southport, Merseyside, but he did say he wanted both a universal service and a targeted one aimed at the most disadvantaged children in society.

Unite, the largest union in the country, believes for that to happen the commissioning organisations - the primary care trusts (PCTs) and strategic health authorities - will need to employ an extra 8,000 more health visitors in the next five years "to avoid further Baby P tragedies".

The 8,000 figure is needed to see a reduction of health visitor caseloads to 250 children each. At present, some health visitors have 1,000 children on their books. The minister said that you can't have a universal service with 1,000 children per health visitor.

Unite National Officer for Health, Karen Reay said:- "For the first time a Health Secretary has outlined their vision for the health visiting service and made clear that if the Healthy Child programme is to be carried out , those commissioning services will need to train and employ many more health visitors very quickly. There were many positive aspects of the minister's speech which signals 'a wind of change' for the profession. The revival of the profession - where a health visitor post has been lost every 30 hours - is very much a work in progress. Andy Burnham's sincere and genuine commitment to improving the profession is warmly welcomed."

Andy Burnham told delegates at Southport that he would be asking primary care trusts (PCTs) to publish their individual health visitor workforce figures – whole time equivalent (WTE) posts – next year and the average caseload figures for each health visitor.

Unite Assistant General Secretary for the Public Sector, Gail Cartmail said that there was no reason why trusts should not publish their figures now, instead of waiting until next year.

She said:- "Where the caseload figures have been revealed in the past, often after Freedom of Information Act requests, it has lead to urgent reviews of the health visitor ratios, such as in Waltham Forest in north-east London.

Trusts need to end their culture of opaqueness to conform with Andy Burnham's desire to see health visiting in 'the vanguard' of a preventative health service. Unite will be monitoring this very closely across the country."

Andy Burnham told delegates at Southport that his mind was "not closed" on the issue of an enhanced regulatory status for the profession, after delegates unanimously agreed by a show of hands that the diminished legal status of health visiting was linked to current problems they face.

Andy Burnham told delegates that now was "the end of the wilderness years for health visitors" and he expected a marked increase in their numbers.

In 2008, 57% of a survey of 1,000 Unite/CPHVA health visitors said that they were responsible for 400 children or more; with 20% responsible for 1,000. Inevitably many vulnerable children are going undetected.

We will have a for more photographs and a small report in next weeks issue about the event, but for the full coverage, go to commprac.com in December 2009.