Vessels on the River Mersey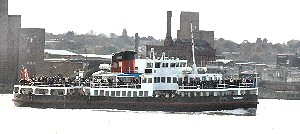 IT has been confirmed that an investigation is under way after a Mersey Ferry, The Royal Daffodil and tanker came within 60m of each other on Friday, 24 October 2009. Merseytravel told the media that the vessels came within 60m of each other as the ferry left the Woodside terminal. It is reported that the ferry was on a sightseeing trip to HMS Illustrious when it came close to the other vessel. "A major collision was avoided due to both vessels having highly trained pilots on board. As soon as the situation occured, both vessels took appropriate action, in accordance with the rules of the sea. We have launched an investigation because the vessels got closer than they would normally be." said a spokesman for Merseytravel. After the incident, witnesses on the ferry and on the bank of the Mersey described hearing a horn before watching the tanker perform a sharp right turn.

Fact point - The last incident on the Mersey happened was back in February 2007, when a the Seacat passenger ferry collided with a cargo ship in fog. See archive report.
DEALERSHIP TURNS SHOWROOM INTO SANTA'S GROTTO
A local car dealership is being turned into a Santa's grotto for the next few weeks – all in aid of a charitable campaign which sends present-filled shoeboxes to needy children in developing countries.

Polar Ford in St Helens will be a drop off point for the 2009 "Operation Christmas Child" shoebox appeal. The appeal encourages people to send some festive cheer to children less fortunate than most, across the world.

Run in conjunction with the Samaritans Purse charity, "Operation Christmas Child" entails filling shoeboxes with toys and gifts to send to children around the world in hospitals, orphanages, refugee camps, homeless shelters and impoverished neighbourhoods.

Graham Woods, general manager at Polar Ford, said:- "This is the third year that we have taken part in the appeal. Last year we collected 100 shoeboxes at our old showroom, each wrapped in Christmas paper and filled with small toys, crayons, clothes and sweets, and this year we are aiming to collect even more. It's an extremely worthwhile cause and we are looking forward to taking part again this year."

How to pack your shoebox:- Remember to make your box both fun and educational!

All shoebox items should be new and can contain gifts such as:- Toys in the form of Bear, soft toy, tennis ball, finger puppet, jigsaw, yo-yo, building blocks, small musical instrument. For boys trucks and cars, for girls dolls, clip on earrings etc.

Educational supplies:- Felt pens, pens, pencils, pencil sharpener, eraser, colouring book, notepad, picture or puzzle book, chalk, pencil case, stickers etc.

Hygiene items:- Toothbrush, toothpaste, hairbrush, comb, hair clips, bar of soap, flannel etc.

Other items:- Sweets (sell by date to be at least March of the following year), gloves, scarf, sunglasses, cap, hat, bangles, necklaces etc.

Shoeboxes can be dropped off at the Polar Ford showroom on Sherdley Road until Tuesday, 18 November 2009.

For further information about the campaign and what items to include in your shoeboxes, please contact the dealership on:- 01744 610600 or visit:- operationchristmaschild.org.uk.
Chocolate treats now in store, in more shapes than one!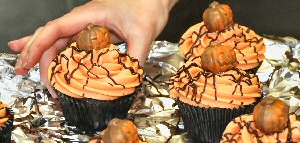 THE The Chocolate Cellar, Hanover Galleries, Liverpool, is celebrating Halloween with a very unusual approach by not only having a fantastic range of chocolates in Halloween style, but also by holding a raffle for Cancer Research to win a Chocolate Bra! To find out more pop in or call them on 0151 200 2202. Tickets cost £1 per ticket. to find out more information about the shop click on here.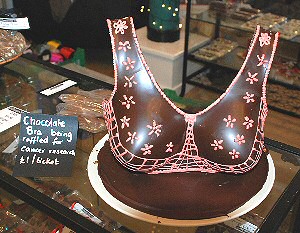 "Happy Spells For Good Fairies and Ordinary Folk"
THIS is your chance to get what might just be a local best seller for Christmas a few days before the Christmas rush and also get it signed! "Happy Spells For Good Fairies and Ordinary Folk" is a fantastic book aimed at fulfilling the personal potential. Jenny Pearce says in the book "Banish your clouds and open the path for a brighter future for yourself and those you hold dear. I hope to help many people to combat their problems and reveal the true magic that the universe has to offer by fulfilling personal potential." If you want to know more, then pop on over to see Jenny who will be at a book signing at The Emporium, Wayfarers Arcade on Halloween, Saturday, 31 October 2009, from 1pm. All books sold at this event will be subject to a 10% discount. Also please note that the book is now available on Amazon.co.uk and all big retail bookshops in the UK.
"Evenin' all" Said the Police Man
WELL it is not just the removal of the word History from some 'Departments of Past Times', at Universities that have hit the headlines as the PC culture continues to destroy our everyday language and customs. Now the greeting made famous by TV character Dixon of Dock Green could be consigned to 'times of past', as new guidelines for police officers advises not to use the greeting. In fact, the Sunday Telegraph on 25 October 2009, suggests police officers to take care when referring to the time of day. According to the Sunday Telegraph, one police force says that "evening" is a "subjective" term that can vary depending on a person's culture or nationality. Other words that officers are urged to take care when using include "child" and "homosexual". What we want to know is, has your workplace, school, collage or university banned or advised not to use any words or phrases like this? Email us now on news24@southportreporter.com.