Wake-up call for UK organisations as new study reveals big shortfall in agility
FEWER than 1 in 4 UK organisations are fully equipped to react to changes in today's fast changing, competitive marketplace, new research reveals. Only 22% of organisations have the necessary 'agility' to respond quickly to customer demands, adapt to solve problems or offer flexibility in their approach. Overall the study shows that agile organisations have higher productivity, sales growth and satisfaction than non-agile organisations.

This is the finding of new research published on Tuesday, October 27, by the Institute of Customer Service, in association with the Advanced Institute of Management Research (AIM Research). The study, 'Agility in Services – Capabilities for Difficult Times', analyses the concept of agility in relation to performance and improvement. It reveals that most organisations have much to do in order to become agile, and sets out a 4-step 'roadmap' to help them build agile systems according to their needs.

The study reinforces the Institute's customer service model that requires all aspects of an organisation – strategy, culture, people, and processes – to be focused on, to enable rapid response to the marketplace and customer demands.

Jo Causon, Chief Executive of The Institute of Customer Service, comments:- "Customer service is the only sustainable competitive differentiator in the marketplace today. It's not just about surviving the recession, but making UK plc more competitive in the global marketplace going forward. It is not easy to adjust your business practices to meet the changing needs of your customers, but it is essential - and there is no room for complacency.

This research should act as a wake-up call to organisations. It clearly demonstrates that being customer-focused is not enough - organisations need to be agile across multiple fronts to meet the changing needs of customers."

Agility is defined as 'the ability to respond rapidly and effectively to unpredictable change and turbulent markets'. It combines 2 important components – responsiveness, which is the ability to respond to a wide range of externally-induced changes – and multi-competence, which is the capability to excel simultaneously in multiple criteria so that the organisation can easily realign itself to meet changed consumer demands.

The study's analysis of the capabilities required for agility in UK organisations revealed service quality, a flexible workforce and rapid new service development to be the most significant, although it was also evident that only a limited number of organisations had the ability to make changes rapidly. Agility and responsiveness were found to be driven by a range of capabilities from people to systems, showing significant relationships with IT usage, shared values, job enrichment and incentive policies.

While most organisations recognise the importance of agility, few have strategies in place to achieve it. However, there is much untapped potential for agility; while only 22% were agile (combining responsiveness and multi-competence), 36% of organisations were highly responsive and 40% were multi-competent. Even in smaller organisations, which were found on average to be more responsive and multi-competent, there is still potential for increased agility.

In line with the AIM Research policy to impact on management practice, the study's 'Roadmap for Agility' sets out a 4-step route to building agility through a set of organisational and operational capabilities. In summary these include:-

1. Diagnose the level of agility
2. Identify where agility is most needed
3. Create the agile organisation
4. Build agile process and systems.
Green light for environment programme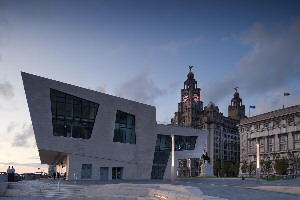 MERSEYTRAVEL'S environmental policies have been given an international seal of approval. Following an independent audit, the organisation has retained its certification of the international standard for Environmental Management Systems (EMS), ISO 14001. To gain the certification Merseytravel had to demonstrate that it was working to limit its environmental impact, is training staff, complying with legislation and delivering continual environmental improvements.

Councillor Mark Dowd, Chair of Merseytravel, which is also a partner in Liverpool's Year of the Environment, said:- "We were the first passenger authority in the country to gain this certification 6 years ago and the environment remains very important for our future transport plans too. We will keep looking for ways to improve."

Neil Scales, Chief Executive and Director General of Merseytravel, said:- "We have led the way on environmental stewardship since we became the very 1st passenger transport body in the country to produce an Environmental Strategy 13 years ago. That strategy – and the ongoing commitment from our staff, partners and contractors – continues to be an important element of all we do. To be reaccredited in 2009, Year of the Environment makes the achievement that extra bit special."

2 major projects over recent years, Liverpool South Parkway and the new Pier Head Ferry Terminal, have been built with environmental stewardship at their foundations. Both are rated as "very good" BREEAM* standard buildings, using elements such as rain water harvesting, geothermal heat pumps, roof insulation or solar cells. Merseytravel is working with Neptune Developments and Countryside Properties and contractors BAM to achieve BREEAM "excellence" for its new headquarters in Mann Island.

The news comes in the same year as Merseytravel also achieved the Carbon Trust Standard – it is the 1st body of its type in the UK to do so. To achieve the standard, Merseytravel had to show it is taking real and direct action on climate change by reducing its carbon footprint year on year. Merseytravel's carbon footprint has dropped by 7% since 2006.

It has been achieved by introducing a range of new measures such as lower engine speeds on the Mersey Ferries, state-of-the-art systems to control energy use and solar panels in the company's buildings; as well as solar powered road signs and variable speed drives and motors for the giant ventilation fans at the Mersey Tunnels.

* BREEAM is the BRE Environmental Assessment Method and is a voluntary measurement rating for green buildings that was established in the UK by the Building Research Establishment. It is the leading and most widely used environmental assessment method to measure used to describe a building's environmental performance.