'SUN, SEA …. AND SWEENEY'
Actress and singer Claire Sweeney caused a sensation when she arrived in Southport for a special TV series that sees her visit her favourite seaside resorts.

The former Brookside star launched her 'Sun, Sea ….and Sweeney' programme for GMTV from Southport where she performed her debut single 'When You Believe' on Southport Pier.

During the programme Claire said that she had fond childhood memories of the resort and was impressed with the major changes that Southport had been able to achieve including the new promenade, Ocean Plaza Leisure Complex and pier restoration.

She also talked about walking along the town's famous Lord Street with shopping boulevards and pavement cafes as well as starting her career with one of her first performances at the Southport Arts Centre.

In addition to Southport, Claire took viewers down memory lane when she also visited Blackpool, Llandudno, Weymouth and Bournemouth during the series.

Balloon Comp
Trust announces the winner of guess the balloon competition held at the open day in aid of the Women's and Children's Services Appeal.

A Southport teenager has won a prize for guessing how many balloons you can fit in a limousine at the Trust's open day!

Anna Blake from Birkdale has won a month's free leisure centre membership for two people at the Scarisbrick Hotel, courtesy of the hotel's managing director, Tony Casserkey. Anna was the nearest guesser with 124 balloons (there were actually 123).

Moisters Funeral Directors, Southport, provided the limo and staff gave up their time to run the competition in aid of the Trust's Women's and Children 's Services Appeal.
Balloon Comp. Continued... June's Florist, Southport, donated the balloons and in total £103.00 was raised for the Appeal. The Trust's Fundraising Manager, Paul Ashworth, said: "On behalf of the Trust I would like to thank everyone who made this competition possible. Congratulations to Anna for winning and I hope she, and the person she chooses to take the second membership, gets heaps of enjoyment out of the prize."

ASDA Health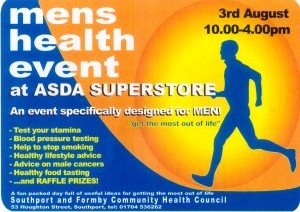 On Saturday the 3rd of August, at 10am til 4pm, Southport and Formby community Health Council are holding a Men's Health event at the ASDA Superstore in Southport.
This will be a lively and fun packed day with an oppurtunity to test fitness on computrain bikes, have a healthy lifestyle assessment and receive simple advice on issues relating to mens' health. As well as personal advice, a wide array of literature will be available, healthy food will be on offer and the opportunity to take part in a free raffle.
Chief Officer Margaret Yarwood states: "The Community Health Council have for some time been involved in promoting mens' health. This is the first event of it's kind in the area and is specifically designed for men. Healthcare professionals will be on hand to offer help, advice or information to men of all ages in a non-threatening environment."
Click on here to go back to main page...
To go back to the Top of the page.