Navigation
Latest Edition
Back to Archive

Please beware that this is an archived news page.

This page has been archived as a historical record only.

ALL OFFERS / DEALS ARE NO LONGER VALID WITH IN THIS NEWS PAGE

Some features and links on this page might no longer be functioning.


Southport Reporter...News...Southport Reporter...News...Southport Reporter
31 July 2002
Southport Reporter...News...Southport Reporter...News...Southport Reporter
North West Inter Hospital Golden
Jubilee Challenge

Group photo at end of the Challenge - left to right (starting
> with back row) - Catrin Hawthorne, Ken Levin, Ian Stallard, an army host,
> Sandra Cosgrove, Helen Whitekey, David Bramhall (front row) - Louise
> Harrison, four field hospital officers and Tracy Thomas.
Southport & Formby DGH staff take up the North West Inter Hospital Golden Jubilee Challenge
Southport & Formby District General Hospital staff took up the North West Inter Hospital Golden Jubilee Challenge and came 4th out of 20 teams.

The eight-strong team consisted of David Bramhall (biomedical scientist) and spinal unit staff Sandra Cosgrove (practice development nurse), Cat Hawthorne (physiotherapist), Louise Harrison (medical secretary), Ken Levins (occupational therapy), Ian Stallard (clinical technologist), Tracy Thomas (receptionist) and Helen Whitely (physiotherapist).

After being whisked away in torrential rain to the Queen Elizabeth's Barracks, Strensall (near York) the fun began. The weather didn't dampen spirits and following a quick briefing session, and issuing of enormous rucksacks containing all manner of heavy objects, 5.30am saw the team in a muddy field cooking breakfast.

The Challenge, which is organised by 207 (Manchester) and 208 (Liverpool) Field Hospitals of the Territorial Army Medical Services, started at 8am on both days. It consisted of 10 separate challenges, all designed to give health care workers an insight into army life.

Colonel John Wignall, commanding officer of 208 Field Hospital, said: "The Hospital Challenge gives us the opportunity to show medical staff and their employers what the TA can offer their employers, and how it can benefit them in the workplace when working together under stress and limited resources."

The weekend's tasks varied in mental and physical complexity and included:

· Moving the team and various objects across a stream without treading on
mock mines or touching the ground
· Tackling an assault course, including fording ditches and climbing a 20
foot wall
· Target shooting
· Camouflaging and observation tests

Ian Stallard, team member, said: "Although some parts of the Challenge were gruelling and tested us to the limits, we had a great time working as a team. One of my most memorable moments was when Cat didn't have her glasses with her for the target shooting. Not wanting to let us down, she borrowed Sandra's specs and ended up getting the best female score of the competition!"

The team did incredibly well for their first attempt at the event, and later found out that seven points separated them from the leaders. Who knows what next year will bring.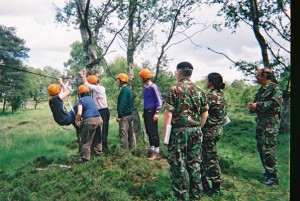 Ian Stallard clings on for life as he crosses a stream