BBC film on Formby Dunes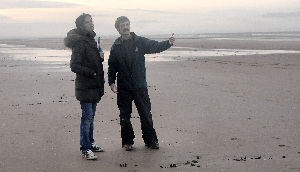 ANOTHER portrayal of our magnificent, Merseyside coastline will be shown on the BBC Country Life on Sunday, 20 December 2009. Sefton Rangers will be seen helping with a very seasonal issue concerning conservation. Do tune in to watch! Captured are some moments of the filming of the programme on Thursday, 12 November 2009.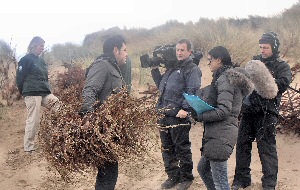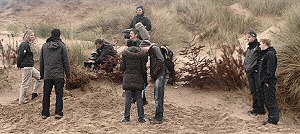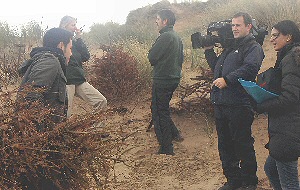 RESPONSE TO CRIMEWATCH ANTHONY CAVANAGH APPEAL
MERSEYSIDE Police Detectives have said that there has been a positive response from the public following the Crimewatch show on BBC One, which included an appeal for information in the Anthony Cavanagh murder investigation.
Anthony Cavanagh who was a Royal Navy seaman, was on shore leave and out with friends during the early hours of Saturday, 24 September 2005, in Liverpoolcity centre. He had gone into the Walkabout bar in Concert Square with his friends and had accidentally knocked into a man who he didn't know. This incident resulted in a drink being thrown at Anthony and an argument took place. Sometime later at about 1.45am Anthony and his friends went to leave the bar and were confronted by a group of men that included the man who had been bumped into earlier. One of this group then punched Anthony causing him to fall to the floor. He was taken to the Royal Liverpool University Hospital and was then transferred to the specialist Walton Neurological Centre where he died on 5 October, 2005.
The new appeal for help lead to Merseyside Police Officers who had travelling to London from Liverpool to answer the phones in the BBC studio to new leads. Over the night officers fielded at least 15 calls and a number of text messages related to this case. Detective Chief Inspector Tim Keelan, said:- "We have received a very positive response from the public following the Crimewatch appeal last night. Out of those we had one really important one from someone calling us anonymously with information about who may have thrown the punch and we also received a text message providing us with names of who was there when Anthony was attacked. We really need to speak to both those people again so I would appeal for them to re-contact us as their information may be crucial to bringing those responsible for Anthony's death to justice It was a very encouraging response and I would like to thank the public for contacting us and would urge anyone else who has information to contact the incident room on:- 0151 777 4064 or Crimestoppers on:- 0800 555 111."
Digital Drop-In Event Southport
TELEVISION in the UK is going digital. Between now and 2012, analogue TV signals will be switched off, region by region, and replaced with Freeview digital channels. The Granada TV region began its switch on 4 November 2009 and will complete the process on 2 December 2009 this year, that is when analogue TV will be switched off. Digital UK is holding a series of digital drop-in events to provide advice about switchover. The Digital UK team will be at Tesco Southport on Wednesday, 25 November 2009 to answer all your questions about digital TV, including:-

* When digital switchover is happening and what the process is

* What the options are for converting to digital TV

* Recording and aerials

* How to retune a Freeview digital TV or digital box

* The Switchover Help Scheme for over 75s and people with disabilities