RENEWED APPEAL FOR INFORMATION - JAMIE FRANCIS KELLY
MERSEYSIDE Police Detectives investigating the murder of Jamie Francis Kelly, are renewing their appeal for information on what would have been Jamie's 19th Birthday, on Wednesday, 18 November 2009.

Jamie died on Monday, 14 September, 2009 as a result of multiple stab wounds. At about 1pm that day, Jamie presented himself at the A&E department of the Royal Liverpool University Hospital, where he later died.

Jamie had got in a taxi in Chirkdale Street, Kirkdale after being involved in a large scale disturbance in the area, in which he was stabbed. Jamie was stabbed 18 times.

Detective Chief Insp Dave Brunskill said:- "We are appealing for anyone who has any information about this incident, to come forward. We are particularly keen to speak to the owners of four cars seen in the Delamore Street / Chirkdale Street around the time of the incident. I am appealing to the owners of a silver Astra, another silver car, a cream Mitsubishi Shogun and a black Saab, to come forward. You might have seen something that could help with our enquiries. Although we've had a number of people come forward, we still need members of the public to come forward. We think the answers to this case lie within the local community. This was a deliberate and particularly brutal attack on a young man, which has devastated his family, especially his mum Lorraine. At a time when she should be celebrating her son's birthday, she is grieving for him. I would reassure the community that our investigations will be thorough and will continue until we bring all of those responsible before the courts."

If you have any information about this incident that could help police with their enquiries please contact Detectives on:- 0151 777 8660 or Crimestoppers on:- 0800 555 111.

* Peter Hollywood, 32 or Whitehall Close, Kirkdale has been charged with the murder of Jamie Francis Kelly.
Bad spelling costs UK companies millions
THE UK's leading gadget advice company, www.gadgethelpline.com has had to take the unusual step of registering incorrect spellings of its brand domain to counteract the problem the UK's 18 to 21 age-group have with spelling the word 'Gadget.'

Crispin Thomas , founder of the advice line which has over 100,000 members, had it pointed out to him by one of the senior members of staff that their statistics showed 28% of the age range 18 to 21 were spelling the word gadget without the 'd.' Whilst the primary users of the helpline aged 30 - 50 only had 3% misspell the word, they have had to take the unusual step of setting up www.gajithelpline.com and www.gagithelpline.com; www.gagethelpline.com to counter this potentially huge loss in revenue.

"We registered the misspelt domain names a fortnight ago and since then we've seen a 5.21 % increase in sign-ups compared with this time last year with 254 more new members than they were projecting which is fantastic news for the Gadget Helpline and the sign ups have been particularly within the 18 to 21 age demographic. Although search engines do have a default alert which asks online users if they meant to spell a word in a particular way we were finding a huge 'drop off' amongst the younger users ,which we calculated could impact on our business annually to the tune of £150,000. According to our research 18 to 21 year olds misspelt 'gadget' 28% of the time; 21 to 30 year olds were better with around 15% misspelling the word, whilst the 30 to 50 year old age group relatively rarely misspelt the word with only 3% spelling it incorrectly. As a result we have decided to cater for these groupings by creating misspelt domain names and the results for our company have been fantastic and we highly recommend other businesses in the UK do the same." says Crispin Thomas.

Clearly even when mistyping is taken into account there is a worrying spelling trend amongst the late teens and early twenties to misspell company names that could potentially cost the online economy millions of pounds at a conservative estimate – and with the economy of the UK attempting to crawl out of recession, businesses that trade online need to adapt their trading methods to counter educational shortcoming when it comes to spelling.
2nd Royal Tank Regiment at Altcar Training Camp
Photographs by Sergeant Nick Wilkinson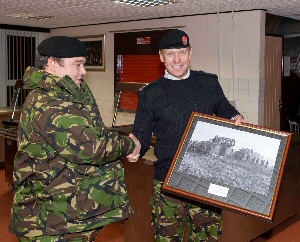 11 army cadets, from the 2nd Royal Tank Regiment detachment at Prescot, travelled to the Territorial Army Training Camp at Altcar last Tuesday evening. They were inspected by Lieutenant Colonel G J Thompson, the commanding officer of the 1st Royal Tank Regiment. The Lieutenant Colonel is visiting cadets all over the country.

He was most impressed by the Merseyside cadets. He said that young people generally were sadly much maligned and that he was pleased that these young people were members of the Army Cadets, an organisation promoting good citizenship. He expressed thanks to the adults who give their free time instructing the cadets.

He promoted cadets Lance Corporal Luke Cleghorn, Corporal Natalie Casey and Corporal Anthony Colduck. He told them that with rank comes responsibility and that their authority was to be used to develop the abilities of junior cadets.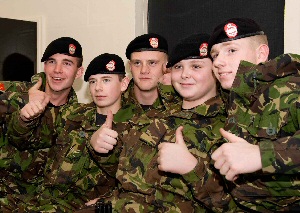 To mark his visit, Sergeant Major Ian Stoddart presented Lieutenant Colonel G J Thompson with a photograph of Mark IV Tanks at the Battle of Cambrai in 1917.
ROBBERY - ANFIELD ROAD CEMETERY, LIVERPOOL
MERSEYSIDE Police are now investigating a robbery at Anfield Cemetery on Monday, 9 November 2009, in which a visitor's car was stolen.

At around midday, an elderly disabled man was leaving the cemetery after tending to his wife's grave. He was putting his artificial leg into his car before getting himself in with the use of a crutch, when a man grabbed him from behind and dragged him backwards. The offender then got into the man's car and drove off, shouting obscenities. The car, a green Vauxhall Corsa, registration DE57 PYF, has not been recovered yet.

Detective Chief Inspector Chris Green, of north Liverpool CID, said:- "This was a particularly callous attack on an elderly man who was simply visiting his wife's grave. The offender has waited until the man has been at his most vulnerable before taking his car using force. He is extremely shaken up and distressed by what has happened and, now he is without a car, is having difficulty getting around and doing the day to day things he enjoys. We are determined to do all we can to get this man his car back and the catch the person who stole it and I would appeal for anyone who witnessed the robbery, has seen anyone acting suspiciously in the car park, or has seen this vehicle since it was taken, to contact the police."

The offender is described as white, in his early 20s, with dark, spiky hair and he was wearing a black track suit.

Anyone who has any information relating to this robbery is asked to call St Anne Street CID:- 0151 777 4808 or Crimestoppers on:- 0800 555 111.