Merseytravel celebrates 25 years of Merseylink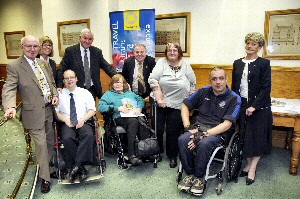 A vital Merseyside community service, supporting Merseyside residents with mobility problems who cannot use traditional public transport, has celebrated its silver anniversary. To mark the landmark 25 year celebration of Merseylink, Merseytravel is re-launching the new-look community service.

Councillor Mark Dowd Chair of Merseytravel, said:- "What we've tried to do is to make the service better for those who really do need it. The service has been operating for some 25 years and has helped tens of thousands of people in that time. And it will continue to help many more."

Over the last 18 months Merseytravel launched a major consultation exercise in a bid to bring the service up to date.
Working in partnership with service users, the new-look service is aiming to make Merseylink more inclusive by linking door-to-door services more effectively with mainstream, accessible bus and rail services.

Neil Scales, Chief Executive and Director General of Merseytravel, added:- "What this service has always done is provide people in most need with that all-important access to the wider world. What we've done is look to provide better value for money and target those who have greatest need for the service. We are bringing the service right up to date and aligning it more closely with our vision for a fully accessible transport network for all, making Merseylink the "missing link" in a journey, rather than the sole means of making every journey."

The service, which allows members approximately 40 miles transport per month, is free to those who are registered blind, receive the higher rate care or mobility component of the Disability Living Allowance (DLA), higher rate Attendance Allowance or are receiving War Disablement Pension. Anyone can apply by contacting The Merseylink Team

Councillor Bob Roberts, Chair of Merseytravel's Transport Access Panel, said:- "We have looked at a number of ways to improve Merseylink and to make the service available to the widest number of people. For so many people it can be a lifeline to services they may not be able to access by other means. Consulting the service users gave us a clear insight into the best way forward and over 90% of our respondents agreed with the proposed changes"

If people would like to contact the Merseylink team they can do so by contacting:-

Merseylink
24 Hatton Garden
Liverpool L3 2AN
Telephone:- 0151 330 1660 for bookings
Telephone:- 0151 330 1661 for cancellations
RNID Typetalk - Dial 18001 before either of the numbers above for a typetalk assisted call.
Culture city scoops top PR award
THE PR campaign for Liverpool's year as European Capital of Culture has scooped a prestigious award. The media strategy, which resulted in the city attracting more than £200m in global media coverage in '08, beat off stiff competition to take the Best Public Sector Communications Campaign at the How Do awards held at Old Trafford football ground in Manchester. And the city could be on course to complete a PR prize double, as Capital of Culture has also been short listed for Best Public Relations Campaign in the CIPR Pride awards which has been announced on Wednesday, 18 November 2009.

The How Do awards were judged by a team of top marketing and communications experts. The winners were announced at a ceremony attended by hundreds of communications professionals in Manchester last night hosted by BBC North West Tonight presenter Ranvir Singh.

Liverpool Culture Company and the City Council worked together with various organisations and partners to transform and promote Liverpool's image, attracting people from all over the world through a multi-faceted PR and media relations campaign that used highlight events and famous Liverpudlians to drive coverage.

This resulted in:-
• 12,500+ items in UK press
• 880 articles in national print media
• 20+ hours of primetime TV
• 95% of coverage was positive or neutral

With over 7,000 events attracting more than 15 million visits, Liverpool '08 was ultimately hailed as the most successful Capital of Culture programme ever by the European Commission. It is estimated the city attracted 3.5m new visitors in '08, with a record 1m hotel beds sold and the year generating an £800m boost to the regional economy.

Councillor Warren Bradley, Leader of Liverpool City Council, said:- ''Being European Capital of Culture has done wonders for Liverpool's national and international profile as a dynamic and creative city and has created a feel-good platform for everyone connected to the city to build on.

'To win this PR award is no small achievement and is deserved recognition for everyone involved in planning a truly amazing year and communicating its benefits and attractions. It is vital we continue to sell and promote the city because we have all seen what a great story we have to tell and how great the rewards of telling it are to the regeneration of Liverpool.''

The start to Liverpool's 08 celebrations created huge media momentum after an intensive four month build-up, with the official Opening Weekend attracting over 60,000 people and seen by over 300 million people globally. The phenomenal coverage was then maintained thanks to key events such as Klimt at Tate Liverpool, Go Superlambananas, Sir Paul McCartney's Anfield concert, The Tall Ships' Races, La Machine, MTV Europe Music Awards and BBC Sports Personality of the Year. Such was Liverpool's success, the government has established a British City of Culture competition. Liverpool also created hugely successful Volunteer and Ambassador programmes that are now being adopted by other Capitals of Culture across Europe.

University of Liverpool and John Moores University are undertaking independent studies through the 08 Impacts Research Programme. The city council was also short listed in the Best Community Relations category of the awards for the hard-hitting 'Every Violent Crime has a Consequence' campaign, featuring mothers whose sons were murdered.