Film Review:- "FIFTEEN MINUTES THAT SHOOK THE WORLD"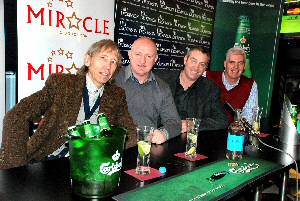 IT is am amazing film, set around Istanbul May 2005, when Liverpool FC was 3-0 down in the Champions League Final against AC Milan. The fans deflated, the team, seemingly defeated, traipse to the dressing room at the half-time whistle… only to reappear rejuvenated and inspired going on to produce football's greatest ever comeback. On 16 November 2009 we headed over to see the Word Premier at the Odeon, Liverpool One, and also the party held at Café Sports Express afterwards.
Anyway to the film... We saw how it ended, we saw how they and their estimated 200 million fans worldwide celebrated but we didn't see what went on during those precious 15 half-time dressing room minutes. Until now….

With an all-star cast including Pheonix Nights actor and Peep Show writer Neil Fitzmaurice playing manager Rafa Benitez with uncanny comic accuracy, as well as star appearances from Liverpool's Steven Gerrard, Jamie Carragher and Dietmar Hamann, "Fifteen Minutes That Shook the World" is a hilarious 45 minute spoof movie written by the acclaimed playwright, Dave Kirby (Brick Up the Mersey Tunnels, Lost Soul, Council Depot Blues).

"Fifteen Minutes That Shook the World" is a film for every single football fan that is passionate about "the beautiful game". It has already received huge support from James Bond's Daniel Craig, fellow actors Clive Owen and Stephen Graham as well as more unusual fans such as renowned Manchester City fan, Noel Gallagher.

"Fifteen Minutes The Shook the World" is a unique and uproarious interpretation of the half-time goings-on inside and outside the Liverpool FC dressing room at the Ataturk Olympic Stadium in Istanbul and has already been acclaimed as a comedy masterpiece.

The 45 minute film centres on a news reporter's investigation into the experiences and inspiration behind the legendary three goal comeback. Andrew Schofield (Scully) plays the roving reporter who visits Liverpool to talk to fans and players.

Writer Dave Kirby commented:- "On a recent visit to Melwood, Rafa Benitez told us he'd seen the movie trailer clip of himself (played by Neil Fitzmaurice) on YouTube and said 'it was a great performance'. Jamie [Carragher] & Stevie [Gerrard] have watched my comedy plays at the theatre so when I approached them with the film script they thought it was hilarious and decided to get involved. We also agreed that the movie would raise awareness and funds for Jamie's new charity 'The 23 Foundation'. We had to wait till the end of the season to shoot it but it was well worth the wait especially when Jamie [Carragher] was able to get Didi Hamann involved. His entrance into the film is priceless."

"Fifteen Minutes That Shook the World" is produced by newly formed Liverpool company, Miracle Productions, which was set up by city businessman Paul Flanagan and Dave Kirby. Backed by Reds star Jamie Carragher, a share of profits from the film will go to his new young people's charity, The 23 Foundation.

Talking about what inspired him to make the film, Dave Kirby says:- "Like every Liverpool (and every football) fan, I always wondered what exactly happened in that dressing room at half time. I always imagined that Rafa Benitez gave some kind of Churchill / Luther King-type speech or that maybe the players were inspired by a passionate, emotional rendition of 'You'll Never Walk Alone'. But when the reports came back, all described a dressing room of complete calm and composure and I was gutted. My illusions were shattered. To me it felt like Braveheart without the rally cry of 'Freedom' or Zulu without 'Men of Harlech'! It was definitely that mythical yearning which prompted me to write the story as I saw it…with humour!"

"Fifteen Minutes That Shook the World" is released on DVD, Monday, 30 November 2009 and is available to pre-order NOW by calling 0151 239 5070.

This film will make a fantastic stocking filler and is in our view is 5 our of 5.






5 out of 5
To see our video interviews and red carpet footage and press conference footage click on here now.
Standard/other carrier charges may apply. Depending on your mobile data plan, your carrier might charge you to receive text messages (or PIX messages) or for internet access. If you don't know what plan you have, you should check with your carrier. Compatible with most carriers including AT&T, Cellular One, Sprint, and TMobile. Text STOP to 69937 to opt out. Myxer is not a subscription service - there are no recurring fees. So, why do we say 'Text STOP to 69937 Opt Out'? Well, because the carriers told us to!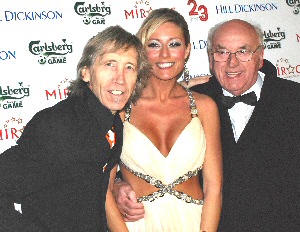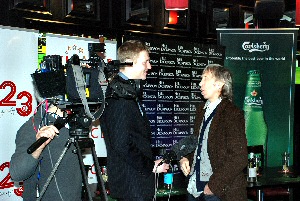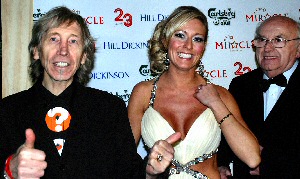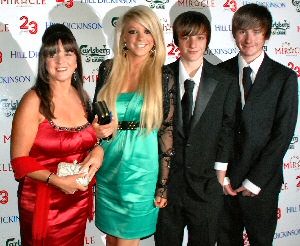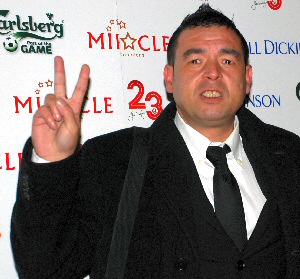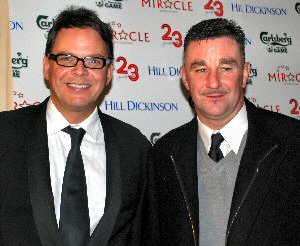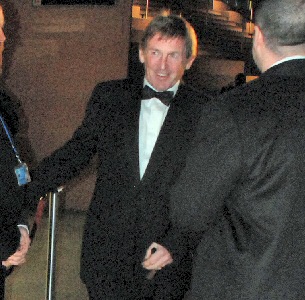 If you like the photos, please order them and do not copy them. Keep this site online... Click here to find out how you can get you copy of these photos...

Page 1 of 2